Personal protective equipment (PPE) plays a crucial role in keeping battery room workers safe. Lift truck batteries are typically refillable, and their electrolyte solution contains a dangerous amount of sulfuric acid. Contact with battery acid can cause severe chemical burns, but symptoms may not appear for minutes or hours after contact — acid-resistant PPE limits the risk significantly.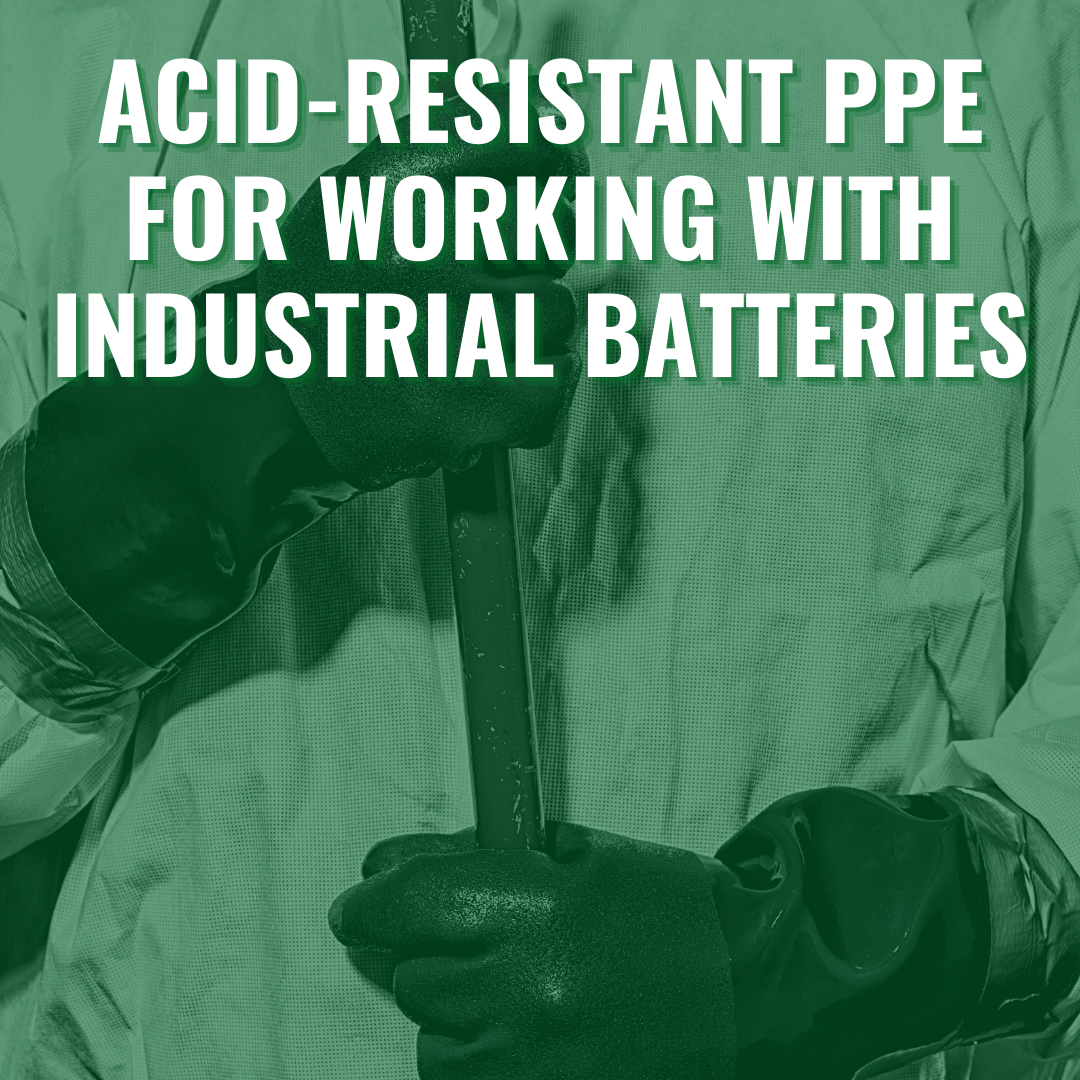 Put simply, any worker who maintains forklift batteries needs to wear properly fitted gear. The Occupational Health and Safety Administration (OSHA) and other organizations set clear requirements for providing chemical PPE in the battery room, and by reading through those requirements, managers can keep their facilities outfitted.
Running low on acid-resistant PPE for your battery room? Stock up with PPE Kits from Solus Group.
Understand OSHA's requirements for battery room PPE.
For employers, compliance is a secondary consideration — the right wearable equipment allows workers to handle tasks safely and efficiently. Battery acid is extremely dangerous, and personnel with appropriate PPE should be provided to all personnel who work with batteries regularly. That includes workers who perform common maintenance tasks like battery watering and washing.
With that said, OSHA sets clear requirements for employers. Per OSHA 1910.132:
"Protective equipment, including personal protective equipment for eyes, face, head, and extremities, protective clothing, respiratory devices, and protective shields and barriers, shall be provided, used, and maintained in a sanitary and reliable condition wherever it is necessary …"
Other OSHA standards provides additional guidance:
"Face shields, aprons, and rubber gloves shall be provided for workers handling acids or batteries." - OSHA standard 1926.441(a)(5)
"The employer shall ensure that each affected employee uses appropriate eye or face protection when exposed to eye or face hazards from flying particles, molten metal, liquid chemicals, acids or caustic liquids, chemical gases or vapors, or potentially injurious light radiation." - OSHA standard 1910.133(a)(1)
Note the language "shall be provided." As we've discussed on this blog, employers must provide PPE for their workers; it's not an optional expense.
The National Fire Protection Agency (NFPA) also emphasizes the importance of PPE for battery room work. NFPA 70E addresses hazards related to electrical shocks, and while chemical hazards are outside of the NFPA's focus, the agency specifically notes that employers need to consider these hazards when assessing risks.
Make sure workers have easy access to acid-resistant PPE.
To comply with regulations (and, more importantly, to keep workers safe), employers should choose PPE specifically designed for acid exposure. Most chemical-resistant PPE is made with plastic or rubber, but materials vary — equipment designed for one type of chemical hazard may be inadequate for battery room work.
Some tips to keep in mind while outfitting:
A Safety Data Sheet (SDS) can be a useful resource for evaluating PPE. The SDS provides degradation levels, breakthrough times, and permeation rates for various types of chemical hazards.
High-quality rubber (such as nitrile or neoprene) should provide adequate protection from battery acid exposure. However, the equipment should be fitted to the worker; ensure that workers know how to correctly wear acid-resistant gloves and clothing, and create policies to ensure that workers always wear PPE when working with lift truck batteries.
Generally, workers should have access to face shields, aprons, rubber gloves, and eye protection. Note the distinction between face shields and eye protection — safety goggles or glasses protect the eyes directly, while face shields provide additional protection for the eyes and surrounding skin.
All-in-one PPE kits can help employers keep battery rooms outfitted. Make sure that all PPE kits are stored in a consistent location, and take appropriate steps to ensure that all personnel receive regular training (along with regular refresher courses).
Products to Consider
BHS Personal Protective Kit - The BHS Personal Protective Kit is designed to aid in OSHA compliance. It contains a pair of HAZ-MAT boots, neoprene gloves, chemical splash goggles, an acid protection apron, and a chemical splash face shield.
Solus Group's PPE Standard Kit and PPE Deluxe Kit - The Standard PPE kit contains safety glasses, a disposable face shield, nitrile gloves, a disposable chemical apron, and latex overboots. The Deluxe kit adds a chemical coverall, which is essential for spill response.
BHS PPE Storage Cart - Employers should provide secure access to PPE, and the PPE Storage Cart is a secure, maneuverable solution for bulk storage. With ergonomic push bars, integrated fork pockets, and rigid 12GA steel shelves, it's available in several standard sizes (custom configurations are available on request).
Acid-resistant PPE is the last line of defense — not the first.
Remember, PPE is intended to protect workers from accidental contact with hazardous chemicals. Following a thorough risk assessment, employers should try to limit workplace hazards wherever possible. That means creating strong training programs to keep workers informed about the dangers of working with forklift batteries (and to promote proper PPE usage, as discussed earlier).
In addition to PPE, all battery room personnel should have access to Eye Wash Stations to comply with OSHA 29 CFR 1910.151(c), which calls for "suitable facilities for quick drenching or flushing of the eyes and body." These emergency stations should remain within the work area; to ensure compliance with American National Standards Institute (ANSI) recommendations, eye wash stations should be reachable within about 10 seconds of exposure to a caustic substance.
If you're ready to start outfitting your battery room, our team is ready to help. For more information on acid-resistant PPE and other battery room equipment, contact Solus Group at 314.696.0200 or send us an email.