Lift tables provide a versatile, ergonomic material handling solution. Regardless of the size of your business or the unique characteristics of your operation, you can probably benefit from an investment in these work-positioning devices. However, lift tables are available with numerous options and designs that fundamentally affect their functionality. If you're considering this purchase, you'll certainly want to determine which type of scissor lift is most appropriate for your application.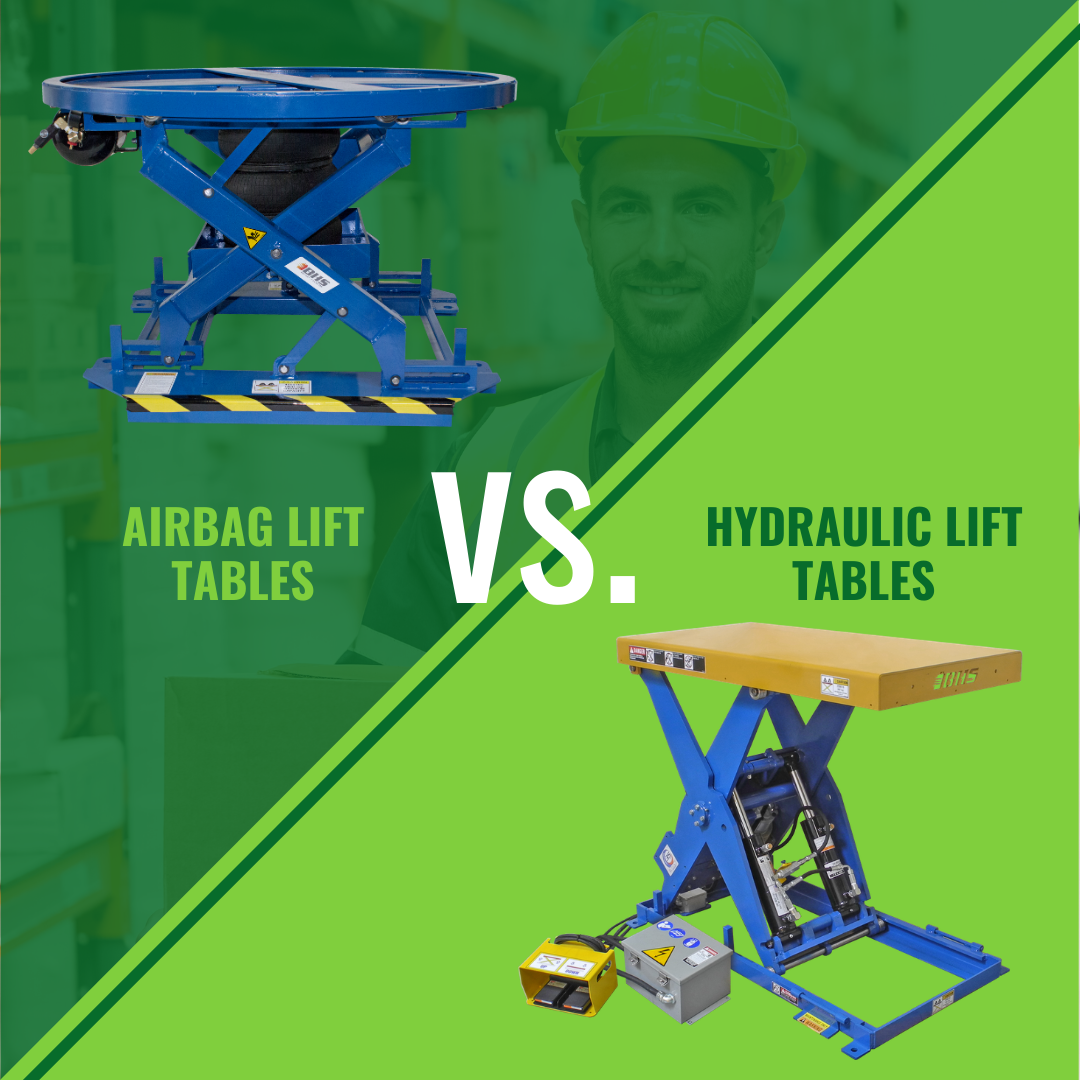 For higher load capacities and higher throughputs, businesses must choose between airbag lift tables vs. hydraulic lift tables. This decision isn't always straightforward, but the options have distinct advantages and disadvantages. To make the process easier, make sure you understand how the tables operate:
All lift tables hold loads at a certain height, allowing workers to comfortably handle materials while minimizing bending, stretching, and lifting. They differ in the technologies used to hold their loads. Most lift tables fall into one of three categories: Airbag lift tables (or pneumatic lift tables), hydraulic lift tables, and ball screw lift tables. While ball screw lift tables are accurate and useful for some manufacturing applications, they generally have lower capacities than the other two options. They also use electro-mechanical components that can seize up when used in high-throughput applications.
Pneumatic (Air Bag) Lift Tables - These devices use one or more airbags to position their surface. A shop air compressor is typically used for this purpose, although not all models must remain connected to operate — Pallet Carousel & Skid Positioners from Solus Group, for instance, can be disconnected from the air supply after inflation.
The primary advantage of an airbag lift table is fairly obvious. Pneumatics do not require on-site electricity, so a pneumatic table can be used in virtually any environment. Their compressors do require some electricity, however, and pneumatic tables typically have lower capacities than hydraulic powered lifts.
Hydraulic Lift Tables - Hydraulic tables use an electric motor to send hydraulic fluid to cylinders, creating a compression effect that lifts the load. The hydraulic systems are capable of safely lifting capacities of up to 20,000 pounds, and when properly designed, they're just as durable, dependable, and convenient as airbag systems.
They require more energy than pneumatic systems, which means that they usually require an onsite power source (though manual hydraulic models with foot control pedals are available for mobile use, albeit at limited capacities).
Choosing Industrial Lift Tables for Different Applications
For most adjustable work positioning applications, hydraulic lift tables offer clear advantages over airbag lift tables. (The exception is a self-leveling lift table, which typically operates with springs or pneumatic airbags rather than controlled hydraulic power.) Still, various factors can make material handling equipment more appropriate for certain applications, and to make an appropriate investment, you'll need to consider your business's needs carefully. Choosing the right attachments and product options will greatly improve the equipment's utility.
Warehouses and Storage Centers - Specialized devices like the BHS Pallet Carousel & Skid Positioner are ideal for warehouses, as they simplify loading and unloading tasks by automatically positioning loads at an ergonomic height. Pneumatic options are available, which may be advantageous when loading/unloading pallets at different locations within a warehouse.
Hydraulic scissor lift tables can also simplify lifting and packing tasks. Optional accordion skirt guard attachments can provide additional protection for the lift mechanism, preventing dirt and other contaminants from infiltrating the equipment.
Manufacturing Applications - In manufacturing environments, lift tables typically remain stationary, allowing workers to maintain efficient work spaces while working with heavy materials. Hydraulic lift tables equipped with roller conveyors (available as an optional attachment for the BHS Scissor Lift Table) can offer extraordinary benefits for these operations, improving throughput and reducing ergonomic liabilities, particularly when paired with optional roller conveyor attachments.
Clean Room Environments - Pneumatic lift tables can be ideal for clean rooms, but in certain instances, hydraulic tables can also function well. Any clean room lift table should be made with corrosion-resistant materials, preferably stainless steel, and hydraulic components should be completely enclosed.
Food Processing Applications - As with clean rooms, food processing plants require mechanical lifts with enclosed hydraulics to ensure proper sanitation. Stainless steel surfaces should be used in applications that involve direct contact with food. In many cases, a rotating turntable attachment can improve throughput substantially.
Remember to evaluate product features carefully when choosing either type of table. Hydraulic lifts should have closed circuits contained completely within the lift table, as this improves operating life, floor space, and safety. Velocity fuses, which lock cylinders after detecting a loss in pressure, are essential when working with heavy loads. Well-designed lift tables have multiple fail-safes, and that redundancy is critical in the unlikely event of equipment failure.
All industrial lifts should meet ANSI Standard MH29.1:2012, a compliance standard that ensures the equipment conforms with the International Building Code (IBC). Compliant products are designed and tested to meet the standard.
When used properly, lifts improve ergonomics and productivity. Both hydraulic and heavy-duty airbag scissor lifts tables offer dependable, low-maintenance operation when properly deployed, and selecting the right tools for the job will yield significant benefits. For more information or to find the right options for your organization, contact the Solus Group sales team at (314) 696-0200 or by clicking here.