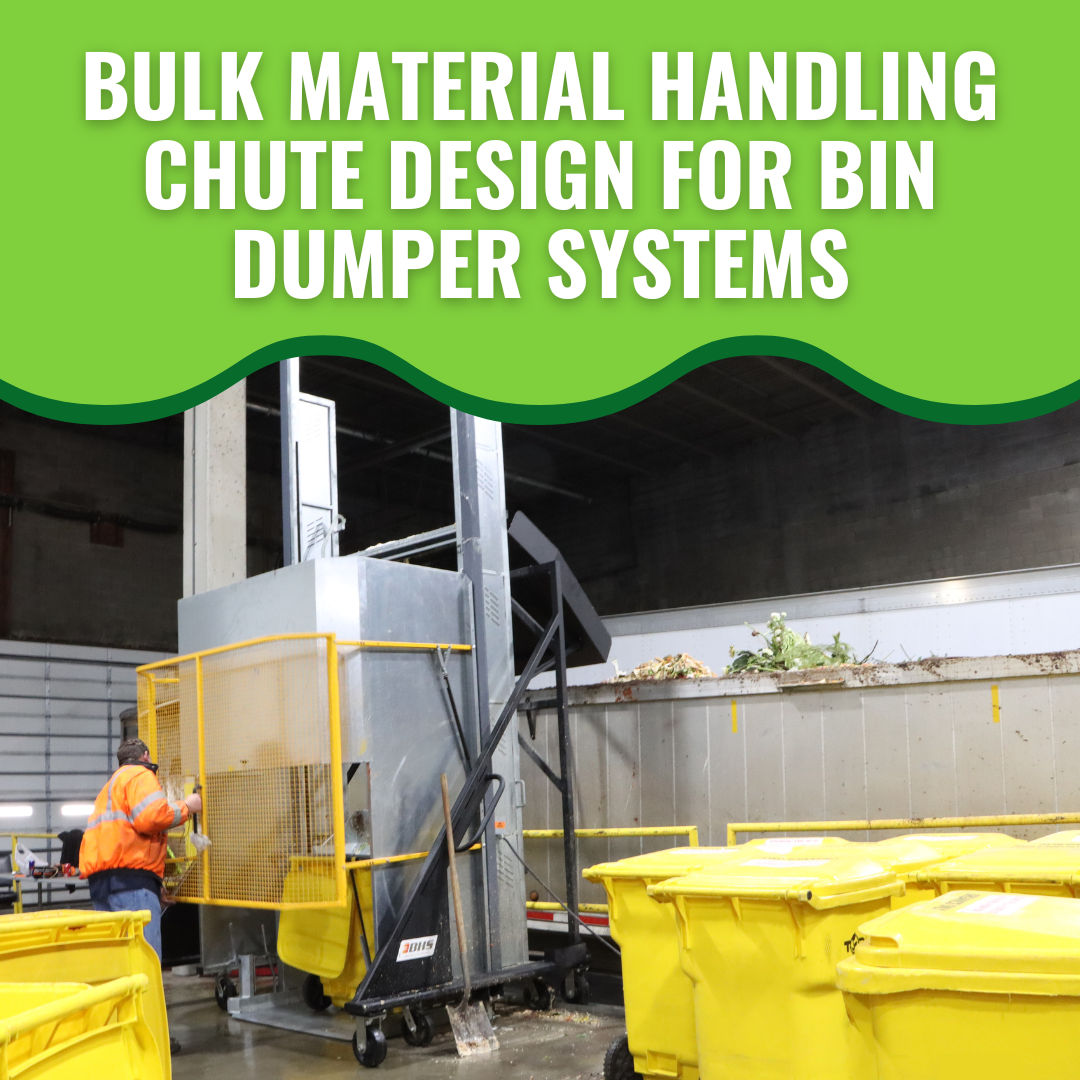 Conveyor systems in bulk material handling systems often run on multiple levels. That means you need a safe, reliable way to move those materials—grains, gravel, legumes, small components, and more—down the system. That's what chutes are for. A chute is a sort of slide. It sounds simple. But as generations of industrial engineers have discovered, every detail of chute design plays a role in the overall efficiency of the material handling system—or even whether it works at all. 
Bulk materials aren't just limited to grains or granules. In fact, regardless of what you move or manufacture, every facility handles bulk material in the form of waste: trash, recycling, composting, hazardous waste, the list goes on and on. A waste handling system includes dumping equipment, which empties a smaller collection receptacle (think trash cans) into a larger one (like dumpsters). Depending on facility layout, you might need a chute between the two.
Solus Group is North America's exclusive dealer of Simpro Bin Dumpers, which use a unique lift-and-tip action to empty bins as safely (and quickly) as possible. In addition to providing Bin Dumpers, however, we also help facility managers build effective waste handling systems—including chutes.
Here's what you need to know about bulk material handling chute design, the way we approach the discipline for our Bin Dumper systems at Solus Group.
Bulk Material Handling Chute Design in Facility Waste Streams
We custom-design and build every Bin Dumper Chute to match your unique needs, including length, capacity, and protection from wear and tear based on materials and environment. Here's how we design chutes to address every challenge associated with dumping and pouring waste—and other materials.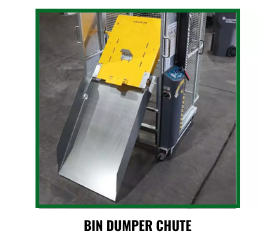 Preventing spillage. Every Bin Dumper Chute features raised sidewalls, barriers that keep contents moving where you need them to move without spilling over edges. Sidewall height depends on your needs; we'll evaluate your dumping throughput and engineer the chute to prevent spills.
Compatibility with dumping equipment. Some dumping systems benefit from attaching a chute directly to the Bin Dumper's container cradles, the base that locks the bin into place for upending. Others work better when the chute attaches to the Dumper's frame. Either way, Solus Group can help.
Compatibility with container types. We'll design your Bin Dumper Chute to work seamlessly with your containers, whether those are standard Roll-Out Carts, high-capacity Mobile Bins, drums, buckets, or anything else.
Protection from materials and the elements. Standard Bin Dumper Chutes are constructed from heavy duty galvanized steel. That prevents rust and corrosion from contact with weather or wet materials. In short, these chutes are suitable for indoor and outdoor use, and any type of material. If you need additional protections, we can apply a chemical-resistant powder coating, or use stainless steel, or both.
Dependable long-term service. We use high-grade steel and rock-solid manufacturing techniques to build material handling chutes that last as long as you need them. We install chutes on Bin Dumpers internally to ensure reliable service for the long haul.
While we've focused on waste handling, the primary application for Bin Dumpers, we also service bulk material handling systems in other areas: food production, industrial manufacturing, warehousing, and more. Our team leads the industry in bulk material handling chute design, and if your system needs a little support to safely move product from higher to lower levels, we'll provide the solution.
Call Solus Group at 314-696-0200 to discuss how to improve your bulk material handling operation, regardless of the specifics. We'll work with you to create a custom solution.