Whether you're planning for a single electric vehicle (EV) or a whole commercial fleet, you're going to need chargers. But for every EV charger you own, you also need a place to mount it. Enter the EV charger stand, an unsung hero of electric vehicle supply equipment (EVSE).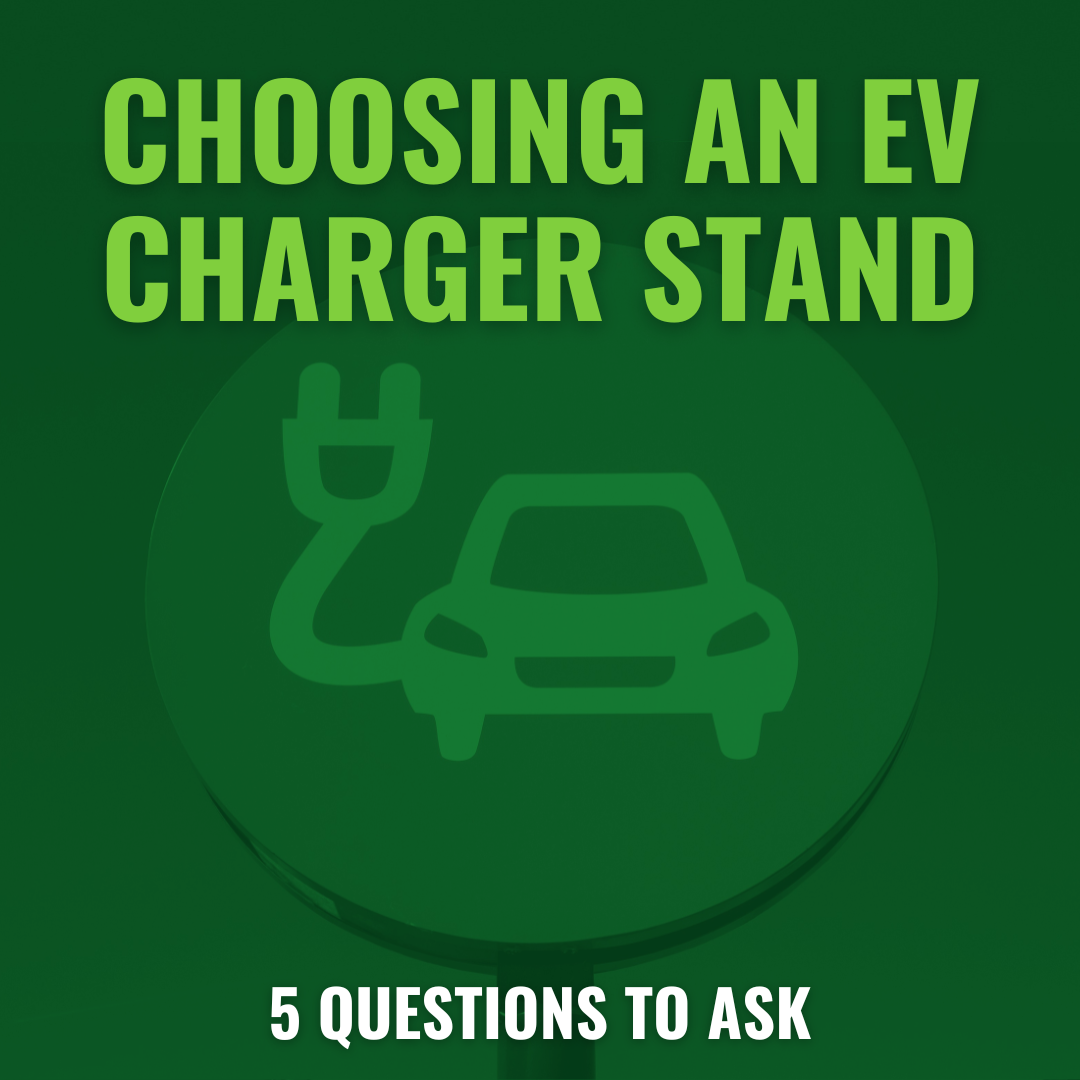 Many Level 1 and Level 2 chargers don't actually ship pre-loaded onto an EV charger holder. If you don't have the space to mount them to a wall, that requires a separate stand. To save space while protecting charging equipment, look for a pedestal-style EV charger stand. These metal posts store chargers and cables at the National Electric Code's (NEC's) required height of 24 inches (outdoors) or 18 inches (indoors) off the ground. They help with regulatory compliance while providing convenient access to charging cables.
But with many EV charger pedestals on the market, how do you know which one is right for your charging station? Keep reading to find out.
5 Questions to Help Choose an EV Charger Stand
Start identifying the best charger stand for your use case by asking the following five questions:
1. Where will your charger station be located?
If space is at a premium, look for an EV charger stand that safely supports equipment without taking up a lot of space. A free-standing pole like the EV Charger Pedestal and Cable Management Kit from Solus Group offers the best combination of small footprint, durable protection, and easy access.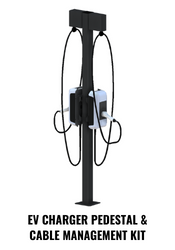 These EV chargers feature a compact base, pre-drilled for easy installation on streets or floors. They're weather-proof, and made of heavy-duty steel, so they're ideal for indoor or outdoor use. And with their integrated cable management systems, they also keep cables safely out of the way of traffic. They fit neatly into just about any location.
2. What's your budget?
Of course, your options may be limited by cost. Solus Group offers EV Charger Pedestals starting at just over $1,000, a small price to pay for a lifetime of dependable service.
3. What type of chargers are you using?
There are currently technologies used to charge EVs: Level 1 charging cables plug into standard 120 volt outlets, and may or may not require separate charging units. Level 2 charging draws 240 volts; these chargers are most common for commercial fleet applications. And while DC fast chargers are the quickest of the options, they also make heavy demands on electrical systems. That means they usually require rewiring and dedicated circuits, and they typically include a free-standing frame, so they don't usually require the purchase of a separate EV charger stand.
For most Level 1 and Level 2 chargers, the EV Charger Pedestal from Solus Group is an ideal choice, with support for one or two chargers per stand. That brings us to our next questions. 
4. Would it be helpful to mount more than one charger per stand?
Passenger vehicles can get by with a single charger. If you're installing charger stations for a fleet, or for public usage, however, you'll save space and money by posting multiple chargers on each stand.
The EV Charger Pedestal from Solus Group safely supports two chargers on a single unit. That allows you to build dual charging stations, limiting initial expenses and saving space for the entire lifespan of your installation.
5. Does the charger stand include a cable management system?
Loose charging cables are a safety risk. Vehicles can run over them, exposing electrical conductors. Drivers can trip over them. Those are just a few reasons the NEC requires cables over 25 feet in length to be accompanied by cable management systems.
But even shorter cables are safer when they're kept out of the way. At the same time, drivers need quick access; coiling cables between charges takes time. Even worse, it places stress on conductors. The solution is to choose an EV charger stand with an integrated cable management system.
Every EV Charger Pedestal from Solus Group features EV Charger Cable Retractors, mounted to the top of the pole. These spring-loaded retractors support cables up to 30 pounds, retracting them up to eight feet to keep them up and out of the way. When it's time for a charge, operators can simply pull the cables down into place.
If you're looking for an EV charger stand that offers dependable protection in a small footprint—complete with integrated cable management—choose EV Charger Pedestals and Cable Management Kits from Solus Group. To learn more, contact us at 314-696-0200 today.