For certain operations, opportunity charging offers significant benefits. Staying efficient often means keeping forklifts on the floor, and while opportunity charging can reduce the lifespan of industrial batteries, the tradeoff is worthwhile for many facilities.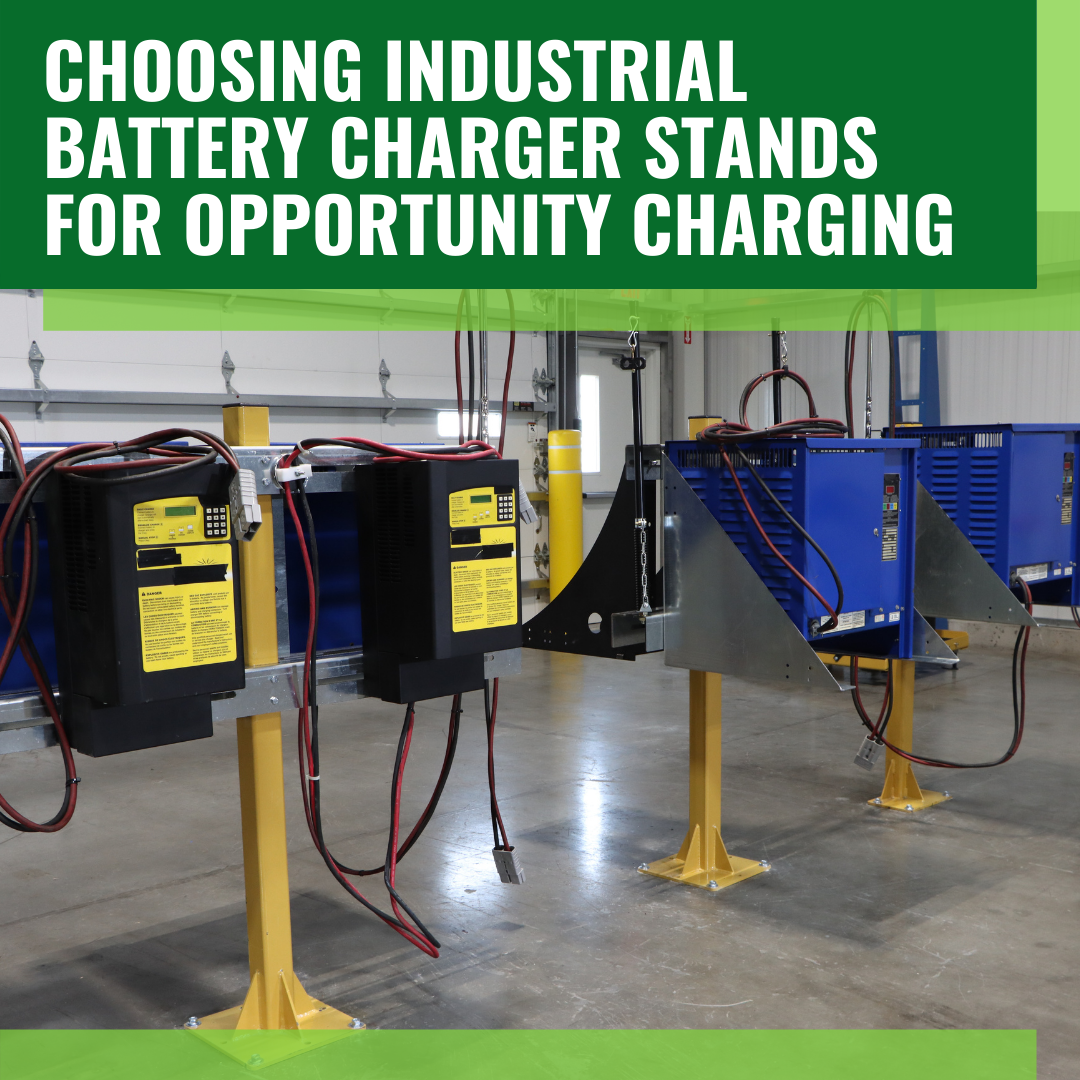 If you're reading this article, we'll assume that you've already done the math and found that park-and-charge makes sense for your facility — but to protect your equipment and ensure the best possible throughput, you'll need industrial battery charger stands designed for opportunity charging.
Solus Group carries BHS Vertical Charger Stands (Series CS-VM), which address the needs of opportunity charging. Here's an overview of the criteria that managers should consider when selecting industrial charger stands, along with a detailed analysis of the factors that make BHS Vertical Charger Stands ideal for park-and-charge applications.
Looking for battery charger stands that protect assets while supporting opportunity charging for electric forklifts? Browse our charger stands here.
Optimizing Your Charger Stand Footprint
Opportunity charger stands should take up as little space as possible — while providing as much utility as possible. A minimal footprint helps you take advantage of one of the main benefits of opportunity charging: better overall efficiency on the floor. By placing stands outside of breakrooms and in other optimal locations, you can implement opportunity charging without radically redesigning your facility.
The BHS Vertical Charger Stand series can accommodate up to three vertically mounted industrial battery chargers. While these stands vary by height, they all feature a 16.75-inch (425 millimeter) overall width at base, 11-inch (280 millimeter) width at top, and a 28-inch (711 millimeter) depth (not counting the optional arm, which allows charger cables to be routed over a battery stored on a BSXX-1 battery stand).
Overall height varies as follows:
These charger stands allow for opportunity charging in a variety of environments. Since the stands aren't significantly wider than the actual chargers, the footprint is minimal, and by using a system specifically designed for vertical mounting, your operation can make a more effective plan for keeping the forklifts running.
Park-and-Charge Battery Charger Stand Durability
By nature, park-and-charge charger battery stands exist where workers can conveniently access them — and typically, that means that these industrial battery charger stands are more susceptible to impact damage and corrosion.
Durability is therefore a major factor, and even the most durable charger stands require additional protection (which we'll discuss later in this article). The stands should hold chargers off the floor so that any accidental impact affects the stand, not the far-more-expensive charger.
Look for stands constructed with heavy-duty steel. The CS-VM series features powder-coated steel that resists damage from acid and scratches. Designed for long-term use, BHS Vertical Charger Stands pair a low footprint with exceptional construction.
Battery Charger Cable Management
Cable management is both a practical and legal consideration. Per OSHA:
1910.178(g)(2) Facilities shall be provided for flushing and neutralizing spilled electrolyte, for fire protection, for protecting charging apparatus from damage by trucks, and for adequate ventilation for dispersal of fumes from gassing batteries [Emphasis added]
Of course, operations managers don't need OSHA's guidance to understand the hazards of loose cables. Forklift battery chargers are expensive, and unkempt cables create a serious liability.
As discussed above, the CS-VMP Series' optional arm (CS-VMP-ARM) simplifies cable management by routing the charger cables over the battery stand. The arm is available on double- and triple-mount chargers.
Cable retractors offer another low-maintenance solution. As the name implies, charger cables are automatically retracted when disconnected from the battery, ensuring that personnel never forget to put the cables back where they belong (our article on cable retractors provides additional information on different designs and capabilities).
Magnetic mounts can also work effectively as long as staff remember to use them consistently. While magnetic mounts are simpler in design, they're typically sufficient for opportunity charging — evaluate available options to determine which will work most effectively in your facility.
Additional Opportunity Charging Equipment for Running a Safe, Efficient Operation
Finally, make sure you're taking appropriate steps to protect your investment. Even the most durable vertical charger stands aren't designed to sustain a full impact from a forklift. Solus Group carries structural bollards and barrier rails designed for visibility. Barrier rails have an impact rating of 10,000 pounds at 4 miles per hour, and all products are designed to meet OSHA requirements.
You'll also need appropriate preventative and response equipment in any area where batteries are charged. At minimum, that means an eyewash station, battery spill kits, and a fire extinguisher, along with adequate ventilation (OSHA 1910.305(j)(7)). Opportunity chargers aren't exempt from these requirements.
The BHS BES-1 Battery Emergency Station offers a complete solution for spill response and assists in OSHA and ANSI compliance. Optimally suited for park-and-charge applications, the station includes the SK-CAB Spill Kit Cabinet, PEW-700 Portable Eye Wash, PK-1200 Personal Protective Kit, and BES Battery Emergency Stand. Ensure that workers know the location of spill response supplies and eyewash stations.
With the right approach, opportunity charging can help your operation maintain consistent throughput while getting more from your equipment. That starts with careful outfitting, including the right industrial battery charger stands.
To learn more or to get operation-specific assistance from an expert, contact the Solus Group sales team at 314-696-0200 or click here for our contact form.