In the warehousing industry, square footage is directly related to revenue. The more space a warehouse manager can devote to storage and recovery, the more money the operation will make. That's why it's crucial to design non-storage areas of a warehouse facility with a minimal footprint.
Traditionally, packing stations occupied way more space than they had to. Warehouse designers would simply throw a few folding tables in the back, install giant rolls of kraft paper or bubble wrap, and set their packing staff loose without a second thought.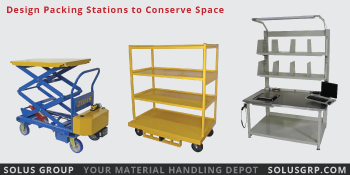 By tailoring work spaces to the workers who use them, though, you can increase efficiency at every packing station, speeding up the outbound flow while conserving valuable space for more products. Here's how it's accomplished:
1. Start with the worker and go from there.

Install working surfaces that provide ergonomic benefits to all your staff, not just the tallest among them. Adjustable shelving can do the trick, but for the quickest, simplest customization, install hydraulic lift tables to create an adjustable-height workstation with a slender footprint.

2. Place employees as close to the work as possible.

Traditional packing rooms are full of ergonomic hazards, such as requiring staff to stretch or twist to access packing materials. Even worse, some employees must reach some distance to complete their packing tasks.

The solution is to choose a shipping/receiving desk with optional cutouts, available from Solus Group. Choose cutouts on the left or right side of the counter, depending on whether left- or right-handed staff will work at the station. This places the worker's body closer to the actual area of work, preventing bending, reaching, and stretching sometimes associated with musculoskeletal injuries.

3. Store packing materials within arm's reach.

As we've pointed out, you don't want your staff stretching and reaching repeatedly throughout a shift. Adjustable shelves allow staff to raise or lower packing materials to a comfortable level. All shipping/receiving desks from Solus Group include two adjustable shelves with capacities of 350 pounds. That's plenty for all the packing supplies needed in today's standard distribution center.

Install lift tables in one station to prevent staff from lifting large, heavy SKUs. For small, assorted products, a tilt table can prevent bending and reaching. Plan routes for each type of SKU that you handle and watch productivity soar.

4. Replace bulky equipment with portable carts of accessories.

One great way to save space in shipping/receiving areas is to eliminate the giant rolls of paper and bubble wrap. Instead of installing permanent dispensers of packing materials, provide staff with carts pre-loaded with extra materials. The mobility translates into extra floor space elsewhere, as carts can always be repositioned or temporarily moved out of the way.

5. Know when to automate (and when not to).

In some cases, automated packing equipment is a sound investment. In others, though, the initial expenses of such machines make it impossible to achieve a decent ROI any time soon.

Essentially, the question of automation comes down to two things: volume and speed. If you aren't constantly rushing to keep up with the outbound flow, you probably don't need to invest in automated packing equipment.
The layout of a modern warehouse should support the activities that take place inside. When building a packing center, consider the unique requirements of your business. Then choose infrastructure that will allow you to get the work done without endangering workers or taking up valuable space. With the right equipment, ergonomics and efficiency go hand in hand.
References:
Gooley, Toby. "Avoiding pitfalls when setting up packing stations." DCVelocity. Agile Business Media, LLC., 14 March 2010. Web. 11 May 2017.
Specter, Sara. "4 ways packing stations have evolved." MMH. Peerless Media, LLC, 1 Sept. 2015. Web. 11 May 2017.