Personal protective equipment varies from task to task, but forklift battery PPE should remain standardized across facilities. That's because the Occupational Safety and Health Administration (OSHA) provides clear rules on the protective equipment that anyone working in the battery room should wear.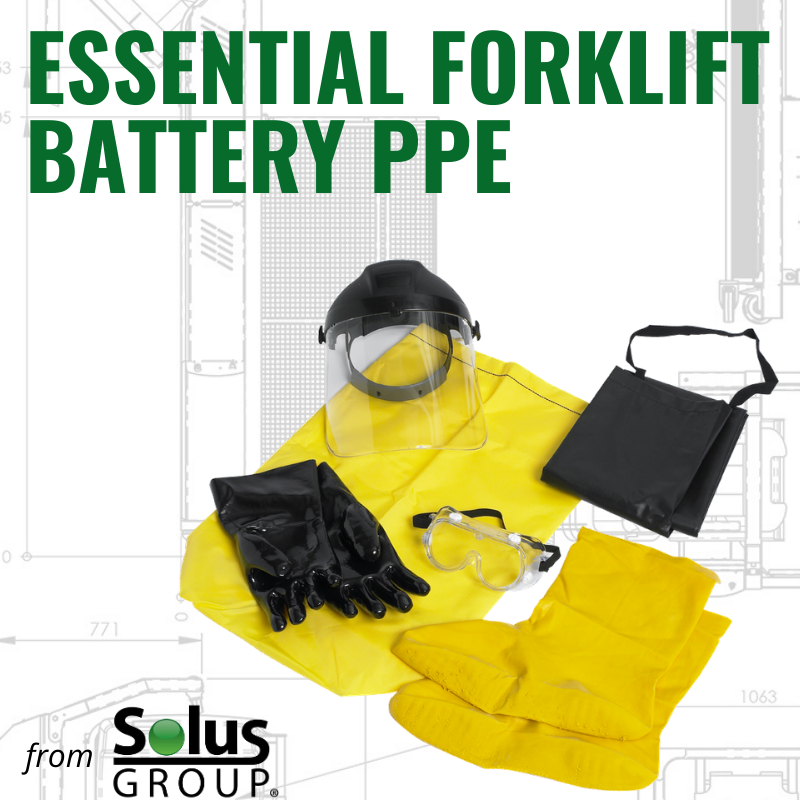 These aren't just suggestions, either. According to OSHA standard 1910.132(h)(1), employers must provide relevant PPE at no cost in most cases. (Exceptions include things like steel-toed boots and prescription safety eyewear. Workers can use their own glasses, shoes, and other standard protective clothing. But even in these cases, employers must verify that the PPE is sufficient for protection.)
In an official eTool, OSHA recommends four particular pieces of PPE for all workers engaged in charging, changing, and maintaining forklift batteries. These are listed below, with select notes on the specific standards that led OSHA to make their use a recommended practice.
Forklift Battery PPE: The Four Basics
The OSHA standards don't exactly list forklift battery PPE where you might think they would. Standard 1910.178(g), which covers battery rooms in general industry, does not provide this list. The relevant standard for the construction industry, 1926.441, only lists three of the four items found in the OSHA recommended practices.
However, the legal authority — and the penalties that could come with noncompliance — can be found in standard 1910.132, which states that:
Protective equipment, including personal protective equipment for eyes, face, head, and extremities, protective clothing, respiratory devices, and protective shields and barriers, shall be provided, used, and maintained in a sanitary and reliable condition wherever it is necessary by reason of hazards of processes or environment, chemical hazards, radiological hazards, or mechanical irritants encountered in a manner capable of causing injury or impairment in the function of any part of the body through absorption, inhalation or physical contact. (Our emphasis.)
Most forklift batteries contain liquid electrolyte, a solution of sulfuric acid and water. This clearly falls under the category of a "chemical hazard." This explains why OSHA best practices require the following pieces of forklift battery PPE:
Face Shields. Wearable face shields should be acid-resistant and designed to protect against chemical splashes. This is one of the pieces of PPE listed in OSHA standard 1926.441(a)(5), the standard for working with industrial batteries in the construction industry.
Safety Goggles. The combination of safety goggles and face shields may seem like a belt-and-suspenders approach. However, given how sensitive eyes are to acid splashes, using both is safest — and most compliant with the OSHA standard on PPE.
Neoprene Gloves. Acid-resistant gloves protect the hands, which come into close contact with electrolyte during watering and mixing. Rubber (rather than neoprene) is also an option, but any gloves used for battery-handling PPE must resist acid safely. Gloves are also listed in standard 1926.441(a)(5).
Acid-Resistant Aprons. A neoprene or rubber apron designed for chemical resistance completes the forklift battery PPE basic kit. This fact is backed up by a mention in OSHA standard 1926.441(a)(5).
In addition to the four basics of PPE for battery room staff, we recommend providing a set of HAZ-MAT boots or galoshes. In the event of an electrolyte spill, the response team will find these a valuable addition to the PPE kit.
The Personal Protective Kit from Solus Group provides all of the above items, along with a reusable bag for storage in between uses. View the Personal Protective Kit here to find all the forklift battery PPE that OSHA requires in one place.
References:
"29 CFR 1910.132: Personal Protective Equipment." OSHA. U.S. Occupational Safety & Health Administration, n.d. Web. 31 Jan. 2019.
"29 CFR 1910.178(g): Changing and charging storage batteries." OSHA. U.S. Occupational Safety & Health Administration, n.d. Web. 31 Jan. 2019.
"29 CFR 1926.441: Batteries and battery charging." OSHA. U.S. Occupational Safety & Health Administartion, n.d. Web. 31 Jan. 2019.
"Powered Industrial Trucks (Forklift)." OSHA. U.S. Occupational Safety & Health Administration, n.d. Web. 31 Jan. 2019.