We may remember 2022 as the year electric delivery vans went mainstream. By the middle of the previous year, no fewer than eight automotive manufacturers were producing battery-powered cargo vehicles for the last-mile delivery market. Logistics providers and delivery fleet managers began to place their orders, but in addition to purchasing the vehicles, these early adopters have a tough question to answer: How will they handle EV fleet charging at their facilities?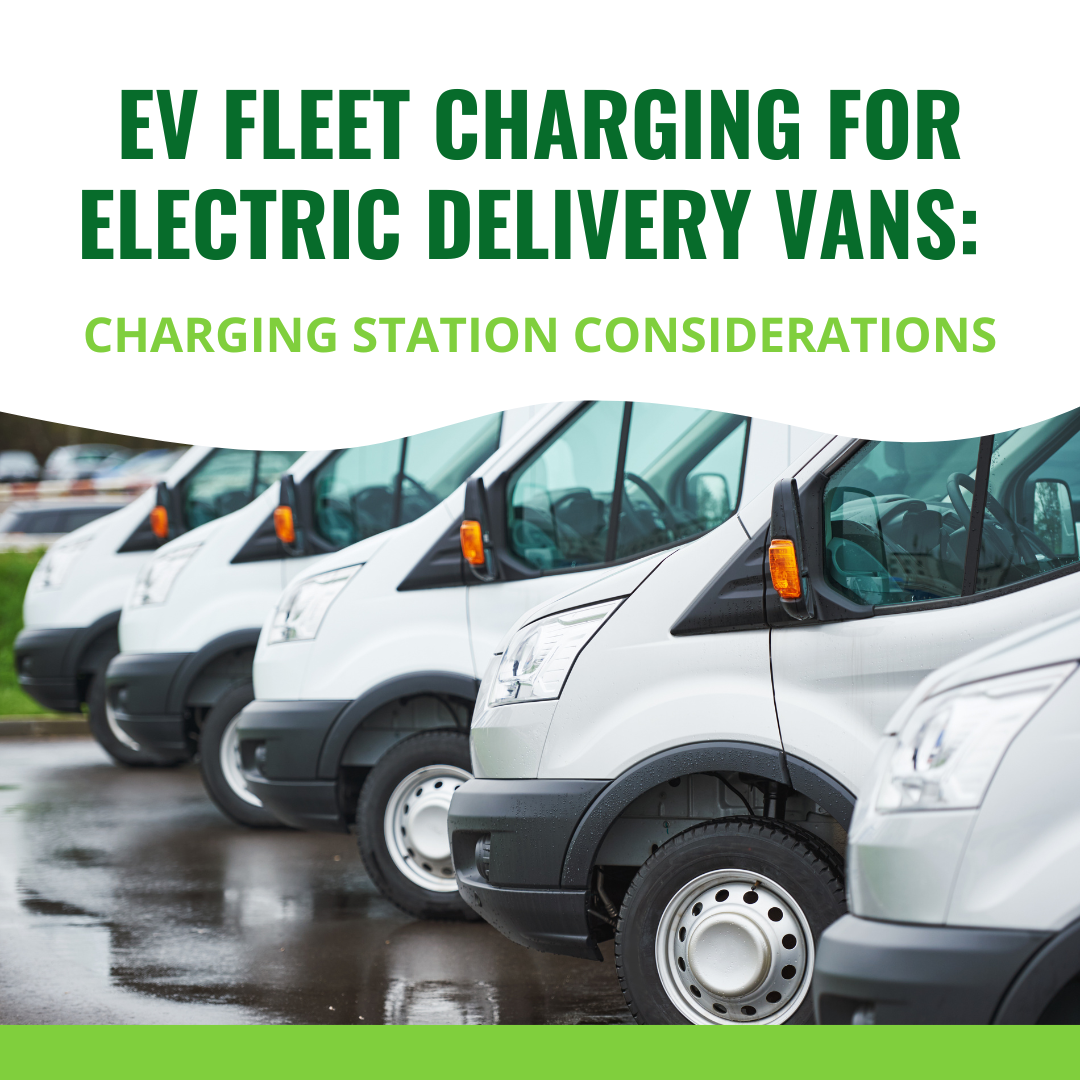 Electric delivery van depots will require specialized infrastructure, as well as a plan to keep all vehicles ready for work — and purchasing chargers themselves is just the first step. Depot management software will help with day-to-day operation, including energy controls and charge reporting, but there are also nuts-and-bolts decisions to be made: layout, charger stand placement, cable management hardware. That's what we'll cover in this post. Here are five infrastructure considerations fleet managers should think about as they begin to invest in EV fleet charging stations:
1. Angle of Approach to Chargers
The last thing you want at an EV charging depot is a line of vans waiting for a charger. To keep things moving, create a layout that avoids traffic jams — and such a layout requires thoughtful planning about angles of approach. Create a flow-through, one-way traffic system by choosing EV Charger Pedestals rather than wall-mounted chargers. These free-standing posts mount up to two chargers per unit, and allow designers to place chargers within lanes. That way, EVs don't have to back out of a space, as in an indoor, wall-mounted station. Vans can take their turn at the charger and pull forward, following clearly defined traffic lanes to a parking area or the next delivery job.
2. Charger Cable Reach
Consider the length of your charging cables when planning depot traffic lanes. According to the National Electric Code (NEC), Standard 625.17 (C), the maximum usable length of an EV charging cable is 25 feet (7.5 meters). With an approved cable management system, you can go longer, but most manufacturers keep their cables much shorter. Siemens' VersiCharge Ultra 175 DC Charger, for instance, includes a cable of 13.5 feet (4.1 meters). Whatever the length, make sure drivers can easily position vans close enough for the cable to reach the charging port.
That doesn't mean you should go with the longest charging cable possible. Longer cables can be harder to manage, which subjects them to damage risk from bends, kinks, and being run over. You can mitigate these risks — for cables of any length — by choosing charger stations with integrated cable management systems, which brings us to our next point.
3. Charger Cable Storage
At a busy EV fleet charging depot, you have three goals for your cable storage system: It should be easy to access, easy to put away, and protective of the equipment. The best way to meet these goals is with a charger pedestal that includes built-in cable management. Retractable cable reels provide the best combination of these benefits, and they come pre-installed on EV Charger Pedestals from Solus Group. These cable reels pull excess cable up and out of the way between uses, and they do so automatically via auto-retraction. When it's time for a charge, operators simply pull the connector to vehicle level.
4. Protection for Charging Equipment
Charger pedestals keep electric vehicle supply equipment (EVSE) elevated and out of harm's way, but there are further steps you can take to protect valuable EVSE. Choose anchored steel EV Charger Pedestals, and protect those pedestals with Structural Bollards. Ideally, there will never be an accidental equipment strike, but it pays to plan for any contingency.
5. Charger Placement Height
According to the NEC, charger connection points (or "coupling means") should be stored at least 24 inches (600 millimeters) above grade level for outdoor charging stations. Indoors, the minimum height for EVSE coupling means is 18 inches (450 millimeters). When choosing charging stands, make sure they're tall enough to meet these standards at your location. The EV Charger Pedestal from Solus Group stands at over 96 inches (2,449 millimeters), storing chargers well above NEC guidelines while still keeping them within easy reach of operators.
If you're making the move toward electric delivery vans, develop a strong plan for your EV fleet charging operation. To discuss charger stands, cable management, and other charging infrastructure for your EVSE collection, contact Solus Group at 314-696-0200 today.