To safely operate a lift truck fleet, you need battery transfer equipment. Nevermind that OSHA explicitly recommends using appropriate equipment to lift and transport forklift batteries; the right transfer equipment is an essential investment for maximizing fleet efficiency, particularly for operations with limited fleets.
Of course, battery transfer cart functionality can differ depending on the method of extraction and the availability of certain features. For example, the BHS BTC-WINCH, a winch-model battery transfer carriage, works quite differently from a Roller Battery Transfer Cart. Managers should therefore evaluate the battery extraction process and take steps to implement proper precautions, paying special attention to ergonomic concerns. Optimizing your equipment to your process — and your process to your equipment — is a bit of a balancing act.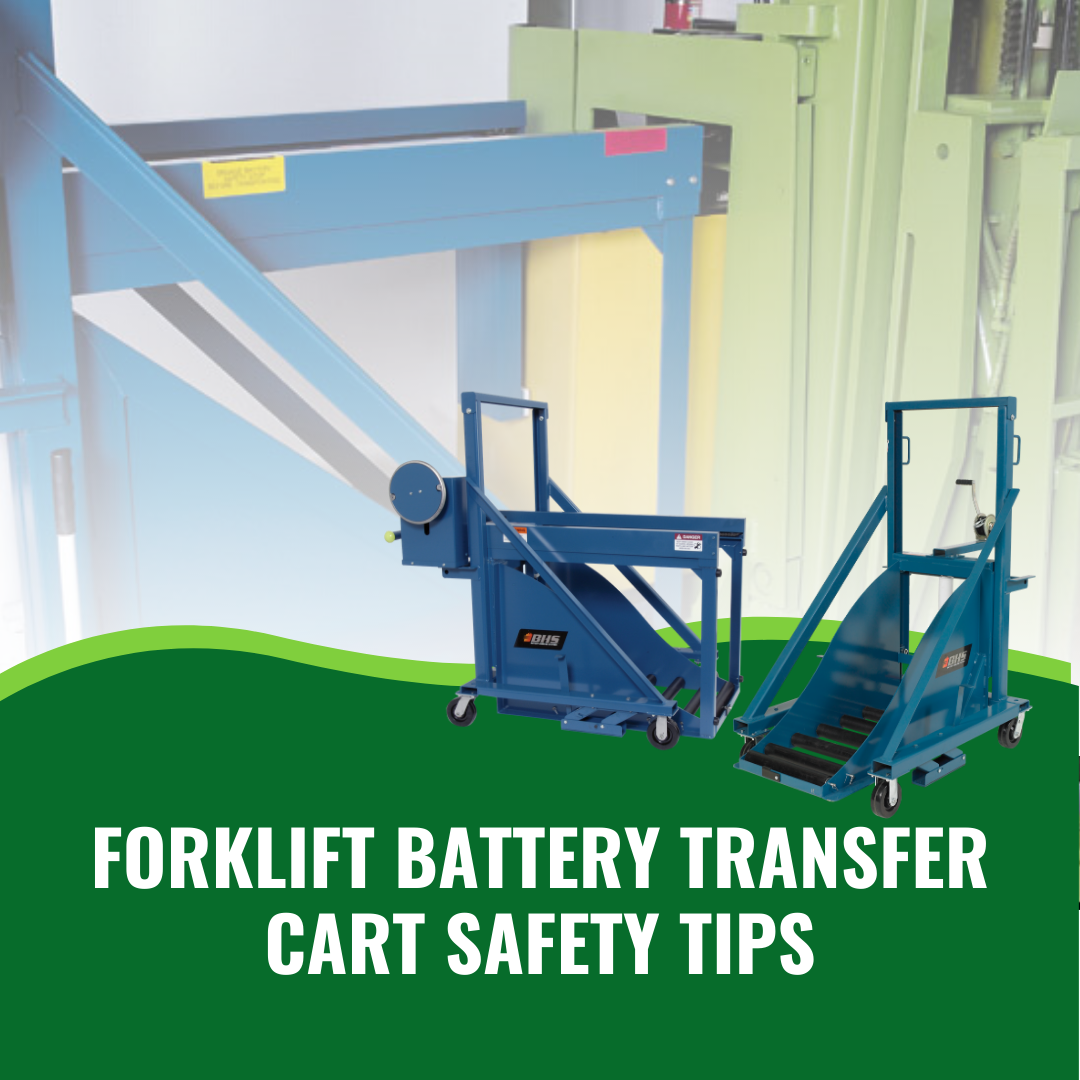 With that in mind, here are some general tips for operating forklift battery transfer carts safely and efficiently:
Choose equipment that matches your operation. Smaller facilities will gravitate towards manual-powered models like the BTC-MPP, which uses hand controls to move its extractor arm. For maintenance-only applications, the BTC-WINCH extracts forklift batteries using a winch control.

These models are effective and convenient, but any manual extraction mechanism can eventually present ergonomic issues for workers. The BTC-MPPEE and BTC-MPPAE, in contrast, use automatic/powered extraction methods, greatly reducing ergonomic concerns. For facilities with large fleets, the powered options pay off over time.

Know the basics. Properly align the transfer cart with the forklift and ensure that the compartment width is appropriately sized for the battery. Drip pans should be fitted under each transfer cart to protect both the cart and the floor.

Use all available safety features; make sure that workers know to use the locking arm and flip-up safety stops at the end of the cart to keep the battery in place while the cart is in motion.

Immediately repair or replace damaged equipment. While this might sound obvious, a broken caster or damaged roller can compromise safety (and greatly extend the time required for a forklift battery change-out).

Make sure your changeout fleet is properly sized to your forklift fleet. Invest in new equipment with low-resistance casters, as smoother travel means a significantly lower chance of accidental damage to the battery or the transfer cart.

Regularly review best practices with all members of your staff. Safety starts with training, but training doesn't end when workers take to the floor. Occasionally reviewing practices will help managers spot potential ergonomic concerns and prevent equipment misuse.

Forklifts are an essential component of your business, so provide your staff with training "refresh" sessions every few months, adding additional sessions when adding new equipment to your fleet.
Battery transfer carts are fairly straightforward tools, but some basic planning can ensure that they're used safely and effectively. For tips or other technical guidance, contact our support team by calling 314-696-0200 or by clicking here.