In the beverage industry, material handling equipment is critical for protecting products while limiting manual work — and if your operation uses forklifts to handle fruits, hops, or other materials, you understand the importance of choosing the right tool for the job.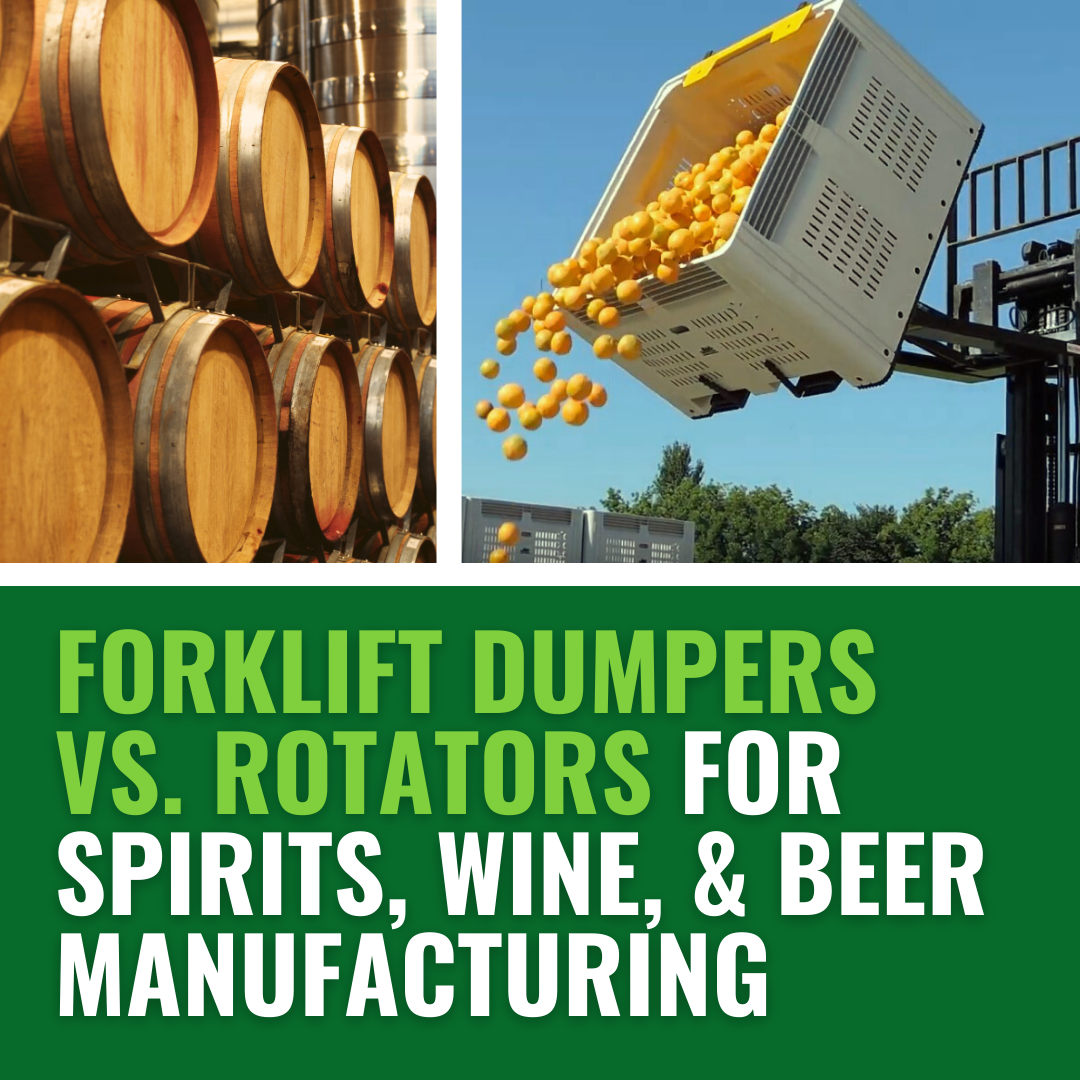 For wineries, distilleries, and breweries, two types of forklift attachments are particularly useful:
Forklift rotators pick up bins and rotate, allowing the load to be dumped without manual effort.
Forklift dumpers (also called forward bin dumpers, forklift tote dumpers, or front dumpers) operate identically to bare forks during loading and travel. However, they can also dump loads via forward rotation.
Many forklift rotators are capable of rotating 360 degrees, while forward bin dumpers top out around 135 degrees. The extra rotation is important for applications where the container needs to be emptied on its side.
However, in most operations 135 degrees is certainly sufficient to fully empty bins — and forward bin dumpers have several key advantages over rotators.
Advantages of Forklift Dumpers for Beverage Manufacturing
Many wineries and distilleries have a limited number of forklifts. If you've got a single lift truck, that truck is probably handling a variety of important tasks.
To keep your operating efficient, you'll want to minimize the time spent installing and removing forklift attachments. A forward bin dumper has a major advantage here: It doesn't stop your forklift from performing as a forklift.
You can go back and forth between dumping materials and performing other essential tasks. In other words, you don't sacrifice forklift functionality while the attachment is in place.
A forklift rotator is a more limited tool. While you'll need the extra rotation if you're dumping materials to the side, a forward bin dumper is a more versatile solution for front-dumping applications.
Other advantages of forward bin dumpers:
Because they use forward rotation, most forward bin dumpers have much higher capacities than forklift rotators. The limited rotation means minimal loss of forklift load capacity.
Forward bin dumpers can accommodate a variety of standard bins and other containers without impeding the operator's vision.
Forward rotation is generally more hygienic than full rotation. Forward bin dumpers position fewer moving mechanical parts above the target area, which limits debris.
Forward rotation is also less "messy," as most of the load ends up in the target area. That means fewer wasted materials (and less cleanup).
Related: Forklift Attachments for Vineyards and Wineries
Forward Bin Dumpers Improve Efficiency for Winemaking, Distilling, and Brewing
To reiterate, forward bin dumpers have substantial advantages over forklift rotators, provided that your operation loads materials from the front and not from the side.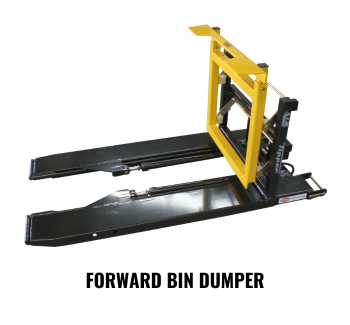 Solus Group's Forward Bin Dumper (FBT1000-760) features a safe working capacity up to 2,205 pounds (1,000 kilograms). With hydraulic dumping action and zero-maintenance pivot bearings, it minimizes maintenance while maximizing performance.
The FBT1000-760 enables operators to handle pallets, stacked bins, or megabins without switching out attachments (and losing man-hours and machine-hours in the process). Its unique bin grip is gentle on containers, but provides a secure grip when the container is inverted.
Designed to fit standard forklift tines up to 42.125 inches by 1.75 inches by 4.9375 inches (1070 millimeters by 45 millimeters by 125 millimeters), it's essential equipment for improving throughput at beverage operations — and in most cases, it provides much more versatility than traditional forklift rotators.
To learn more, visit the Forward Bin Dumper product page or call 314-696-0200 to request a quote.