If you're ready to go green at your workplace, you have a stake in the supply chain. From manufacturers to retailers, schools to medical facilities, every corner of the economy depends on moving goods and materials from point A to point B.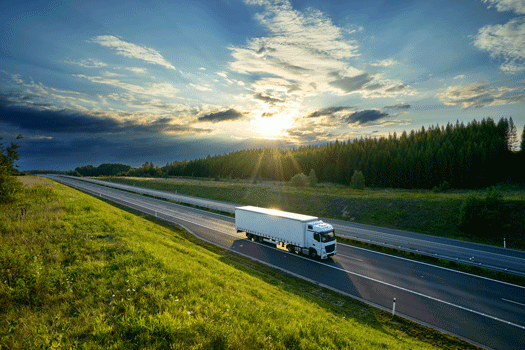 This movement requires complex supply chains that have to be dependable, affordable, and — if you want to make your sustainability goals — low in carbon emissions and their equivalent greenhouse gasses. They'd better be as close to waste-free as possible, while they're at it.
These are tough demands. Green supply chain management is a growing field of academic study, and it's clear that stakeholders must take comprehensive, multidimensional approaches to truly reach the sustainable future we're all striving for.
In short, we don't have all the answers. But we can help with one important vector of environmental impact in the supply chain: material handling equipment and the energy required to operate it.
Defining the Green Supply Chain
So what exactly are we talking about when we call for efforts to go green in supply chain industries? Green supply chain management is an approach that seeks to "integrate environmental thinking into supply chain management," according to a recent scientific paper on the subject.
"[Green supply chain management] aims to minimize or eliminate wastages including hazardous chemicals, emissions, energy, and solid waste along the supply chain," the authors wrote.
Your choice of material handling equipment can help meet these goals — every one, except maybe for the hazardous chemical limitation. And material handling is an essential part of every supply chain.
The Role of Material Handling in Green Supply Chain Management
The importance of material handling as a subspecialty of supply chain management is most visible at distribution centers, which, with increasing frequency, are morphing into full-fledged fulfillment centers.
The only way to meet market demands driven by 24-hour and two-day shipping is to fill orders in a network of fulfillment centers spread out among the consumer public. Today, we have more fulfillment centers, which means more material handling needs, which means more equipment and more power to operate that equipment.
Some equipment is greener than others, but it's tough to completely cut the cord. Even electric forklifts depend on the grid to charge their batteries. Depending on where you live, that electrical energy usage could be associated with a significant outlay of carbon emissions.
Clean energy, on the other hand, allows you to keep your fulfillment center producing without pumping greenhouse gasses into the atmosphere. And some material handling equipment can be powered entirely by onboard solar panels.
Solar-Powered Bin Tippers for Supply Chain Materials
The most effective, efficient material handling equipment is designed for a specific task. Fulfillment centers that handle bulk materials rely on hydraulic Bin Tippers to lift and empty containers without risking operator injury.
Typically, that requires charging Bin Tippers via the electrical grid. Not so when you opt for the solar panel feature available on Simpro Bin Tippers, for which Solus Group is North America's sole distributor.
These machines operate incredibly efficiently, from a power usage perspective. That allows them to run reliably without an absurdly large solar panel; in fact, Bin Tippers run on a single 18" by 18" panel posted above the frame of the unit.
Note that reusable plastic bins can also cut down on packaging waste in the supply chain. A fleet of pallet bins and a few solar-powered Bin Tippers can cut down on carbon emissions and waste production for fulfillment centers in a wide variety of industries.
So no matter where you work, remember to talk to your supply chain providers when you're making yearly sustainability goals. See what kind of material handling equipment they use. If they aren't taking advantage of package-free products and solar-powered machinery, let them know it's important to you — and that Bin Tippers with integrated solar panels could be the solution they're looking for.
References:
Chin, Thoo Ai, Huam Hon Tat, Zuraidah Sulaiman. "Green Supply Chain Management, Environmental Collaboration and Sustainability Performance." ScienceDirect. Procedia CIRP, 2015. Web. 25 Mar. 2019.
Trebilcock, Bob. "Supply Chain Basics for Material Handlers." MMH. Peerless Media LLC., 8 Mar. 2017. Web. 25 Mar. 2019.