July 11, 2017 - St. Louis, MO — Solus Group, a leading online provider of warehouse equipment and battery handling solutions, has added a new model to its innovative selection of Bin Dumpers. This one is designed specifically for use on loading docks.
Most Simpro Bin Dumpers, available from Solus Group, lift trash cans and bins before emptying them. They're designed to clear the lip of a hopper or dumpster. The Dockmaster shares the super-stable lift-and-tip action of its predecessors, but it's meant to empty wheelie trash bins from docks into containers below. For this reason, it keeps bins as close to the unit's base as possible. Like other models of Bin Dumpers, the Dockmaster's unique design keeps shifting loads firmly within the base's footprint for unparalleled stability during use.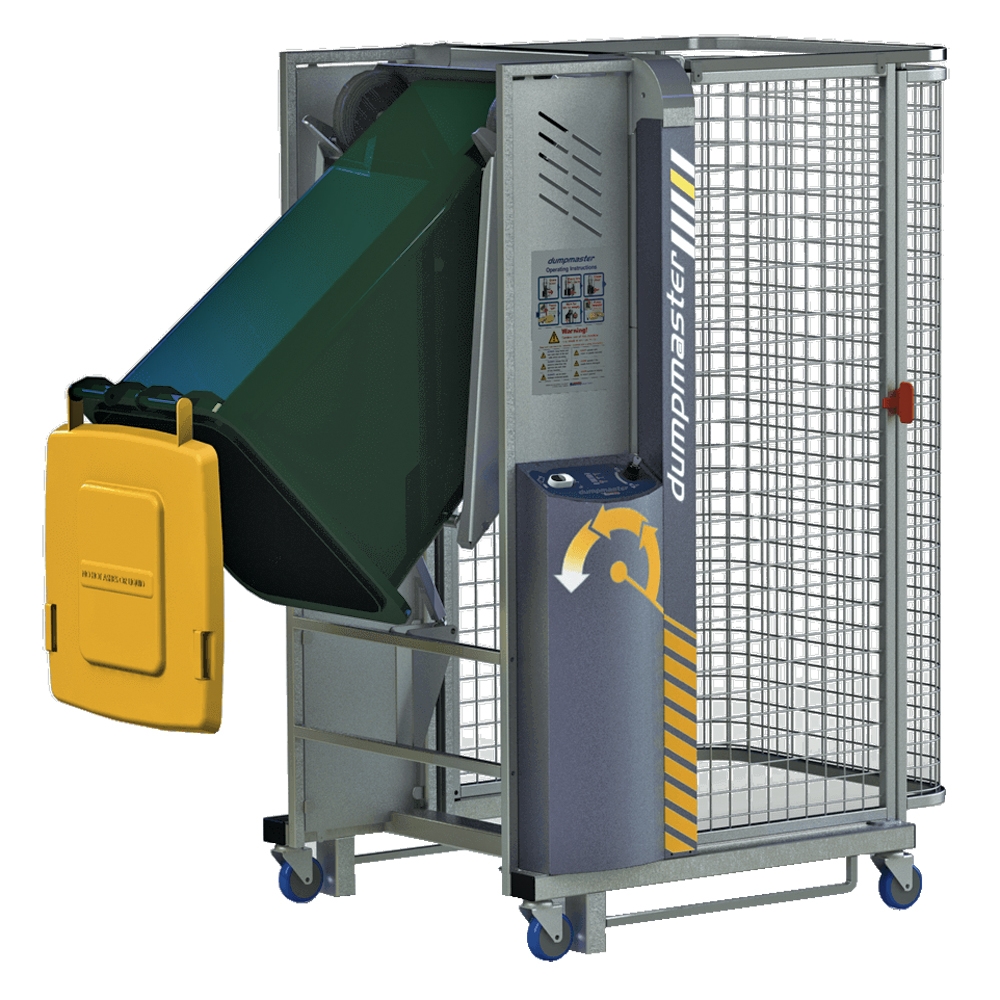 "We find that the more specialized the material handling equipment is to its task, the safer and easier that task becomes," said Jennifer Taylor, Marketing Manager at Solus Group. "The Dockmaster does one thing, and it does it better than anything else. That creates a lot of value for facilities that empty trash — or anything, really — from loading docks." 
The Dockmaster includes other safety features designed specifically for operation on docks. The front wheels are paired with steel safety feet. If an operator accidentally pushes the front wheels of the unit off the dock, these safety feet will catch and freeze the movement of the Dockmaster, preventing a dangerous tumble.
An optional operator guard protects users from splashes and glass shards. Outdoor users can choose an integrated solar panel, while indoor applications can power units with batteries, 3-phase electricity, or compressed air.
"Really, the Bin Dumpers we sell are safety devices first," Taylor said. "They speed up dumping and emptying, but more importantly, they prevent the injuries that are all-too-common when people have to lift and empty heavy bins manually."
All options are virtually maintenance free. They prevent common workplace injuries associated with manually emptying trash bins. Dockmasters ship with a cradle that's compatible with standard two-wheeled trash bins, and an optional Bucket Cradle will hold virtually any steel drum or Brute Bin.
The Dockmaster features a maximum load capacity of 550 pounds. To learn more about the entire line of Simpro Bin Dumpers, or to make a purchase, visit Solus Group online at https://solusgrp.com/material-handling-equipment/trash-bin-tippers.html.