March 3, 2020 — St. Louis, MO — Solus Group, a leading online provider of Bin Dumpers and other material handling equipment, has announced a cost-saving total solution for handling waste across large areas, including facilities, parks, event spaces, and more. Typically, companies must hire a large team to collect and consolidate waste. With Solus Group's turnkey solution, users can cut staffing needs down to a single operator, save on collection costs, and boost efficiency for crucial waste-handling tasks — all while improving safety.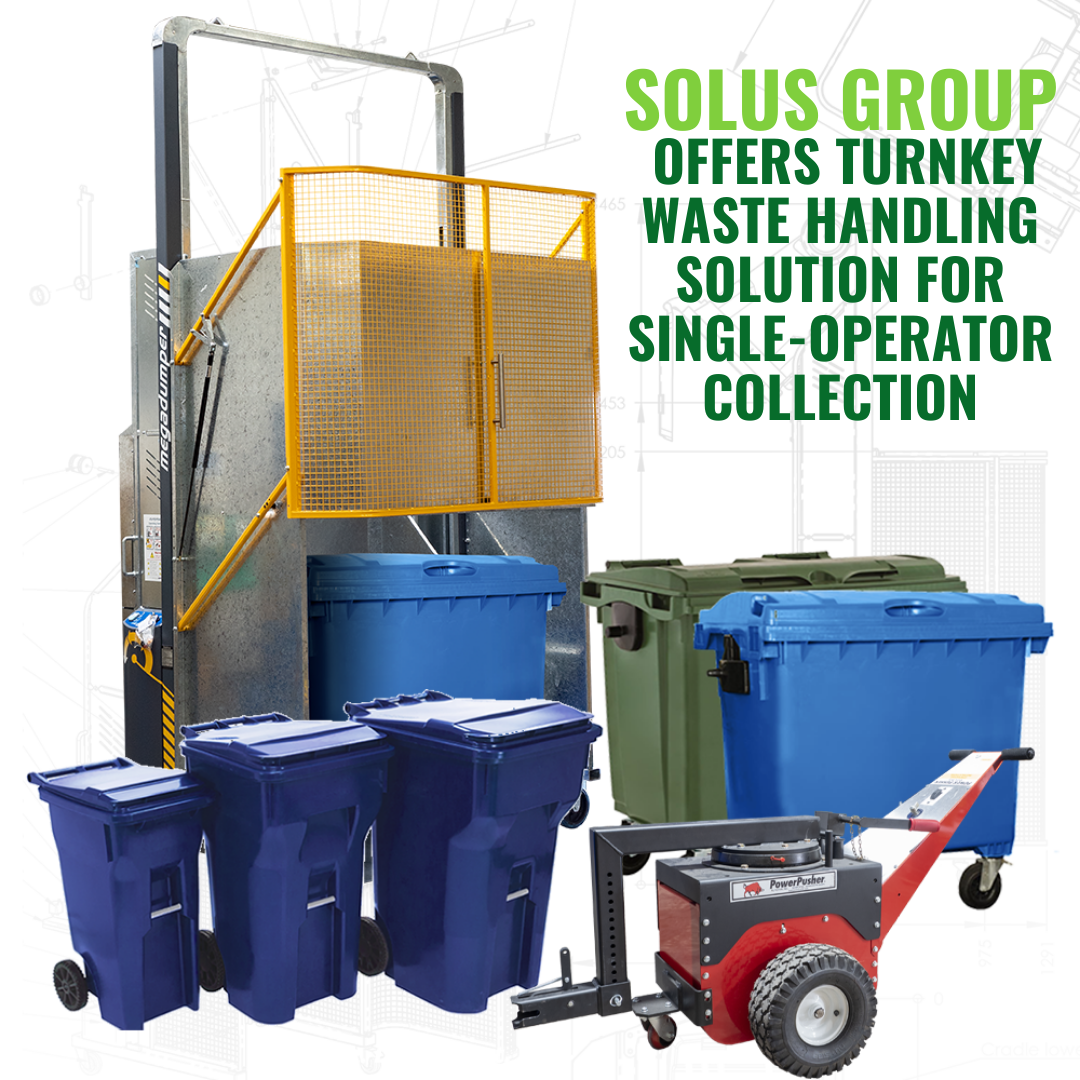 This Solus Group total solution includes five elements:
A collection of Cascade Icon Roll-Out Carts for primary material collection
A tow trailer (customer-provided) or Nu-Star Power Pusher (available from Solus Group)
One or more Mobile Garbage Bins in a train (tow hitches included)
A mobile Dumpmaster Bin Dumper at the end of the tugger train
A MegaDumper Bin Dumper at the dumpster for for final pre-haul aggregation
"Our focus isn't on this product or that product alone," said Jennifer Taylor, marketing manager at Solus Group. "It's on solving problems. This turnkey solution shows a really strong ROI for service providers, and business owners love the efficiency and discretion."
Here's how it works: A single operator pilots a tugger train consisting of one or more Mobile Garbage Bins and a Dumpmaster Bin Dumper. This employee travels to each Cascade Icon Roll-Out Cart, using the Dumpmaster to safely empty them into Mobile Garbage Bins. After a collection run, the user employs a MegaDumper Bin Dumper to lift and empty these loads into the dumpster, without any exertion or stress on muscles.
"This is by far the simplest solution for handling waste across large areas that we've seen," Taylor said.