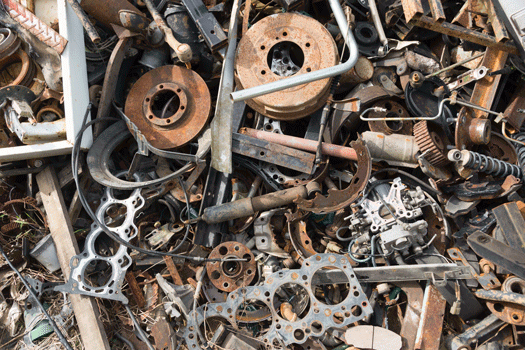 Recycling scrap metal creates tremendous benefits for sustainability — at least on first glance. The situation gets more complex when you approach scrap recycling from a lifestyle perspective.
More particularly, does the scrap recycling process create so much carbon pollution that it's effectively neutral, environmentally? Or, even worse, could it actually do more harm than good?
That's a valid concern, but the doubters can breathe easy. Recycling scrap steel — actually melting it down into a good-as-new raw material — only produces about 25 percent of the greenhouse gas emissions as making new steel. The benefits are even greater for recycling aluminum, which can cut GHG emissions by over 80 percent compared to new metal production.
Still, there's always room to improve. Scrap recycling is far from a zero-emission activity. In a field that thrives on the sustainability narrative, recyclers who can cut emissions will be popular with their customers. Here are a few ways to keep GHG emissions low in metal scrap recycling facilities:
Source electricity from renewable energy providers wherever possible. The U.S. Energy Department estimates that at least half of the nation can access renewable energy through local power companies. Ask your energy provider about green electricity, which could come from solar, wind, geothermal, or even biofuel sources.
In markets that don't provide direct access to green electricity, purchase renewable energy certificates (RECs) — or pursue self-generation through renewable technologies. In the U.S., an organized system of RECs ensures that commercial claims of environmental stewardship are matched directly to megawatt-hours (MWh) of renewably generated electricity. Business owners who don't have access to green energy can buy unbundled RECs, funding clean energy where it is available, and claim the GHG reductions for themselves. Even better, consider installing solar panels or other green energy producers directly at the scrap yard. Read the U.S. Environmental Protection Agency's guide to purchasing RECs and self-producing green energy here.
Replace gas-powered material handling equipment with electric machines. While the market hasn't made a large-scale shift toward electric scrap handlers themselves, plenty of smaller-scale electric equipment is already available. Electric forklifts and hydraulic Bin Tippers can handle a lot of the lighter-duty scrap handling tasks at the typical metal recycling facility. Meanwhile, newer generations of scrap handlers are making dramatic cuts to emissions while maintaining the use of diesel engines.
Reducing emissions may be good for business, and it's certainly good for the future of the planet. But those might not be the only arguments pushing scrap recyclers toward a greener future.
Emissions standards change and evolve, and it's possible that your state will pass strict environmental regulations requiring reductions in commercial emissions. With the advent of green energy, and the right emission-free material handling equipment, today's scrap recyclers can be ready for environmental regulations yet to come.
References:
"Buying Clean Electricity." Energy. U.S. Energy Department, n.d. Web. 22 Mar. 2019.
"Electric-powered stationary scrap handler trouble-free after one year." RecyclingProductNews. Baum Publications Ltd., 13 Jul. 2014. Web. 22 Mar. 2019.
"Guide to Purchasing Green Power." EPA. U.S. Environmental Protection Agency, Sept. 2018. PDF. 22 Mar. 2019.
Schwartz Greco, Emily. "Celebrating solutions that chip away at big problems: 3 essential reads." TheConversation. The Conversation US, Inc., 21 Dec. 2018. Web. 21 Mar. 2019.
"Scrap Handlers; past, present and future." RecyclingProductNews. Baum Publications Ltd., 20 Mar. 2017. Web. 21 Mar. 2019.