Between October 2020 and September 2021, the Occupational Safety and Health Administration (OSHA) charged nearly $2 million in fines to electrical contractors in the United States. These penalties were all the result of failure to comply with OSHA standards, but which standards in particular?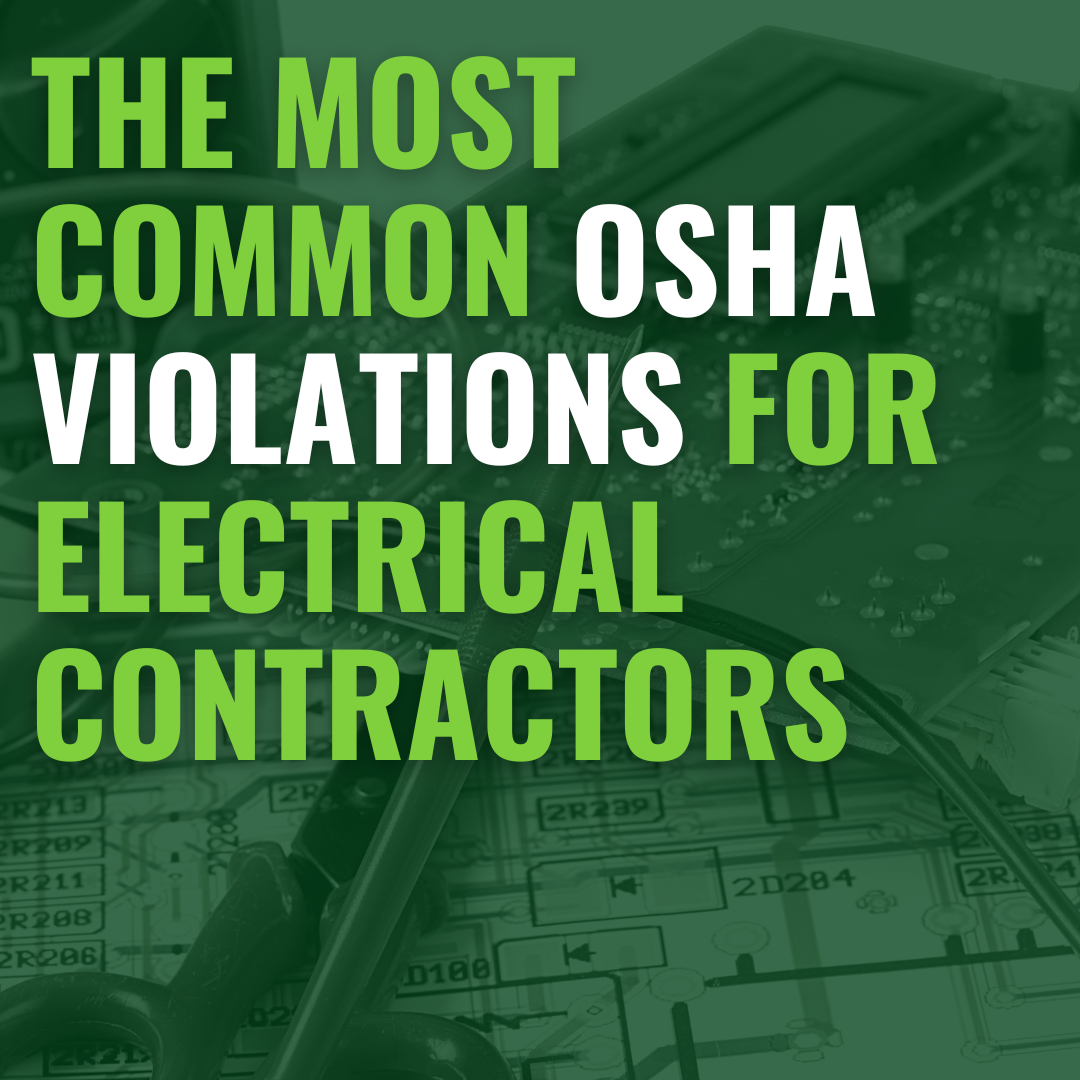 By understanding where other electrical contractors have gone wrong, you can help to ensure your firm doesn't make the same mistakes — and, more importantly, avoid devastating workplace injuries. Here are the 10 most-cited OSHA standards for electrical contractors, according to the latest figures released by the Administration.
Note: This content is for informational purposes only, and should not be considered legal advice. For official help complying with these and other OSHA standards, contact your local OSHA office, or contact the Administration at 1-800-321-OSHA.
1. Standard 1926.416: General requirements for protecting employees
This standard covers the general requirements for working with electrical systems in the construction industry. It contains nine distinct rules, covering everything from preventing contact with energized power circuits to the necessary condition of electrical cables. According to this standard, OSHA citations may result from failure to:
Prevent employees from working near power circuits unless those circuits are deenergized and grounded or sufficiently guarded from contact.
Ensure employees wear insulated gloves when using hand tools near the potential location of underground power lines.
Locate all energized power circuits prior to allowing employees to work near them.
Set up barriers around exposed and energized parts of electrical equipment.
Keep all walking/working spaces free of hazardous cords.
Prevent load increases in circuit protectors beyond the top wiring load rating.
Make sure employees use appropriately insulated tools to handle fuses in energized systems.
Avoid the use of "work or frayed" cords and cables.
Never support extension cords with staples, nails, or wire.
In the October 2020 to September 2021 study period, OSHA issued 39 citations to electrical contractors for violating this standard. These citations led to fines worth a total of $324,353.
2. Standard 1925.501: Duty to have fall protection
This standard lists employer responsibilities related to preventing falls and injuries from falling objects. In 2021, dozens of electrical contractors failed to comply with at least one of the following provisions found in the Code of Federal Regulations, subpart 1926, standard number 1926.501:
Employees can only be allowed to work on elevated surfaces that support them safely.
Elevated working surfaces require guardrails, safety nets, or personal fall arrest equipment if they're six feet or higher above the ground or lower level.
Workers tasked with setting up these elevated platforms must be protected by guardrails, safety nets, or fall arrest systems, too.
All holes in working platforms (including skylights) must be set up so workers won't trip over them or step into them.
Holes must be covered when there's a risk of objects falling through them onto those working below.
Elevated walkways above six feet require guardrails.
When employees work six feet or more above "dangerous equipment," some combination of guardrails, personal fall arrest systems, or safety nets must prevent falls into that equipment.
Employees must wear hard hats in workplaces where there's a risk of falling objects.
In addition to this PPE requirement, elevated walkways should include toeboards or other guards against objects falling over edges.
This list isn't comprehensive, but it illustrates the kinds of mistakes that led to OSHA fines for contractors (and, presumably, the workplace incidents that sparked an OSHA investigation).
During the study period, OSHA issued 37 citations for noncompliance with standard 1926.501 in the electrical industry, leading to fines worth a combined total of $409,839.
3. Standard 1926.453: Aerial lifts
Standard 1926.453 provides safety rules for working with (and on) boom platforms, aerial ladders, and other work platforms that take employees high in the air. Key OSHA requirements in this section of the regulations include:
Staff must test aerial lift controls every day, before using them, to make sure they're working like they should.
Only trained, authorized staff can operate an aerial lift.
Anyone in the basket of a lifting device must stand on the floor; no use of planks or ladders to reach work locations.
Employees in these elevated baskets must wear a body belt, and attach it to the boom or basket itself with a tethering lanyard.
Before you lift someone, the vehicle that supports an aerial lift must be parked on a solid surface. If there's any incline, use wheel chocks — and brakes must always be set during use of the lift device.
Electrical contractors failed to comply with these and other rules listed in standard 1926.453. For these mistakes, OSHA issued 28 citations to electrical employers during the study period, charging total penalties of $83,078.
4. Standard 1926.1053: Ladders
The OSHA standard covering safe use (and construction) of ladders is one of the longer lists of rules in the Code of Federal Regulations. Electrical contractors should familiarize themselves with the whole thing, but key sections that often get missed include:
All ladders must be built and tested to support at least four times the maximum intended load (or 3.3 times the max load if they're considered "extra-heavy-duty."
When ladders reach 24 feet or more, employers must outfit them with "ladder safety devices" or lifelines and rest platforms at least every 150 feet.
Ladders must be free from oil, grease, or similar substances that increase the risk of slipping.
The team must keep the surrounding area of a ladder, both at the top and the bottom, totally clear of items and materials.
These are just a few examples of OSHA's rules for ladders in the construction industry. When in doubt, consult an OSHA-qualified safety expert. For electrical firms' failure to comply with standard 1925.1053, OSHA issued 21 citations during the study period. Fines for these citations amounted to $61,933.
5. Standard 1926.405: Wiring methods, components, and equipment for general use
This standard provides ground rules for electrical systems in the construction industry, including temporary wiring for lighting and equipment at the job site. Standout requirements include:
You can't hang temporary lights by the cord (unless both the cord and light are designed for this purpose).
If you run a flexible cable or extension cord through doorways or potential "pinch points," those cords must be protected from damage. You must avoid running cables around sharp corners or objects that might cut them.
To power electric tools and appliances, you must only use three-wire extension cords rated for "hard or extra-hard" applications.
Electrical equipment can't have exposed live elements.
For these and/or other violations of the standard, OSHA issued 18 citations to electrical contractors in the study period, with fines amounting to $54,576.
6. Standard 1926.20: General safety and health provisions
This standard clarifies how other standards will be enforced, covering general topics from safety programs to personal protective equipment (PPE) and employee training in the construction industry. It makes several important safety responsibilities clear:
Employers are responsible for offering effective safety programs.
These programs must include frequent inspection of job sites, equipment, and construction materials, and must be conducted by "competent persons."
Multiple standards within part 1926 of the OSHA regulations require employees to provide safety training as well as appropriate PPE. Standard 1926.20 (f) specifies that each failure to train or provide PPE is a separate violation. So if you fail to train a whole team, you could be cited once for each employee, for instance.
Among electrical firms, violations of standard 1926.20 resulted in 15 citations from OSHA during the study period. Total fines amounted to $57,576.
7. Standard 1926.21: Safety training and education
Here, OSHA spells out the government's authority over industrial training programs in the construction industry, and clarifies employer responsibility to train employees for safety and health. Sections that may lead to citations for electrical contractors include:
Employers must teach employees how to recognize and avoid unsafe conditions, as well as methods of removing or at least controlling these hazards.
Employees who work with "harmful substances" must be trained on how to handle them safely.
Employers must also provide training for the safe use of flammable substances or hazardous materials — and potential exposure to dangerous plants or animals.
Between October 2020 and November 2021, OSHA issued electrical contractors 15 citations related to this standard, with fines totaling $87,022. That breaks down to an average fine of over $5,800.
8. Standard 1926.403: General requirements for approved electrical conductors and equipment
This list of "general requirements" covers the use of electrical equipment in the construction industry, including rules for setting up and working around electrical devices. In part, it states that:
Employers must ensure that electrical equipment is safe for use in a variety of conditions.
Any equipment that requires certification or official documentation must be installed and used as described by the paperwork.
Electrical equipment must be safely secured to mounting surfaces (which means no wooden plugs driven into concrete, which apparently was a common problem when OSHA wrote the rule).
Electrical equipment must have a certain amount of empty space surrounding it (usually not less than 30 inches, but sometimes up to four feet).
Violations of standard 1926.403 led to 13 OSHA citations among electrical contractors in the study period, with fines totaling $35,576.
9. Standard 1904.39: Reporting fatality, injury, and illness information to the government
Notably, standard 1904.39 is the only item on this list that doesn't cover the construction industry alone. It comes from part 1904 of the regulations, which governs how employers must record and report workplace injuries and illnesses to the government. Specifically, standard 1904.39 states, in part, that:
Employers must report workplace deaths to OSHA within eight hours of the incident.
If a workplace injury leads to an employee being admitted to a hospital — or if there's an amputation or loss of an eye — those incidents must be reported within 24 hours.
Employers can make these reports either online, using OSHA's Serious Event Reporting Online Form, by calling your local OSHA Area Office, or by calling the central OSHA phone line at 1-800-321-OSHA.
During the study period, OSHA issued 11 citations to electrical contractors for violations of this standard, and charged total fines of $33,158.
10. Standard 1926.503: Training requirements for fall protection
According to OSHA standard 1926.503, employers must provide fall-protection training programs for all employees that might face falling hazards. Here are a few details about these training programs listed in the standard:
Training programs must teach employees about the risks of falling and reliable ways to reduce that risk.
Not just anyone can teach a fall-protection program. The instructor must be a "competent person," with detailed knowledge of specific fall hazards on the job; the right way to handle the job's fall protection systems; use of guardrails and other safety equipment; each employee's role in a fall protection plan; and, of course, OSHA standard 1926.503.
Employers must document fall-protection training with official certificates.
While the standard doesn't require annual retraining, it does state that training should be repeated when there are changes in the workplace, you get new fall protection systems, or it seems that an employee isn't following the rules of the training.
This, the tenth most-commonly cited OSHA standard for electrical contractors, led to 9 citations from October 2020 to November 2021. The Administration charged total fines of $92,690 for these violations.
The best way to avoid OSHA citations — and the workplace hazards that lead to them — is to work with the experts, either professional safety advisors or OSHA itself. Small and medium-sized businesses can get cost-free services through the OSHA On-Site Consultation Program. For more assistance, contact your regional OSHA Office.