The Occupational Health and Safety Administration (OSHA) requires employers to provide emergency stations to workers wherever chemical hazards are present. Those facilities need to be immediately accessible, and they need to meet certain standards (which we'll address below).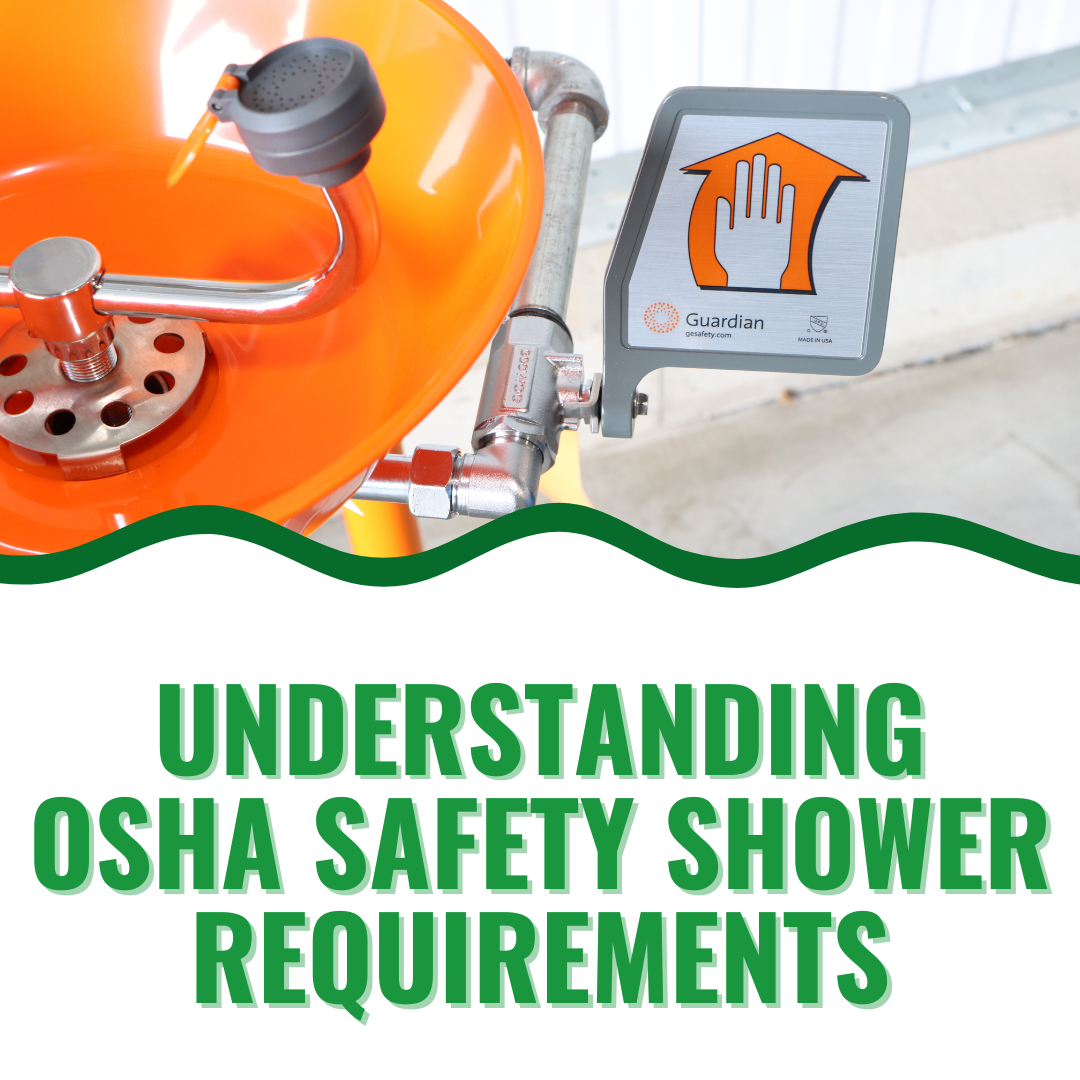 This applies to any area with corrosive materials — including the battery room. Your facility should have eye wash stations and/or safety showers that employees can reach within about 10 seconds.
Below, we'll answer some common questions about safety showers and provide tips for OSHA compliance.
What OSHA standards apply to safety showers and eyewash stations?
The relevant rules here are Standard 1910.151(c), for general industry, and Standard 1926.50(g), for the construction industry. Both rules share the same language:
Where the eyes or body of any person may be exposed to injurious corrosive materials, suitable facilities for quick drenching or flushing of the eyes and body shall be provided within the work area for immediate emergency use.
That language leaves some room for interpretation, but OSHA has clarified its requirements over time:
A "suitable facility" should meet ANSI/ISEA Z358.1: American National Standard for Emergency Eyewash and Shower Equipment.
"Immediate emergency use" is generally defined as accessible within 10 seconds of an exposure.
Safety showers and eyewash stations must be clearly identified with highly visible signage.
Should I choose safety showers or eyewash stations — and what's the difference?
Safety showers (also known as emergency showers) are intended to wash chemicals from the body, but not the eyes — their high rate of pressure could potentially cause an injury. Eyewash stations are smaller and intended solely for flushing the eyes.
You'll need to conduct a detailed hazard assessment to determine which option is appropriate for your facility. ANSI/ISEA Z358.1, available for purchase here, provides detailed guidance.
For more information about eye wash stations, read: OSHA Eye Wash Station Requirements: 7 Frequently Asked Questions.
What are OSHA's requirements for safety showers?
In interpretation letters, OSHA recommends following ANSI/ISEA Z358.1. That standard requires that:
Emergency showers must maintain a minimum supply of 20 gallons of water per minute for at least 15 minutes.
Eye washes must maintain a minimum flow rate of 0.4 gallons of water per minute.
Combination eye-and-face wash units must supply at least 3 gallons of water per minute.
The temperature of the water must be "tepid," within a range of 60-100 degrees Fahrenheit (16 to 38 degrees Celsius).
Additionally, emergency stations must be maintained and tested via weekly activations. Stations that are connected to water lines should be activated for at least 1-2 minutes (ideally, 5 minutes) to flush out stagnant water.
Notably, OSHA does not require emergency stations to be plumbed. Portable and wall-mounted eye wash units are perfectly acceptable; for safety showers, the substantial water requirements often require plumbing.
Where should I place safety showers to meet OSHA's "immediate emergency use" requirement?
Workers can travel about 55 feet within 10 seconds, so generally, facilities must be within 55 feet of every potential place of exposure.
In some scenarios, however, OSHA recommends placing stations closer to the source of the hazard. OSHA standard 1926.441(a)(6), which applies to industrial battery rooms in the construction industry, requires facilities to be provided within 25 feet of battery handling areas.
Protect Workers with Safety Showers and Eye Wash Stations from Solus Group
Solus Group provides options to help employers meet OSHA requirements — and protect workers in the battery room and other areas where hazardous chemicals are present.
The Shower Eye Wash Station is an all-in-one safety station that combines an emergency shower with a gentle, self-regulating eye wash unit. A 1-inch, stay-open ball valve behind the shower head ensures an even flow, and the eye wash flow control provides an even spray. A float-off dust cover and filter limits maintenance.
Solus Group also carries Portable Eye Wash units, Wall Mounted Eye Wash Stations, Pedestal Mounted Eye Wash Stations, and Battery Emergency Stations, all of which are designed to meet OSHA/ANSI standards.
To learn more about emergency showers and eye wash stations, contact Solus Group at 314-696-0200 today.