The National Electrical Manufacturers Association (NEMA) develops standards for electrical products, including charging equipment for electric vehicles (EVs). If you're shopping for an EV charger, odds are you'll run into claims about at least one of these standards: NEMA 4.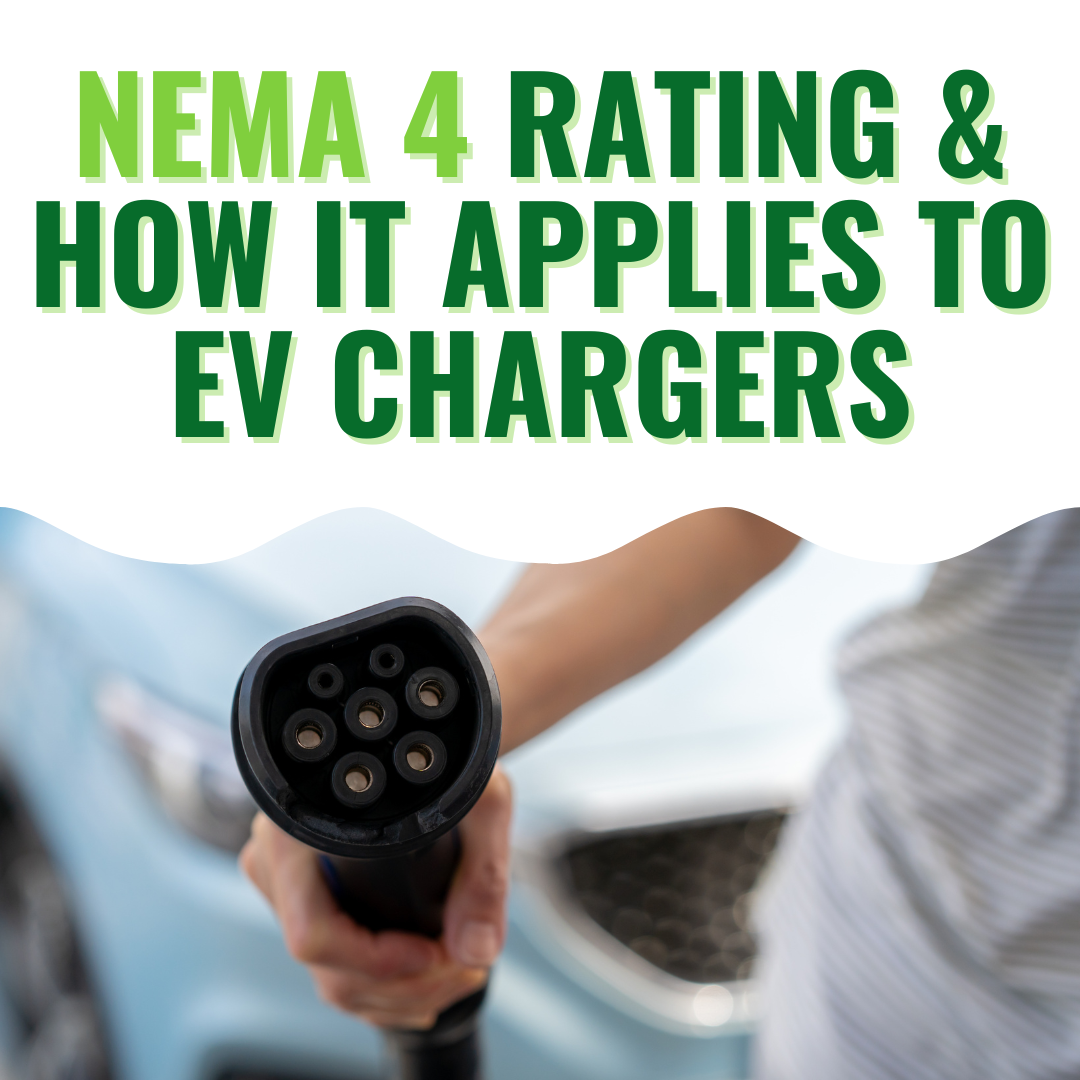 So what is a NEMA 4 rating? What about NEMA 4X? More importantly, do you always need an EV charger that carries one of these ratings? Here's what you need to know.
Defining the NEMA 4 Rating for EV Charger Enclosures
NEMA 4 is one of about 20 types of electrical enclosures — the cabinet or outer layer of an electrical product — defined by the National Electrical Manufacturers Association. Type 4 enclosures must meet several NEMA requirements. They must be designed and manufactured to:
Keep electrical products safe and functional indoors or outdoors
Protect users from contact with dangerous components
Protect equipment from dust, dirt, and other air-borne fragments
Protect equipment from contact with water, including precipitation
Resist damage if ice forms on the enclosure
In other words, a NEMA 4 rating means the EV charger is generally safe for outdoor installations. That's an important consideration. Public EV chargers are often located outdoors. So are many fleet-charging stations. Odds are, if you're building an EV charging station, you're doing it in an outdoor area like a parking lot; that makes Type 4 the right sort of enclosure for the EV supply equipment (EVSE) you install.
If you're installing EV chargers in a space with a high corrosion risk, however, Type 4 enclosures may not offer enough protection for your EVSE. In that scenario, look for a NEMA 4X rating.
Additional Protection With NEMA Type 4X Enclosures
Type 4X enclosures must meet all the requirements of Type 4 products. But they also add an additional capability: They must protect the equipment from corrosion. For outdoor EV chargers, that typically means rust, but could also include contact with corrosive chemicals.   
Most Level 2 EV chargers intended for home use don't require NEMA 4X ratings. For home installations, it's usually enough to meet or exceed NEMA 4 standards. However, if you're building charging stations for EV fleets or public use, you might require compliance with NEMA 4 standards — or even higher levels of protection. For example, some EV chargers carry Type 6 ratings, which protect EVSE from water even during brief periods of submersion.
How to Protect EV Chargers Beyond NEMA 4 Compliance
A Type 4 enclosure may provide safe, long-lasting performance for your EV charging station. But you also have to protect equipment from the risk of impacts — and make them easy to use. That requires mounting chargers to elevated stands.
EV Charger Pedestals from Solus Group are built for high-volume usage, with a steel, powder-coated frame that stands up to the elements. These compact charger stands occupy a small footprint, so you can install them just about anywhere. Choose a dual-charger model to double your charging capability. For all models, integrated Cable Management Kits further protect EVSE, which includes charging cables, while providing convenient access for users.
Buy EV Charger Pedestals and Cable Management Kits from Solus Group
Whether you choose EV chargers with NEMA 4 enclosures, or an even more robust design, EV Charger Pedestals and Cable Management Kits offer a dependable way to complete your charging station. Contact Solus Group at 314-696-0200 to learn more.