Construction and demolition sites depend on reliable waste handling equipment. Once the roll-off dumpsters arrive at the site, workers will start filling them up. Without assistance, throwing away heavy waste can expose staff to health risks and slow the entire project down.
Here's the good news: With a few simple tips and some key investments in the gear, crews can dispose of construction and demolition (C&D) waste quickly, without placing workers at risk.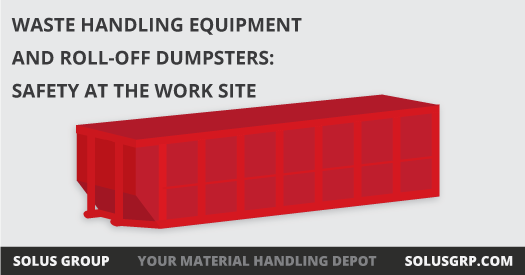 Identifying the Ergonomic Risks for C&D Waste Removal
Before you can build the perfect arsenal of waste handling equipment, you need to know which tasks need assistance. Watch out for employees manually discarding waste. If they're twisting their bodies, reaching up over the lip of the dumpster, or lifting heavy things, they're probably at risk.
Chances are, you already have a front loader at your work site. Loaders are the safest way to dispose of large and heavy waste materials, since they don't require any manual handling at all. But front loaders can't handle all the heavy lifting.
For smaller, more dispersed bits of waste, crews typically use wheelbarrows and their own bodies. They fill wheelbarrows with broken bits of sheet rock, old two-by-fours, and whatever else litters the site. Then they roll over to the dumpster and empty their wheelbarrows by hand.
This manual disposal of C&D waste can cause injuries. An OSHA guide to ergonomics traces musculoskeletal disorders back to "awkward postures, or unsupported positions that stretch physical limits" and "motion, such as increased speed or acceleration when bending and twisting," among other things. The act of tossing a scrap of waste into a dumpster often requires one or both of these risky movements.
Waste Handling Equipment Built for C&D Waste
Dangerous or not, that roll-off still has to be filled. OSHA offers some advice on how to limit the risk, even in tasks that typically involve overexertion. Their main suggestion is for employers to provide "appropriate engineering controls, such as work station, tool, and equipment design or redesign."
The job is getting C&D waste into the roll-off dumpster. The right tool for that job is a heavy-duty Bin Tipper from Solus Group.
The Megadumper Bin Tipper lifts and empties up to 1,300 pounds of waste — from torn-up tile to broken concrete — with powerful hydraulics. The galvanized steel construction is perfect for outdoor use. Fill smaller two-wheeled bins at the work site, roll them to the dumpster, and let the Megadumper do the rest. The unique lift-and-tip action keeps weight centered over the frame's footprint as the waste bin empties, ensuring stability.
For lighter (but still heavy-duty) loads of up to 660 pounds, choose the Dumpmaster, the Megadumper's slightly smaller counterpart. This Bin Tipper also features galvanized steel construction and weather-proof controls.
The next time you have C&D waste that needs to get into a roll-off dumpster, choose waste handling equipment that's tough enough for the job: Bin Tippers from Solus Group.
References:
"Ergonomics." OSHA. Occupational Safety and Health Administration, United States Department of Labor, n.d. Web. 16 July 2017.
"Ergonomics: The Study of Work." OSHA. Occupational Safety and Health Administration, United States Department of Labor, 2000. PDF. 16 July 2017.