The U.S. National Park Service (NPS) faces a waste management quandary: it aims for a zero-landfill future, yet visitors deposit over 100 million pounds of waste there every year. To avoid sending enormous loads of trash to the dump, the NPS must find ways to recycle, reuse, and compost as much waste as possible. And even with major challenges, such as existing in remote, rural locations, the NPS is well on its way to eliminating its reliance on landfills. Here's how they're doing it.
The National Park Service has started three pilot programs for zero-landfill parks.
The programs are at some of the most beloved parks in the country — Denali, Grand Teton, and Yosemite. After partnering with Subaru, a company with its own impressive track record for zero-landfill solutions, the NPS has added more than 400 new recycling containers and increased its composting infrastructure.
Extra recycling containers and adequate compost operations take care of the vast majority of waste in national parks. According to the National Parks Conservation Association, this is the breakdown of materials in national park trash cans: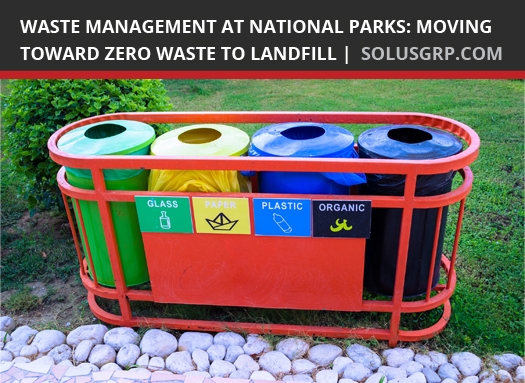 41% organic waste
22% paper and cardboard
17% plastics
7% glass
14% other recyclable or reusable items
Because the pilot parks are committed to sorting trash into recyclable components and delivering them to the proper facilities, a zero-landfill future is within grasp. That's great news, but it also means that waste management has gotten significantly more burdensome in these parks. Bins of organic waste or glass can be dangerously heavy and pose an injury risk to janitorial staff.
In these multi-stream environments, hydraulic bin dumpers can reduce the burden on custodians.
Bin dumpers lift and dump a wide variety of receptacles to simplify waste management. Specialized, heavy-duty models have steel bucket cradles for tipping steel drums, square bins, and other containers with no front bar. Using powered equipment to lift and dump heavy bins allows a small janitorial staff to keep up with the increasingly complex waste streams at zero-landfill operations.
Because Solus Group's bin dumpers have casters, they can easily move among collection points. This allows staff to use the same machine to tip recyclables into receptacles and to dump compost into wind-rows or digesters. Optional features like solar panels make these lifting machines even more environmentally friendly and easy to maintain.
Solus Group is the nation's only GSA-approved importer of Simpro Bin Dumpers.
The U.S. government's General Services Administration has vetted and approved Solus Group to sell its best-in-class equipment to government agencies. State and local governments can purchase the company's equipment through the federal Cooperative Purchasing Program. That makes Solus Group the ideal provider of Simpro Bin Dumpers for the National Park Service, state parks, and local municipal green spaces.
Bin Dumpers can help national parks, but a zero-landfill future requires your cooperation.
Visitors to national parks do their best to abide by the saying, "Leave only footprints." We usually interpret that to mean simply, "Don't litter," but park administrators would like visitors to go one extra step. That's because it's better to portage waste back to cities and suburbs that have better infrastructure for recycling varied materials.
Of course, reducing waste in the first place is even better. For instance, you can use refillable bottles and thermoses for your water and coffee. Plastic bottles may seem easy to recycle, but many parks are located far from the recycling centers that accept plastic. With a little forethought, we can all help national parks reach their zero-landfill goals.
There are a host of problems, but the National Park Service is up to the challenge.
Jeffrey Olson, an NPS spokesperson, told Waste360 that the parks' efforts are hampered by limited budgets, maintenance backlog issues, and extreme climatic environments. Nevertheless, the NPS is pressing on with its #Don'tFeedtheLandfills campaign and hopes that improving awareness of the problem will lead to positive changes.
One of the NPS's biggest allies are park visitors. A survey showed that many visitors were unaware of the challenges that the parks face but are willing to adjust their behavior to reduce waste. By leaving behind as little waste as possible and properly sorting the waste that cannot be carried out, visitors will help national parks reach their goal of a zero-landfill future.
References
Guynup, Sharon. "The Zero-Waste Factory." ScientificAmerican. Scientific American, 13 July 2017. Web. 18 Jan. 2018.
Karidis, Arlene. "National Parks' Diversion Rates High Despite Big Challenges." Waste360. Informa USA, Inc., 2 Sept. 2016. Web. 18 Jan. 2018.
"Leave No Trace." LNT. The Leave No Trace Center for Outdoor Ethics, n.d. Web. 18 Jan. 2018.
"National Parks Plan for a Greener Future." NationalGeographic. National Geographic Society, 7 Dec. 2015. Web. 18 Jan. 2018.
"Study Reveals Lack of Awareness of Waste Challenges Facing U.S. National Parks." Multivu. Multivu, 16 Aug. 2016. Web. 18 Jan. 2018.
Varner, Jamie. "What's in National Parks' Trash Cans — and What You Can Do." NPCA. national Parks Conservation Association, 16 Aug. 2016. Web. 18 Jan. 2018.