Cart tippers are known by a variety of names — on this site, we've referred to them as Bin Dumpers, trash can dumpers, and garbage can dumpers, among others — but whatever you call them, they're an essential tool for improving ergonomics. By simplifying certain material handling tasks, cart tippers protect workers, improve efficiency, and extend product lifespans. Nevertheless, outside of a few industries, these tools are frequently overlooked.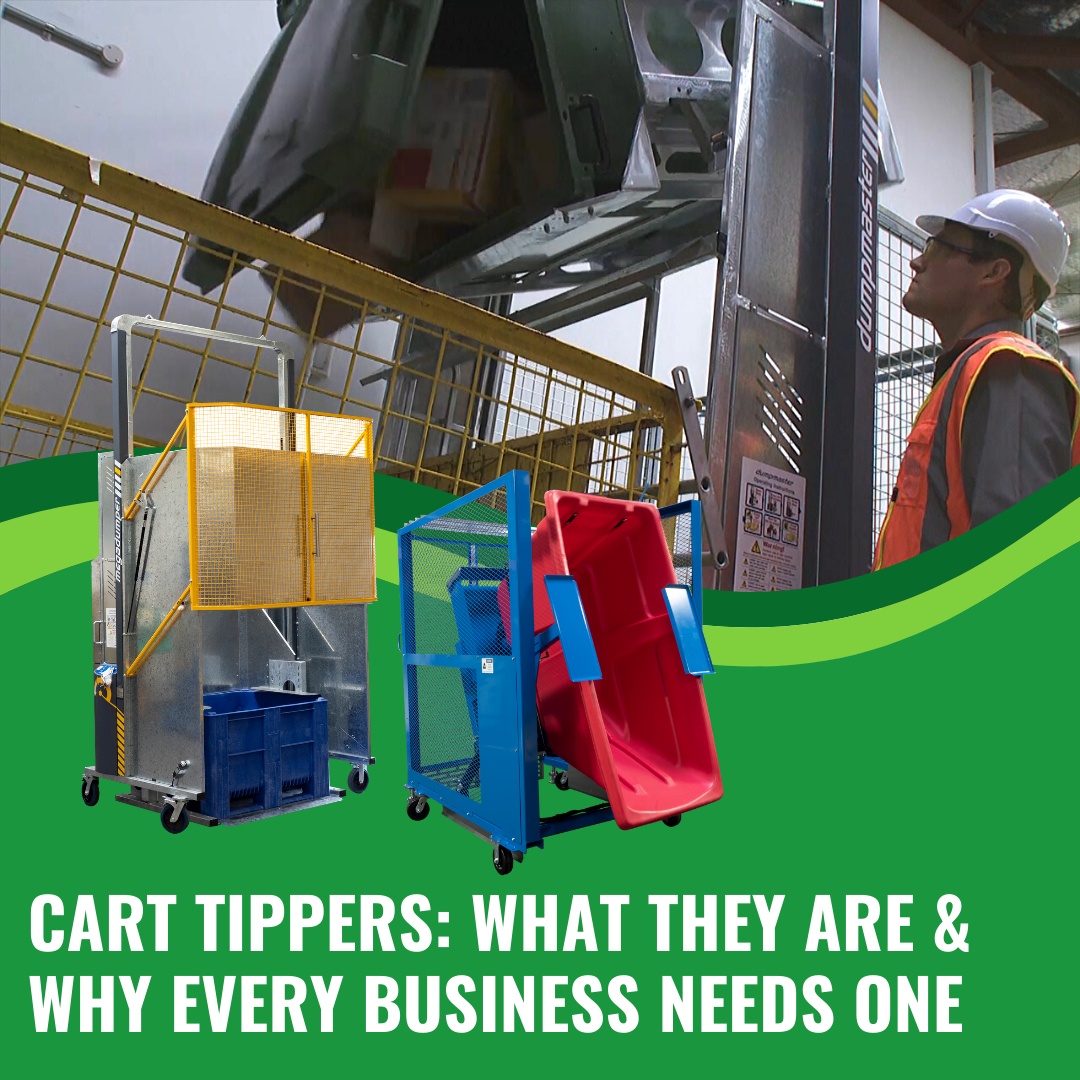 A cart tipper is designed to lift, tilt, and empty a bin, typically via hydraulics (some smaller tippers have hand-cranked mechanisms, which can be economical for low-volume lifting). While the equipment is most commonly used for handling waste, the technology has a virtually unlimited set of practical applications. Some of the most common include:
Dispensing ingredients into hoppers or mixing vats
Tipping products onto a conveyor line
Emptying containers for manual processing tasks
Transferring produce from harvest bins
Transferring waste to dumpsters
Because cart tippers can accommodate virtually any type of container, they're appropriate for every industry from chemical manufacturing to food service. They're durable, long-lasting machines, ideal for either outdoor or indoor use, and versatile thanks to numerous customization options.
Utilizing them effectively requires careful consideration about load weight and container size; the Megadumper, for example, can accommodate 300-450 gallon bins weighing up to 1,320 pounds at heights beyond 23 feet, while the Ezi-MT™ series is more appropriate for manually dumping garbage bins and other relatively small containers (for a full list of Bin Dumpers and cart tippers, visit our Bin Dumper page or view our catalog).
Cart Tippers Improve Ergonomics (And Efficiency)
Of course, workers can handle certain lifts, and every operation needs to make careful considerations before purchasing brand-new equipment. So, why invest in cart dumpers when you're already getting by without them?
For starters, a cart tipper can drastically improve efficiency by streamlining lifting tasks — and keep you in compliance with the OSHA General Duty Clause, which requires employers to keep workplaces free from recognized "serious hazards." That includes ergonomic hazards, and tasks that require strenuous lifting certainly qualify.
Cart tippers can also allow businesses to rethink their workflow in novel ways. On farms, produce pickers can move product directly into harvest bins, which can be later transferred for distribution with an appropriate cart tipper. Bin Dumpers can be fitted with guard panels and full cages to prevent splash-back, so they're ideal for dispensing chemicals in processing and manufacturing facilities.
And, of course, these machines are essential for moving waste from large garbage cans to dumpsters — for some organizations, the simplest applications provide the clearest benefit. Regardless of how they're used, cart tippers protect workers by removing ergonomic hazards, improving throughput in the process.
Any industry that utilizes large containers should invest in appropriate equipment to manage those containers. While forklifts and other general-purpose equipment can help, cart tippers are specifically designed to manage bins, drums, trash cans, and other containers in a safe and efficient way. The right tools make a difference — and an appropriately outfitted cart tipper can yield outstanding results for nearly any business.