On average, schools generate 4.7 pounds of waste per person per day. The average public school enrollment is 527 students — do the math, and schools produce about 12,385 pounds of waste per week.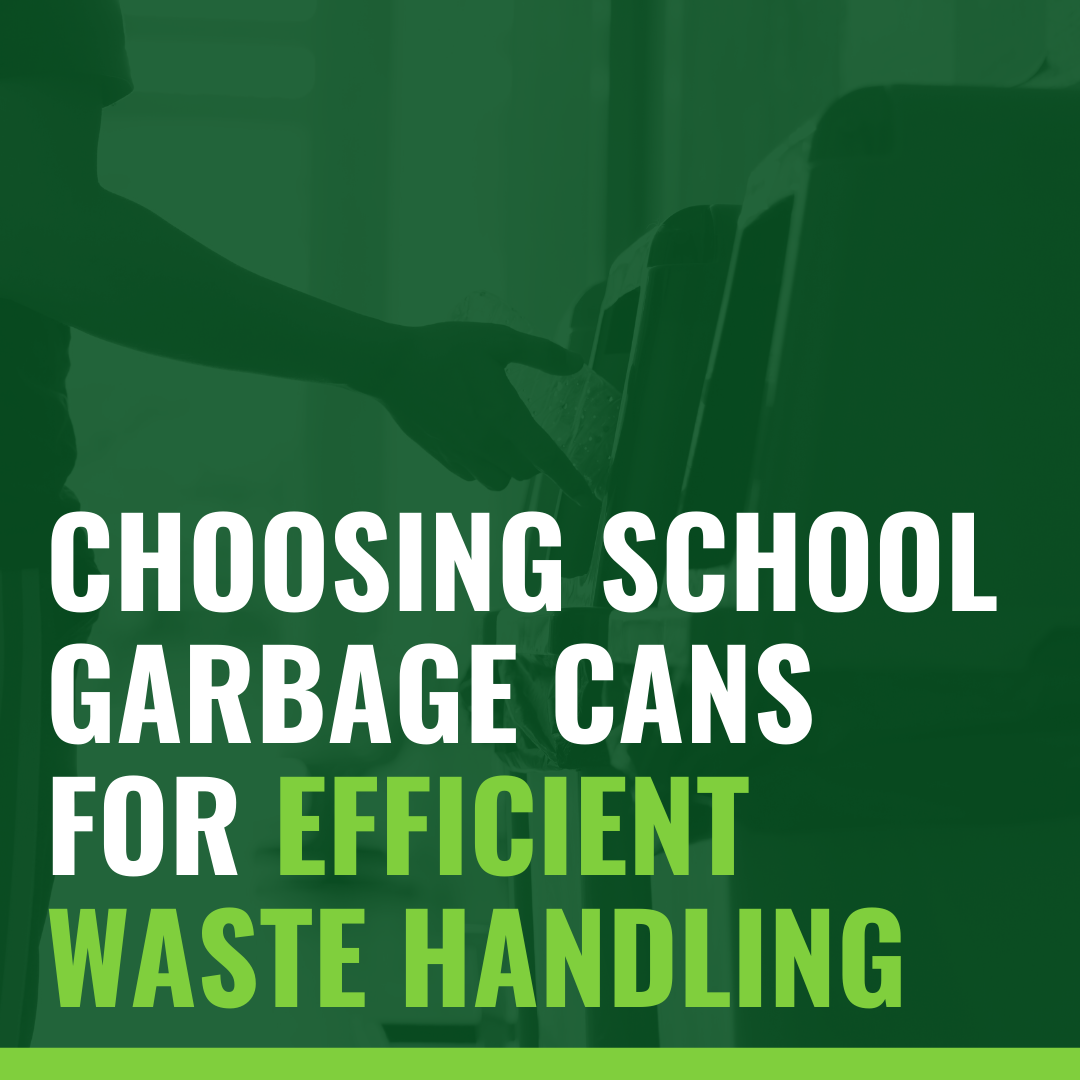 Needless to say, educational institutions need to devote resources to efficient waste handling. That process starts with a careful selection of receptacles. Below, we'll explore some considerations that decision makers need to keep in mind when selecting waste & recycling bins.
Choosing School Trash Cans: Key Factors
Educational facilities are frequently the largest waste generators in any city — but the type of waste certainly matters. For obvious reasons, most schools generate more paper waste than any other type of waste, with food waste (including beverage containers) making up the majority of the rest of the refuse.
Ideally, a school's waste refuse fleet should meet these criteria:
Recycling containers are visually distinct from waste bins.
All waste containers can be moved and emptied safely.
Waste containers can be easily cleaned.
Waste containers are aesthetically pleasing.
Outdoor waste containers can withstand direct sunlight and inclement weather.
HDPE (High Density Polyethylene) plastic is an excellent, durable material for meeting these criteria. Metal waste bins are prone to rust and add to noise pollution; HDPE plastic is durable, lightweight, and capable of holding large capacities of waste — including food waste — without weakening over time.
However, you'll also need to consider ergonomics: At capacity, some HDPE containers weigh hundreds of pounds. Your custodial staff will need to move and empty bins every day — if bins aren't ergonomically designed, you put your staff at risk of musculoskeletal injuries.
According to one study from the National Center for Biotechnology Information, custodian injury rates are about four times higher than the overall injury rates across all school district occupations. Injury rates are much higher during the school year, and "handling garbage" was cited as one of the primary sources of risk exposure.
Related: Using Bin Dumpers to Improve Maintenance at School Facilities
School Garbage Cans and Recycling Bins from Solus Group
Solus Group offers a range of waste handling products for schools and other educational institutions. By focusing on ergonomics, our manufacturers help administrators maintain clean, safe schools while reducing risks for custodial workers.
Products to consider: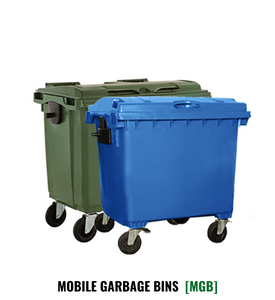 Built to handle the heavy demands of schools, municipal buildings, and commercial businesses, the Cascade Icon Series is the standard for everyday waste handling.
Icon Roll-Out Carts are injection molded with HDPE, and a UV stabilization process ensures durability even when units are stored in direct sunlight. RFID tags come standard on every cart, and the snap-on wheels are both durable and replaceable. Solus Group carries Cascade Icon Roll-Out Carts in 35, 64, and 96-gallon sizes with a range of color options; carts can also be customized with graphics on request.
Made with HDPE plastic, Solus Group's Mobile Garbage Bins are appropriate for waste, recyclables, and compost applications. Each bin features four heavy-duty casters (two braked casters) and grab handles for optimal maneuverability.
Two capacities are available: 660 liters (174 gallons, ¾ yards) or 1,100 liters (290 gallons, 1.5 yards). Ideal for indoor or outdoor use, Mobile Garbage Bins are highly visible, easy to clean, and much quieter than traditional metal bins.
Bin dumpers (also known as trash can dumpers, bin lifters, or bin tippers) remove a major ergonomic risk by safely lifting and dumping roll-out carts, wheelie bins, and other types of receptacles. Solus Group is North America's leading supplier of bin tippers.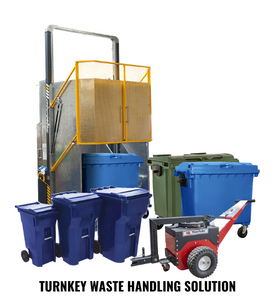 Ergonomic waste handling equipment is affordable for school districts, and by protecting workers, Bin Tippers can help to reduce staffing costs and improve custodial retention. Options include the Dumpmaster Hydraulic Bin Dumper, the EZI-MT Manual Bin Dumper, and full Bulk Waste Handling packages.
Find Waste Handling Solutions for Educational Institutions
Whether your school district needs to purchase replacement receptacles or outfit a school with a full fleet of waste-handling equipment, Solus Group can help. We offer turnkey waste handling solutions, and our sales team can help you choose products that keep your budget intact — without sacrificing ergonomics.
Speak with a member of our team by calling 314-696-0200 or click here for our online contact form.