In food warehouses, ergonomics are a crucial consideration. Workers that regularly move products and materials have a high risk of developing musculoskeletal disorders (MSDs) — even when the weight of the load is fairly limited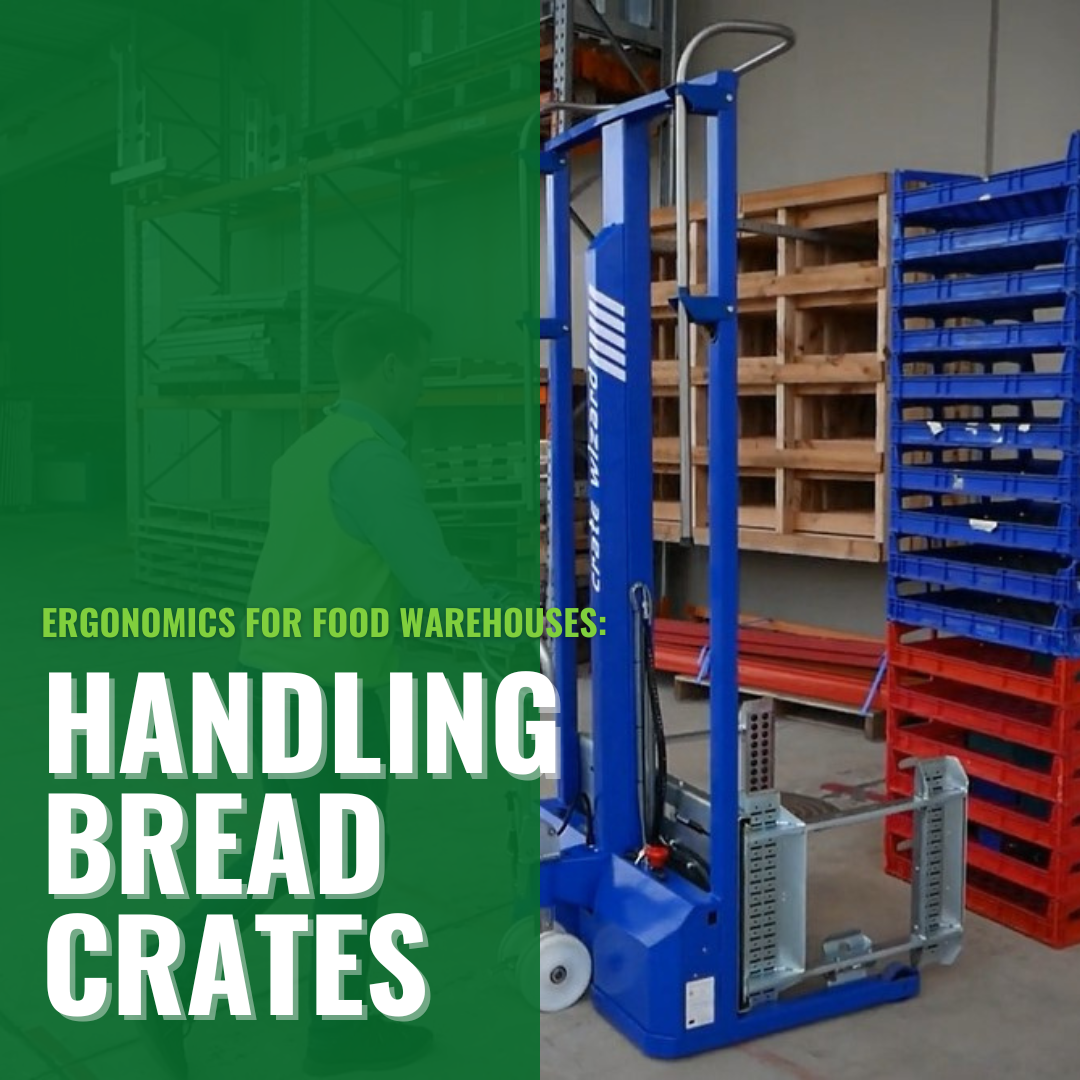 According to the Occupational Safety and Health Administration (OSHA), about 1.8 million workers report MSDs each year. About 600,000 of those workers need to take time off for their injuries.
Of course, ergonomic training can help to address the problem — but the right material handling equipment can address hazards while also improving efficiency. 
How Bread Crates Create Ergonomic Risks for Workers
Every warehouse should prioritize ergonomics, but lifting hazards are particularly important in food-handling industries for a simple reason: They're often overlooked.
After all, plastic bread crates are lightweight items. They may weigh less than 3 pounds, and even when loaded, they're fairly easy to stack and move.
But when workers move dozens of crates each hour, repetitive motions become a significant problem. The food manufacturing sector reports 5.1 nonfatal workplace injuries per 100 full-time workers, which is much higher than the average across all industries.
Of course, bread crates certainly aren't responsible for all of those injuries, but they're a potentially serious hazard. Many warehouses use forklifts to move stacks of bread crates — but the crates still need to be stacked for the lift trucks. Stacking bread crates without equipment requires workers to bend and position themselves awkwardly.
Without appropriate equipment, workers might develop MSDs including:
Muscle strains from repetitive work and overexertion.
Tendonitis
Rotator cuff injuries (shoulder injuries) or epicondylitis (elbow injuries).
Carpal tunnel syndrome.
Worker's compensation claims are expensive — and they're not the only potential cost of an on-the-job injury. You may need to hire a temporary replacement, and temporary employees tend to be less productive. By one estimate, workplace injuries cost U.S. employers $167 billion in 2021, and only $36.6 billion of that amount was spent on medical expenses.
Related: Bread Crate Stackers and Ergonomics for Commercial Bakeries
The Solution: Material Handling Equipment Designed for Crate Stacking and Lifting
Many on-the-job injuries are preventable. Employees should be trained to recognize hazards and to perform their work in ergonomic ways — but this is a much easier task when you provide your team with the right equipment for the job.
The Crate Wizard is ergonomic material handling equipment (MHE) designed specifically for food processors, food warehouses, industrial bakeries, and food distribution hubs.
A few reasons to make the Crate Wizard part of your warehouse's ergonomic strategy:
Designed for effortless maneuvering, the Crate Wizard has a footprint just 5 inches (100 millimeters) wider than plastic bread crates.
Clamping arms allow workers to stack bread crates via simple controls without bending, twisting, or awkward positioning.
Electro-hydraulic power limits maintenance while allowing for easy operation.
With a lift height of up to 59 inches (1500 millimeters) and a weight capacity of 551 lb (250kg), the Crate Wizard can handle tasks more efficiently — instantly improving productivity.
To ensure optimal results, it's a good idea to supplement your MHE with a review of your operation's training processes. Workers should understand how to recognize and report ergonomic hazards. You should also look for opportunities to reduce hazards wherever possible (for example, by mandating break time for workers).
Remember, better ergonomic practices lead to more productivity and higher throughput. At Solus Group, we're dedicated to helping employers find opportunities for improvement — and the Crate Stacker is an excellent option for facilities that handle bread crates at scale.
For more information about the Crate Wizard and other ergonomic solutions, contact Solus Group at 314-696-0200 today.