In 2021, the food manufacturing industry employed more than 15 percent of all manufacturing workers. That was 1.7 million people — and many of those workers faced injury risks on the job.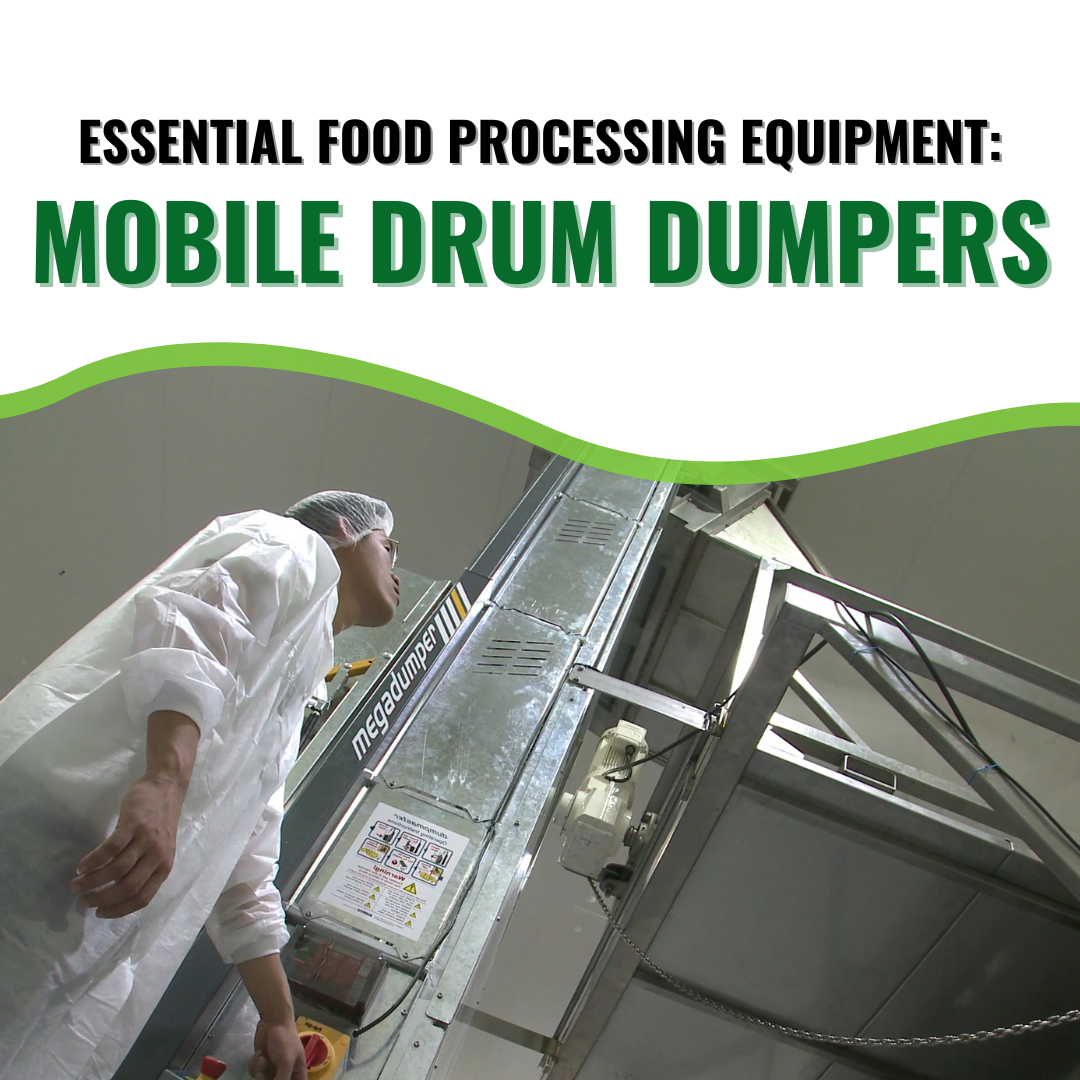 That same year, food-production workers were injured at a rate of 4.8 cases per 100 full-time employees. (In this account, we're only counting "significant" injuries, by which we mean those that led to sick days, restrictions on work tasks, and transfers to less demanding roles.) The injury rate for all industries was 2.7 cases per 100 workers, significantly lower than the numbers from the food production industry.
Why the disparity? A 2015 study lists a few of the top causes of workplace injuries at food-production plants, many of which aren't present in other industries. While these risks include common workplace hazards like falls, transportation incidents, and even assaults, the study also lists multiple ergonomic problems, including:  
Overexertion
Repetitive motion
Rough contact with equipment
The way to reduce these hazards is to provide employees with ergonomic food processing equipment. Mobile drum dumpers are one example of such equipment. Here's what employers in the food processing industry need to know.
Mobile Drum Dumpers as Ergonomic Food Processing Equipment
Food processing equipment includes all the machines that enable factories to handle, prepare, cook, and package edible products. If your goal is to reduce ergonomic injury 
rates, the key area of focus here is material handling equipment.
To mix ingredients, you must empty bulk containers into hoppers or onto processing lines. Bulk ingredients — both dry and wet — are often stored in drums, barrels, and bins. The material handling challenge is clear: How do you safely lift and empty these large, heavy containers into mixers, hoppers, or other food processing equipment?
When completed manually, emptying drums and bins is particularly risky. Ingredients can be heavy; that creates the risk of overexertion. Busy food production lines require constant resupply; that creates the risk of repetitive motion. And emptying these containers manually requires workers to twist into awkward postures, another ergonomic risk factor listed by the National Institute for Occupational Safety and Health (NIOSH). 
Drum dumpers (also called barrel dumpers or Bin Dumpers) provide the solution. And while you may install fixed drum dumpers on production lines, mobile versions of this equipment provide more flexibility to serve broader use cases.
Solus Group offers a whole range of lift-and-tip equipment suitable for food processing applications, from the hand-cranked EZ-MT to the agile Multi-Tip Hydraulic Bin Dumper to the heavy-duty DumpMaster. And while standard Bin Dumpers carriages are configured for Roll-Out Carts and Mobile Garbage Bins, a simple accessory converts them into full-service drum-and-barrel dumpers.
Bin Dumper Bucket Cradles for Food Processing Applications
Bin Dumper Bucket Cradles are carriage accessories that allow EZ-MT, Multi-Tip, and DumpMaster Bin Dumpers to handle a variety of bulk containers common in food processing plants. These include:
Standard Steel Drums
Dolly-Mounted Steel Drums
Large Brute Bins
Small Brute Bins
Square Brute Bins
Square Custom Tubs
With a Bucket Cradle fitted onto a Bin Dumper, employees can empty bulk ingredients into food production equipment without risk — and at a more efficient rate. The machine lifts and tips containers at the press of a button, all while keeping the center of gravity safely over the frame.
Because they're mobile, these high-throughput drum dumpers allow you to feed multiple lines, or introduce bulk ingredients (dry or wet) into mixers across your whole facility. Most importantly, Bin Dumpers eliminate the ergonomic risk factors associated with manual drum dumping. That creates a safer, more productive food processing line overall.
Explore Solus Group's collection of Bins and Bin Dumpers here. For expert guidance on choosing food handling equipment for your unique use case, contact Solus Group at 314-696-0200.