Most logistics professionals have some familiarity with Gaylord boxes, a type of cardboard box designed for cross-country shipping. They're sturdy, inexpensive, and versatile, and while they have some disadvantages — they're not intended for shipping extremely heavy products, and typically, they can only be used once before being recycled — they're a mainstay of the industry.
Here's everything you need to know about Gaylord bulk boxes, including crucial handling tips and a look at the containers' history.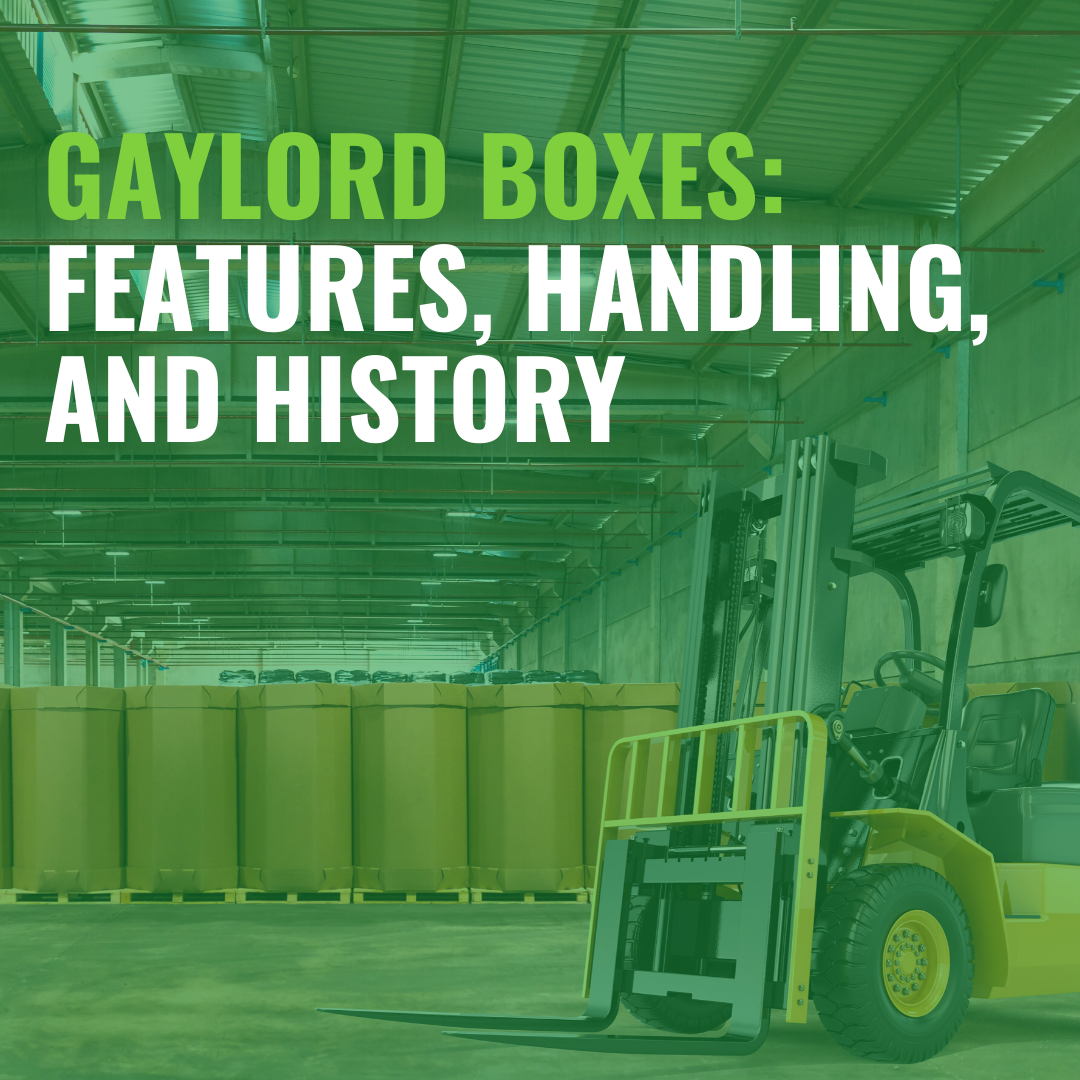 The History (And Features) Of The Gaylord Box
If you're new to shipping, you've probably got one question on your mind: Where did the term "Gaylord box" come from, anyway?
In the early 20th century, the business that would eventually become the Gaylord Container Company was established in St. Louis, Missouri under the name "J.C. Bulis." The company primarily marketed small wood shipping boxes.
In 1920, one of the company's founders, Robert Gaylord, purchased the company, and the company was renamed "Robert Gaylord, Inc.," which was eventually changed to "Gaylord Container Corporation." The firm's most famous innovation was the Gaylord box, and even after the Gaylord Container Corporation's acquisition by Temple-Inland in 2001 — which effectively eliminated the brand — the term "Gaylord" became shorthand for any durable single-use cardboard box.
Typically, Gaylord boxes have triple-corrugated cardboard walls, but due to the popularity of the firm's products, the term can be used for any single-use corrugated box. Other names for Gaylord boxes include pallet boxes, pallet containers, tote boxes, skid boxes, and bulk bins. Whatever they're called, they're an economical, heavy-duty alternative to multi-use shipping containers.
Apart from their low cost, some of the advantages of Gaylord boxes include:
They're durable. Corrugated materials resist splitting, and some well-made cardboard Gaylord boxes boast capacities of up to 5,000 pounds. Gaylords are available with up to eight corrugated walls, with more walls equating to more strength.
They're versatile. Gaylord boxes are available in a variety of materials, including cardboard, fiberboard, and plastic. Some plastic boxes can be used multiple times, though the term Gaylord generally refers to the single-use boxes.
They're eco-friendly. Most Gaylords are recyclable, so they're ideal for ecologically conscious businesses. Some models can be reused several times, further limiting a business's footprint.
They're useful after shipping. While cardboard Gaylord boxes are intended for single-use shipping, they're often used as part of a product displays (for instance, produce in grocery stores) and can be useful for storage, and warehouse cleanup, and various other purposes.
While the Gaylord Container Company popularized the single-use corrugated box, other manufacturers have refined the product, adding new levels of corrugation, larger sizes, and various shape options to meet the needs of various industries.
Safe Handling Practices For Gaylord Boxes
With more businesses emphasizing ergonomics, established handling procedures for Gaylord boxes have changed significantly over the years. Even lighter boxes can present hazards, and proper material handling equipment is absolutely essential for protecting workers and maximizing efficiency. Here are a few tips for transporting Gaylord boxes safely and in accordance with OSHA's guidelines for materials handling and storage.
Workers shouldn't attempt to handle packed Gaylord boxes on their own. OSHA recommends keeping single-person lifts to 50 pounds or less. As we've written in other blogs, musculoskeletal disorders account for 33 percent of all worker injury and illness cases, and improper lifting practices greatly exacerbate these risks.
When workers must move packed bulk bins, they should work together, using management-reviewed procedures; with that said, they should rely on mechanical assistance wherever possible.
Use proper material handling equipment to limit ergonomic hazards. For emptying loads, bin dumpers are an excellent investment. Both manual and hydraulic options are available, and all options feature safeguards that protect staff while they're working.
Many operations require workers to manually unload products from Gaylord boxes. When this is the case, make sure that the boxes are properly positioned to minimize twisting and turning. A powered mobile skid tilter or a ground-level tilt table can be useful for limiting fatigue and ensuring proper ergonomics.
To learn more, call the material handling experts at Solus Group by dialing 314-696-0200 today.