Recycling metal scraps requires some serious material handling equipment. Huge, crane-like material handlers grasp, compress, and lift bales of scrap steel. Skid-steer loaders separate metals in the yard. Pick-and-carry vehicles stack layers of scrap into organized rows.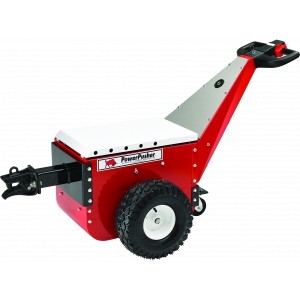 Still, there are times when breaking out the main material handler to move the smaller remnants left behind after a major loading operation would be like killing a mosquito with a bazooka. Every recycling yard needs a flyswatter or two for the smaller stuff.
What scrap recyclers need is a material-handling solution that has a small footprint, can navigate anywhere, and effortlessly handles smaller metal scraps scattered across a large area. Equipment gets bonus points for being emission-free, efficient, and easy on workers' bodies.
Sometimes the simplest solution is best. Electric forklifts and heavy-duty pallet bins are one option. With the addition of a Forward Bin Tipper, a single lift truck can lift, transport, and empty a load of small-scale scrap — all without stepping out of the cab.
But what about even smaller spaces, like inside facilities themselves?
For ultimate flexibility at scrap recycling facilities, it pays to think (relatively) small.
Heavy-duty, industrial Mobile Garbage Bins give workers total freedom to accumulate small scraps. Pushing wheeled bins, however, can be dangerous; it requires a lot of muscle power from workers, which can lead to musculoskeletal disorders, days away from work, and higher workers' compensation insurance rates. At the very least, safely pushing carts could require a sizeable crew, reducing productivity elsewhere in the facility.
That's where the Nu-Star Power Pusher comes into play. This electric tug pushes or pulls loads of up to 50,000 pounds, while giving the user full control. A single employee armed with a Power Pusher can move loaded scrap bins without facing ergonomic risks.
Of course, then there's the question of how to get the contents of a loaded Bin onto conveyors or into skips for processing. We can look to the recycling industry in Australia, New Zealand, and large swaths of Europe for an answer.
Simpro Bin Tippers can be found in scrap yards across these nations, and they're making the move to U.S. shores as we speak. The genius of these bin dumpers is a simultaneous lift-and-tip process that safely holds the load center over the unit's frame. The MegaDumper model empties large-scale bins with loads of over 1,000 pounds, with safety features that protect workers during use.
In the metals recycling industry, every little bit counts.
A fleet of the products listed above make a versatile material-handling toolkit, empowering scrap recyclers to process their "little bits" when the rest of their equipment is built only for much larger loads.
These solutions have ramifications that extend well beyond the recycling operations team. Metal recycling is an important part of the U.S. economy. It's also crucial for cities, states, and nations that impose aggressive sustainability goals.
Look at ferrous metals alone. Iron and steel comprised nearly 7 percent of all material solid waste generated in the U.S. in 2015, the last year for which the Environmental Protection Agency provides data. That metal scrap totaled 18.2 million tons, of which about 28 percent was recycled.
There's no data on what portion of that tonnage was too small for the frontline material handler, but some of it certainly was. With flexible, smaller-scale material handling solutions, scrap recyclers can ensure they get the most value possible from their materials — including the scraps.
References:
"Facts and Figures about Materials, Waste, and Recycling, Ferrous Metals: Material-Specific Data." EPA. U.S. Environmental Protection Agency, 2018. Web. 22 Mar. 2019.