Great waste management allows for a much more efficient operation. That's particularly true for warehouses, construction sites, factories, and other businesses that generate a large quantity of waste and recyclables. When workers spend their time emptying roll-out carts, they're not at their most productive — and when containers aren't movable, excess materials and waste will stack up quickly.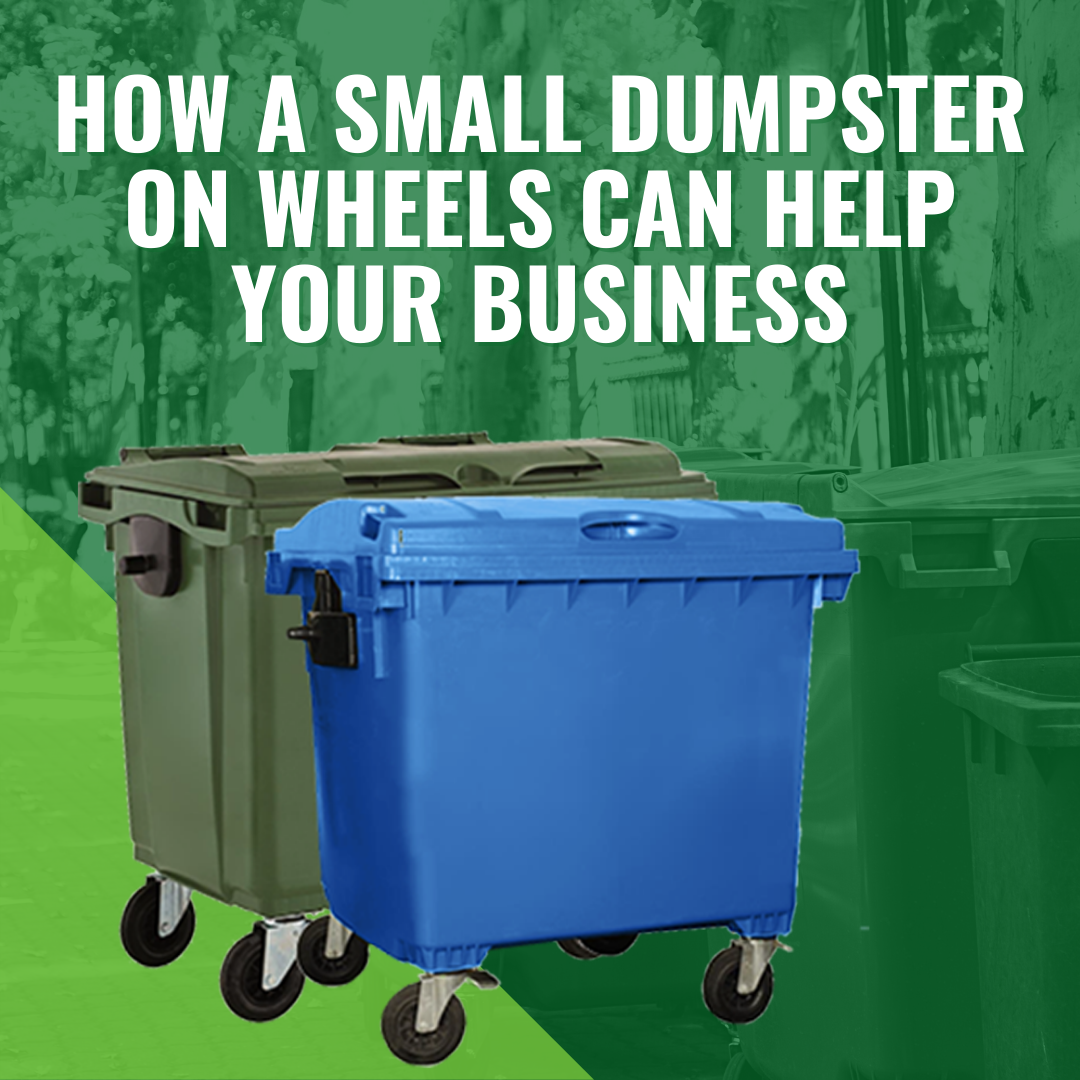 A small dumpster on wheels provides a necessary upgrade to a fleet of roll-out carts. If your operation is looking for a simple way to upgrade its waste handling process, this is an excellent place to start.
As we've covered in other articles, plastic dumpsters simplify waste collection through improved maneuverability. High-quality casters provide an obvious benefit here: Workers can easily move the container throughout a facility without taking on unnecessary ergonomic risks.
Looking for a high-capacity rolling dumpster with a small footprint and waste-handling equipment to match? Browse our collection of Bins and Bin Dumpers here.
Simply put, the container goes where it's most needed. Compared with roll-off carts and stationary dumpsters, small dumpsters with wheels have a few significant advantages:
Higher Capacities - With capacities of up to 1.5 yards (290 gallons), plastic dumpsters are capable of handling heavy-duty waste collection tasks. They're workhorses on construction sites, food preparation facilities, and in other operations where roll-out carts simply aren't the right tool for the job. Options like JCO Plastic 1100-Liter Mobile Garbage Bins and JCO Plastic 660-Liter Mobile Garbage Bins are made from durable HDPE plastic, which can be easily sanitized. These heavy-duty containers can handle sizable amounts of compost, recyclables, and waste.
Improved Aesthetics and Low Noise - A single plastic dumpster with casters can take the place of a half-dozen roll-out carts, simplifying waste collection and improving use of floorspace. Whether kept indoors or outdoors, HDPE plastic dumpsters are considerably quieter than metal dumpsters — and much easier to move without additional equipment.
Better Ergonomics - JCO Plastic's small dumpsters feature industrial locking casters, allowing workers to maneuver short distances with a limited risk of musculoskeletal injuries. The optional tow hook improves maneuverability for fully-loaded garbage bins, and Solus Group carries a variety of bin dumpers to make all aspects of waste management more efficient (and easier on workers' bodies).
Finally, HDPE plastic dumpsters provide a long-term ROI. They resist weather damage, and because the material won't succumb to rust, buyers can anticipate years of dependable use.
Of course, every operation will still need roll-out carts, and traditional dumpsters might be necessary for clearing up major worksites — but when you outfit your facility with mobile garbage bins, you can expect them to remain in heavy use throughout their deployment.
Finding the Right Plastic Dumpsters with Wheels for Your Facility
To improve waste collection and handling, every facility should keep a small fleet of mobile garbage bins onsite. Evaluate your operation's needs carefully, and monitor container usage regularly. A simple rule of thumb: If your business's waste bins are regularly full, you can certainly benefit from additional containers.
As discussed above, Solus Group offers two small dumpsters on wheels capable of addressing most applications:
JCO Plastic 1100-Liter Mobile Garbage Bins - Designed for heavy-duty waste collection and composting, these 1.5-yard dumpsters are ideal for commercial kitchens, distribution centers, parks, schools, offices, and multi-family housing units.
JCO Plastic 660-Liter Mobile Garbage Bins - When space is limited, the low footprint of JCO Plastic's 3/4-yard dumpsters provide an elegant solution. Both dumpsters have four replaceable casters (2 braked casters), attachment points for the optional tow hook, and multiple color options.
Click on either product to begin your order. For more information or to discuss other waste collection and material handling products, contact the Solus Group team at 314-696-0200.