Waste management requires durable containers made with high-quality, low-maintenance materials, particularly in industrial and commercial settings. Plastic garbage bins have numerous advantages over metal: They're easy to sanitize, lightweight, and maneuverable. They're also much quieter than all-steel dumpsters, which is an essential consideration if your facility is near a residential area.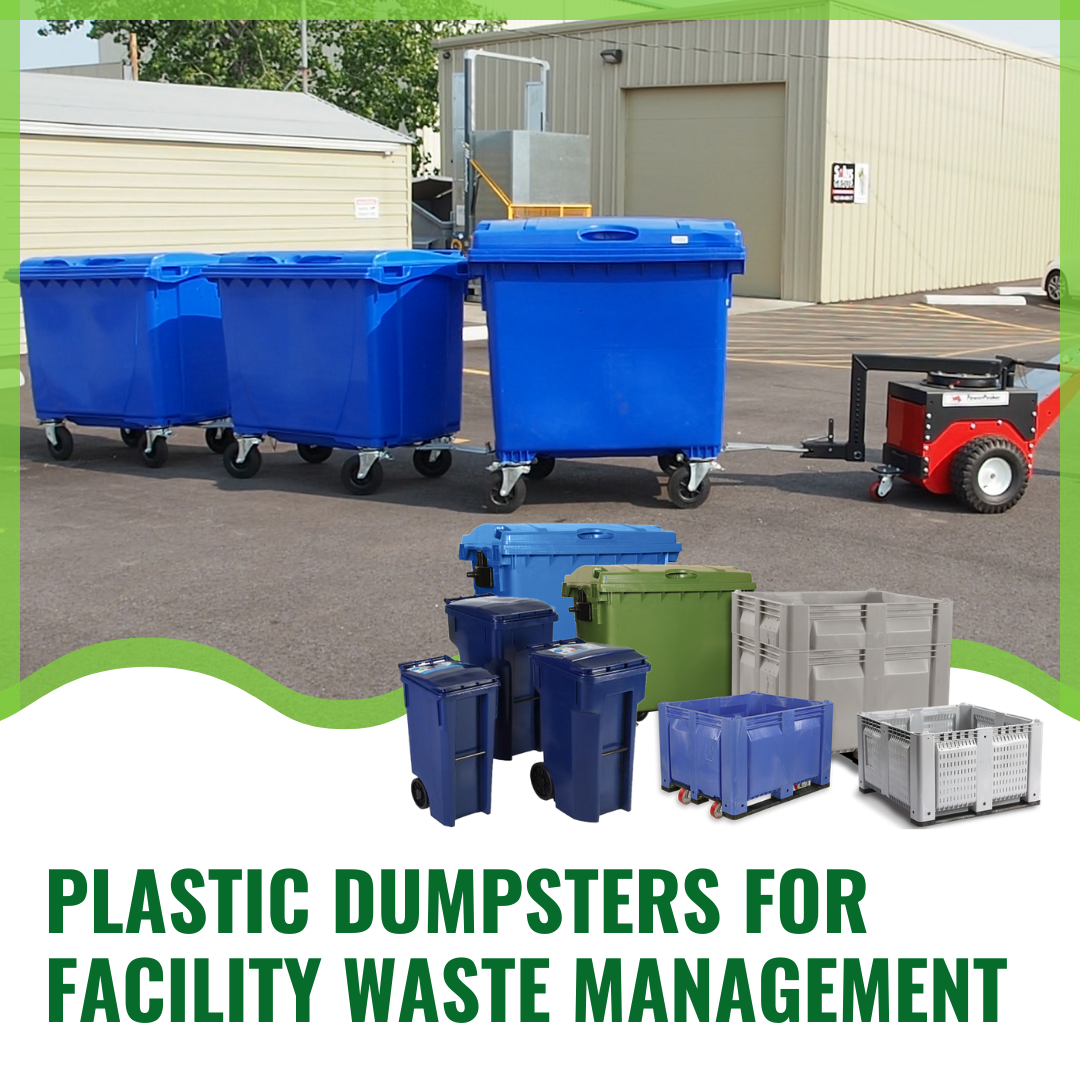 Modern plastic dumpsters are also remarkably durable, and some products meet (or exceed) the specifications of all-steel units. With that said, you'll need to do some research when outfitting — dumpster manufacturers use different manufacturing methods and materials, and while some plastic bins offer a clear upgrade, that's not always the case.
Solus Group offers JCO HDPE-plastic Mobile Garbage Bins and Cascade Icon Roll-Out Carts, which are ideally suited for most commercial applications. We also offer Bin Dumpers and other material handling equipment to prevent potential ergonomic issues, discussed in detail below.
In this article, we'll address the most overlooked points of dumpster and garbage bin design — and explain why high-quality plastic dumpsters offer clear benefits over steel containers.
Advantages of Plastic Dumpsters & Waste Containers
For decades, all-steel dumpsters have been the container of choice for industrial and commercial waste applications. At one point, that made sense; few companies budget for regular dumpster purchases, and steel offers dependable durability. Some plastics weather poorly, and weaknesses commonly found in some plastic materials can necessitate early replacement.
Fortunately, that's no longer the case. High Density Polyethylene (HDPE) plastic waste containers offer enhanced strength comparable to all-steel dumpsters — and for the vast majority of applications, plastic offers better overall performance. Factors to consider:
Plastic waste containers dump cleanly and quietly.
While dumpster manufacturers and waste disposal services have tried to address the problem, steel dumpsters make a lot of noise — mechanical dumping means plenty of metal-on-metal contact. This isn't a minor consideration. Noisy dumping can irritate corporate neighbors, residential inhabitants, and workers, and responsible operations take reasonable measures to reduce their noise output.
HDPE plastic bins allow for quieter dumping, and the plastic can be easily sanitized — even after years of regular use. Plastic dumpsters are significantly easier to clean than their metal counterparts, particularly their lids. That's especially important where graffiti is a major concern; instead of hauling out the power washer, workers can often scrub paint from the surface of the plastic container.
Metal garbage bins are heavy, which introduces ergonomic risks.
Dumpsters are designed to be mobile, but that doesn't mean that they're easy to move. Even when unloaded, an 1100-liter/290-gallon steel dumpster can weigh 300 pounds or more.
Plastic dumpsters are half as heavy, which makes them more maneuverable for personnel. This is a notable advantage when the dumpster needs to be moved regularly to different parts of a facility or worksite. Even when a mobile dumpster has casters, workers need to tug and push, and those movements can increase the risk of musculoskeletal injuries.
Ergonomics is an important concern for every facility, and while material handling equipment can help (we'll discuss Bin Dumpers later in this article), the best course of action is to minimize the hazard. Plastic waste containers can address this need by significantly reducing the total weight of the load.
Metal garbage bins and dumpsters can corrode.
This might seem obvious, but if you're outfitting a new facility, it's worth noting: Galvanized steel is durable and dependable, but corrosion can (and does) occur. Rust tends to target the bottom of the dumpster, so the containers need to be regularly checked, cleaned, and eventually replaced. Coastal facilities often spend more on waste management for that simple reason: Salt air increases corrosion, necessitating repair or replacement.
That's obviously not a concern with plastic. HDPE plastic is prone to weathering, particularly during extreme temperature changes, but modern manufacturing techniques can limit imperfections in the plastic to limit this risk. While no container lasts forever — particularly when loaded to capacity on a regular basis — plastic offers superior durability with less maintenance.
Plastic containers have become an especially popular choice for food waste handling and chemical waste handling for this reason. A maneuverable, durable, and rust-free dumpster makes sense in any operation, but if your facility regularly replaces bins because of corrosion, plastic is an excellent option.
Plastic containers are typically inexpensive.
Typically, plastic dumpsters cost about the same as all-metal units while providing improved functionality. Some plastic units are significantly less expensive — and that's without factoring in the savings from the improved functionality.
Waste bins take tremendous punishment during typical use, and steel dumpsters have obvious appeal. However, HDPE plastic is a preferable material for the vast majority of industrial and commercial applications. Plastic is cleaner, lighter, quieter, and potentially more durable. Those features translate into big savings over each bin's functional lifespan.
Choosing Plastic Waste Containers for Industrial and Commercial Settings
Every operation needs proper outfitting to stay productive. This extends to waste handling; if your workers are forced to spend time maneuvering garbage carts and replacing worn-out dumpsters, efficiency will suffer.
Solus Group offers a variety of containers for industrial and commercial applications, including roll-out carts, Dolav bins, MACX bins, mobile garbage dumpsters, and more. For waste handling, we recommend products that are built to last — that means HDPE construction, high-quality casters, and custom features to meet the needs of your worksite.
Products to Consider:
JCO Plastic 660-Liter Mobile Garbage Bin (174 gallons, ¾ yard) - Ideal for recyclables, compost, and waste, this HDPE-plastic container features four casters (two of which are braked) and grab handles. Its 584-pound (265-kilogram) capacity makes it an excellent solution for warehouses, distribution centers, offices, schools, parks, and more.
JCO Plastic 1100-Liter Mobile Garbage Bin (290 gallons, 1.5 yard) - Industrial casters ensure maneuverability even at maximum load (970 pounds / 440 kilograms). The HDPE plastic allows for clean, low-noise dumping.
Cascade Icon Series Roll-Out Carts - Available in 35-, 64-, or 96-gallon capacity. One of the most popular roll-out carts ever introduced, the Icon Series uses injection-molded HDPE to ensure unmatched durability. Each cart features UV stabilization agents to protect against premature weathering.
With ANSI compliance, multiple hot stamp locations, and full-color lid graphic options, the Icon Series lives up to its name. Fully automated solutions are available upon request.
Using Bin Dumpers to Improve Waste Management Efficiency
Moving and emptying bins into dumpsters requires repetitive motions, heavy lifting, and unnatural postures. In other words, workers who handle these tasks face high levels of ergonomic risk. Some of this risk can be mitigated by choosing lighter, more maneuverable containers. However, a certain amount of risk remains if personnel use manual methods to handle waste.
Bin Dumpers (also called bin tippers, bin lifters, cart dumpers, or by the Simpro brand name Dumpmaster®) improve ergonomics and productivity, protecting workers while ensuring a long-term return on investment. They're ideal for emptying roll-out carts and garbage bins into a dumpster or other larger receptacle, and they're compatible with a wide variety of containers. The Megadumper® can even empty large plastic dumpsters, which makes them indispensable for operations with serious waste-handling needs.
Many facilities also use Bin Dumpers for tasks unrelated to waste management, such as mixing chemicals or ingredients. Put simply: If a task requires heavy lifting, every operation should invest in material handling equipment, and Bin Dumpers are a versatile resource.
Options to consider:
MegaDumper® Hydraulic Bin Dumper - The MegaDumper was originally designed for emptying 300 and 450 gallon (1135 and 1703 Liter) bins weighing up to 1,320 pounds (600 kilograms), but can be customized to tip almost any container, at heights beyond 23 feet (7 meters).The MegaDumper has a tip height of 23"-27.5", and custom models are available to meet virtually any application.
Dumpmaster® Hydraulic Bin Dumper - Dumpmaster Bin Dumpers can empty containers weighing up to 660 pounds (300 kilograms) at virtually any height. The tipping action of a Dumpmaster is one of the safest, most efficient, and easiest-to-use systems in the world. The Dumpmaster is the workhorse of the Simpro line and has been widely used in Australasia for the past 25 years.
Dumpmaster can lift most popular bin designs from 32 to 96 gallon (120 to 360 Liter) without needing adjustments. Custom cradles are available to suit other bin or drum sizes. The Dumpmaster is available with an adjustable tip height of 47"-71" or 71"-94.5".
Multi-Tip® Hydraulic Bin Dumper - The battery-powered Multi-Tip Bin Dumper suits popular bin sizes from 32 to 96 gallons (120 to 360 Liters). It quickly and safely empties a bin in less than 20 seconds. With a 330 pound (150 kilogram) capacity, this innovative bin dumper will prevent musculoskeletal injuries and allow staff to handle materials efficiently.
The Multi-Tip Bin Dumper is safe for indoor or outdoor use and has 5 inch (125 millimeter) casters (two with brakes) for optimal maneuverability. Features a tip height of 47"-71".
Dockmaster® Hydraulic Bin Dumper - The Dockmaster is based on the proven design of the Dumpmaster, but with unique features. The tipping mechanism inverts bins as low to the ground as possible, at just 27.5 inches (700 millimeters) while keeping the weight within the footprint of the machine. To allow operating near platform edges, the Dockmaster is fitted with safety feet, just behind the wheels. These catch the machine if it is rolled over the edge, instantly preventing further movement.
The Dockmaster is built to the same rugged specifications as the Dumpmaster, including the steel frame, powerpack, and control system. It will effortlessly tip most types of two-wheeled bins at weights up to 550 pounds (250 kilograms).
Ezi-MT® Manual Bin Dumper - Designed for low-volume, light-duty applications, the Ezi-MT is perfect for small businesses, schools, cafes, and offices. The economically priced Ezi-MT® Manual Bin Dumper takes the strain out of emptying bins, making this task safe and easy. A unique lift-and-tip action keeps bin weight within the footprint for greater stability.
A heavy-duty winch allows up to 143 pounds (65 kilograms) to be easily dumped without risk of strain or injury to staff. The lack of electrical and hydraulic parts means less service and upkeep costs. The Ezi-MT protects your staff at a minimal investment.
Virtually anyone can easily maneuver the Ezi-MT with its four durable casters, making this Bin Dumper even more versatile. The Ezi-MT suits 32- to 96-gallon (120- to 360-Liter) bins with no adjustment.
Resources for Improving Waste Management Efficiency
All Bin Dumpers can improve ergonomics and productivity by eliminating unnecessary manual labor. In general, employers should ensure that all personnel have access to the material handling equipment they need to handle difficult tasks; however, workers should also receive training before using this equipment.
Look into product options. Bin Dumpers with splash guards, for instance, provide extra protection when working with liquid and chemical waste. Make sure that your equipment's rated capacity exceeds the full-weight load of your containers.
Likewise, ensure that all waste handling occurs on a reasonable schedule — for example, if workers collect garbage once per day and regularly find overloaded bins, consider increasing the frequency of collection. By paying attention to your operation's practices and utilizing appropriate material handling equipment, you can build an effective approach.
Our blog contains these resources to help you understand how bin tippers can improve safety in your facility:
While waste containers seem like a minor purchase, costs can quickly add up — particularly for facilities that choose substandard bins and dumpsters. Purchasing high-quality HDPE plastic dumpsters can reduce expenses over time, and given their substantial advantages over steel containers, the decision is fairly straightforward for most operations. With the right containers — and state-of-the-art material handling equipment — you can maintain a clean, efficient facility while retaining control of your budget.