Cleaning waste bins: It's a dirty job, but somebody has to do it. Dirty trash bins and dumpsters get smelly, attract bugs and rodents, and sponsor bacteria growth. In extreme cases, unsanitary conditions in waste receptacles can threaten employee health—and, with the buildup of odor, they certainly affect comfort. But whether you clean dumpsters and trash cans at your facility once a month or once a year—and we recommend the former, if not more frequent wash intervals—you should be aware of the safety concerns associated with the task.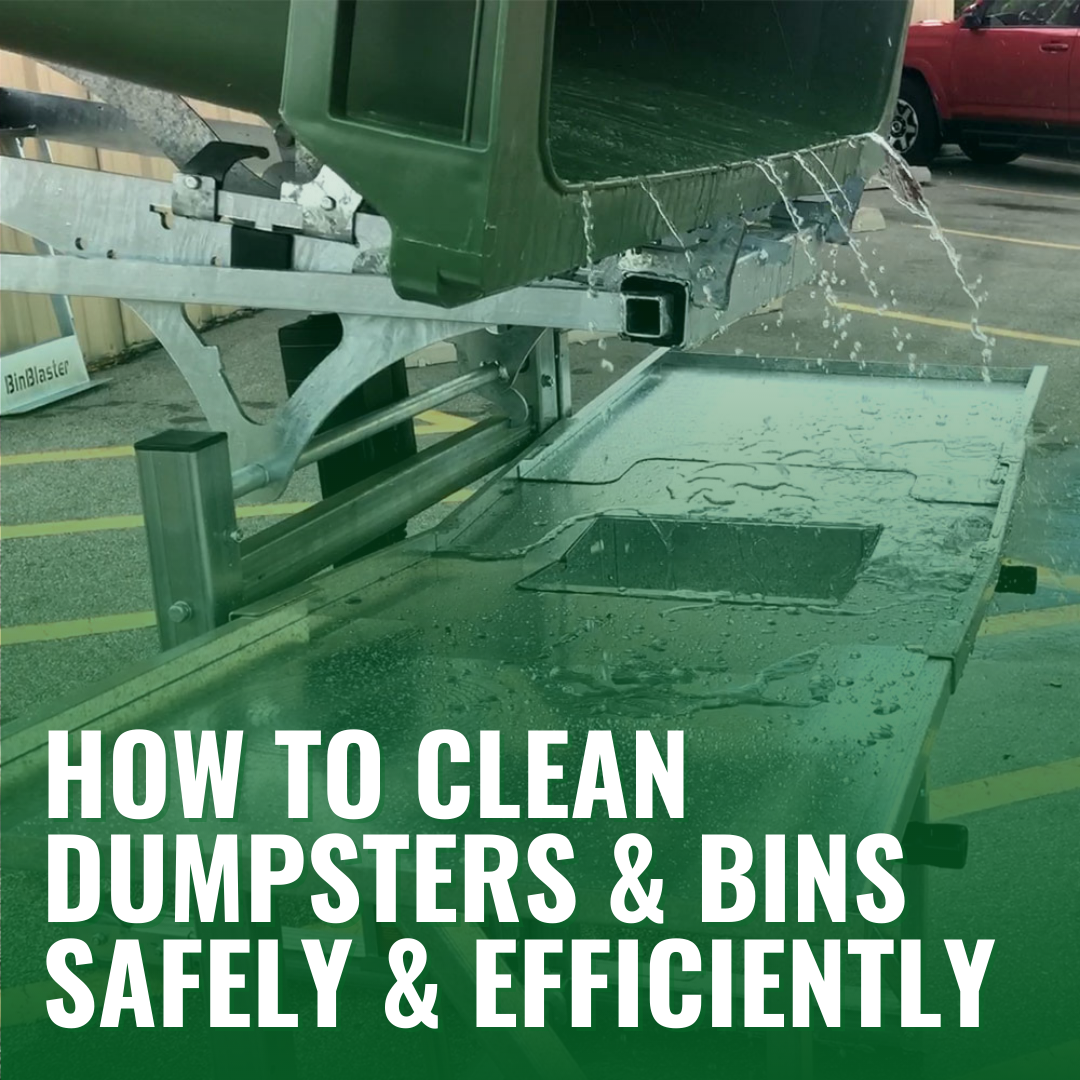 Musculoskeletal disorders are injuries to muscles and soft tissues caused by bodily motions like reaching, twisting, overexertion, repetition, and awkward postures. According to the Bureau of Labor Statistics (BLS), these injuries include:
Muscle sprains, strains, and tears
Back pain
Carpal tunnel syndrome
Hernia
Soreness in muscles and soft tissues
Musculoskeletal disorders made up 30 percent of all occupational injuries and illnesses requiring days away from work in 2018, reports BLS. Half of these cases occurred in the retail, manufacturing, and healthcare/social assistance industries that year—and cleaning workers were among the 10 occupations that suffered 40 percent of MSD cases in the private sector. Ergonomics, the practice of matching work to the worker, can help reduce the risk of MSDs by designing tasks and employing material handling equipment to remove the stresses that lead to these conditions.
What do MSDs and ergonomics have to do with maintaining a clean dumpster? Consider the biomechanical nature of the cleaning task. Say your facility uses 290 gallon (1100 liter) plastic Mobile Garbage Bins (and there are plenty of good reasons to choose plastic dumpsters over steel). To wash them, staff must lean over while spraying out the dumpster, often for minutes at a time. Then they must turn the dumpster onto its side to empty the wash water—soaking their shoes in the process. While significantly lighter than a steel dumpster, these bins still weigh 160 pounds (73 kilograms), and with the additional water weight, they can easily strain muscles during this rough handling.
Multiply the risk across your whole fleet of trash cans or Roll-Out Carts and the risk grows. It's also time-consuming to manually handle each of these units on cleaning day. Luckily, a solution is available.
How to Clean Dumpsters and Trash Cans with an Ergonomic Material Handling Solution
The Bin Blaster (BB1000) from Solus Group is a specialized material handling device for safer, faster, and more effective bin cleaning. It's a rugged galvanized steel stand that lifts and tips Mobile Garbage Bins and Roll-Out Carts to an ideal position for cleaning via hose or power washer. Users simple roll the plastic dumpster or cart up to the Bin Blaster's bin hitch and activate the machine. The machine tips the unit to the perfect ergonomic height, with a slight forward tilt that allows wash water to drain through an integrated drip tray and debris bucket.
On completion of the task, the Bin Blaster returns the unit to ground level, where it's ready to be rolled back into place. There's no manual lifting or tilting required, and cleaning is much faster and easier when staff can easily reach all four corners of the bin. The Bin Blaster is compatible with all Mobile Garbage Bins and Roll-Out Carts available from Solus Group, and it's an ideal part of a Turnkey Waste Handling Solution—including Dumpmaster Bin Dumpers that remove the strain from emptying bins into dumpsters.
See the Bin Blaster in action here. It's the best way to ensure a clean dumpster quickly, with less ergonomic risk. For more information about waste handling solutions from Solus Group, call us at 314-696-0200.