Wire management isn't always straightforward, particularly when working with bulk supplies. To keep installations running smoothly — and to reduce loss of inventory — installers need wire pull equipment that feeds out quickly while protecting reels from physical damage.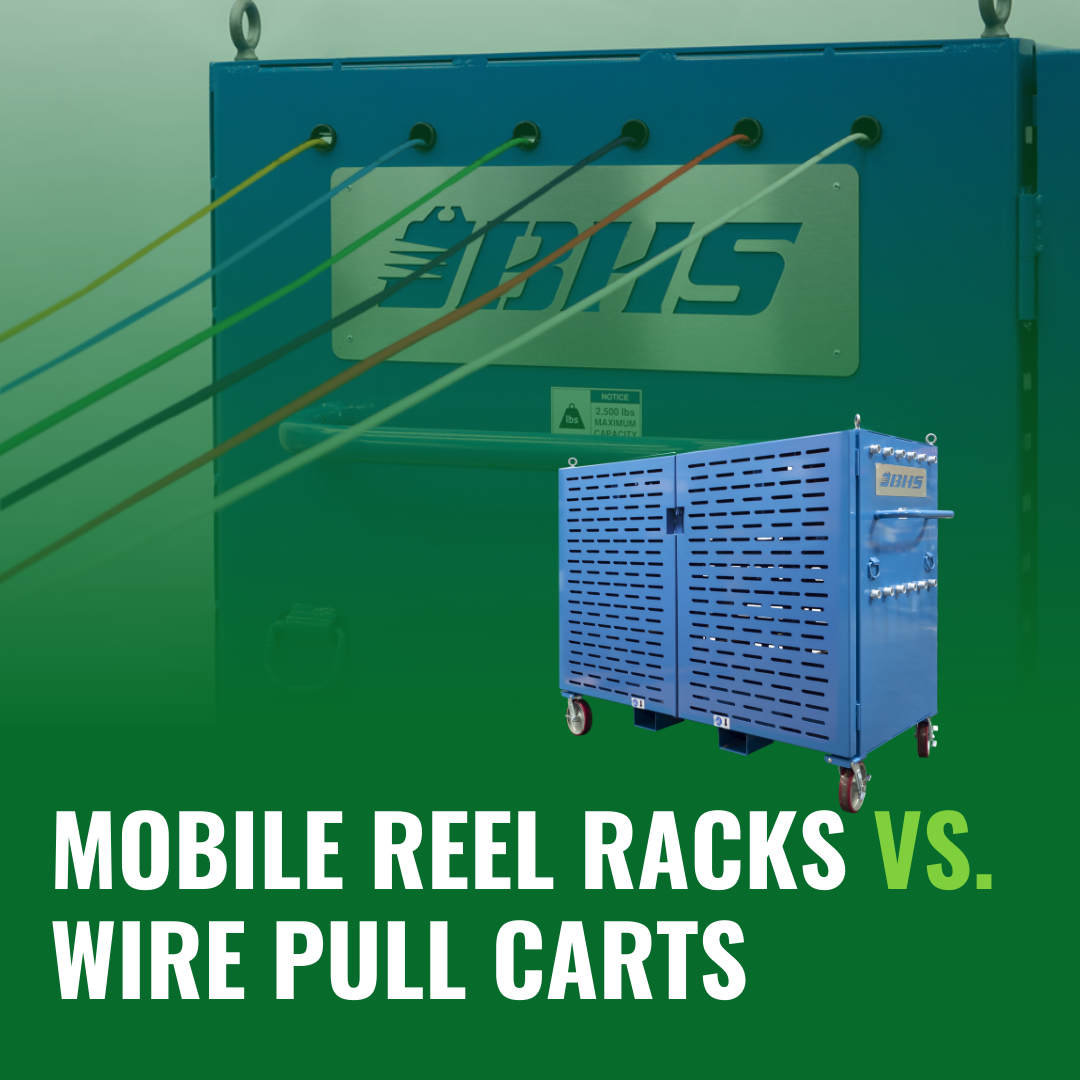 While some operations choose standalone wire and cable pulling sheaves for individual reels, these products aren't practical at scale. Standard mobile reel racks offer one alternative. Installers load reels onto the racks, which feed out the product; a single rack can hold several different gauges, simplifying access.
The major downside: Most mobile reel racks leave wire reels exposed at all times, and few products on the market have appropriate guides to ensure a smooth payout. That can lead to lost materials, as payout issues can compromise the integrity of the wire. Additionally, larger mobile reel racks can be difficult to transport due to their exposed design — while they're technically "mobile" thanks to their casters, they're not designed to navigate stairs or to be loaded onto a lift truck.
For serious installation work, pulling devices like the BHS Wire Pull Cart (WPC) provide an effective alternative. The Wire Pull Cart has several notable advantages over standard mobile reel racks:
Higher Capacity - Most mobile reel racks can hold up to eight wire or cable reels, though capacity varies greatly by manufacturer.

The WPC is designed for high-capacity applications, with models supporting from 9-18 reels and capacities of up to 3,000 pounds. The fully adjustable shafts can accommodate reels of virtually any size, and adjustments can be completed in a matter of seconds. The result: As soon as workers arrive on site, they have all of the materials they need for nearly any installation.
More Mobility - Mobility should be a priority when sourcing wire management equipment. The WPC has four high-quality swivel casters, and since the reel components are enclosed, moving the unit from site to site is a fairly straightforward process.

Eye bolts on all four corners allow the unit to be pulled to upper floors, while stock fork pockets allow for travel via lift truck. Despite the WPC's enhanced capacity, all models have a slim profile that allows them to travel through standard 34-inch doorways.
Improved Security - The WPC can be secured in seconds. A padlock hasp with strike protector keeps assets safe on and off the job site. Welded D-rings can be used to chain the unit at the worksite or to keep the WPC in place during shipping.

Smoother Payout - Tangled wire is a big problem on the worksite — as is any minor issue that affects payout, since payout issues can damage wire and create major headaches at the late stages of installation.

The WPC ensures smooth payout for different types of wire and cable with integrated wire guides. The reels stay in place, and product payout is always delivered at the same angle, preventing incidental damage and giving workers a consistent experience.
While competing mobile reel racks can be efficient for some installations, a Wire Pull Cart offers the same utility with superior features and a greater capacity. All BHS
WPC models are constructed entirely from steel, ensuring years of dependable service.
For Heavy-Duty Installation, Wire Pull Carts Are Worth the Investment
During wire installations, throughput depends heavily on equipment. If personnel need to spend time changing the orientation of their pull carts or loading on new reels, they're not being as productive as possible — and they're likely taking unnecessary risks.
Both mobile reel racks and Wire Pull Carts mitigate those risks by improving ergonomics, but the WPC is especially advantageous for operations looking to enhance productivity during larger jobs. It enables personnel to avoid twisting, pulling, and lifting tasks, delivering completely consistent payout with enough capacity for entire office spaces or residential buildings.
The combination of capacity, security, and mobility makes the WPC a superior choice for electrical installation. For more information or to explore customization options, contact the Solus Group sales team at 314-696-0200.