Thanks to nationwide vaccination efforts, many businesses in the United States are reopening their doors, but the pandemic still presents serious concerns for workers. In June 2021, the Occupational Safety and Health Administration (OSHA) reported 15,168 federal complaints related to COVID-19 protocols along with 53,175 state-level complaints.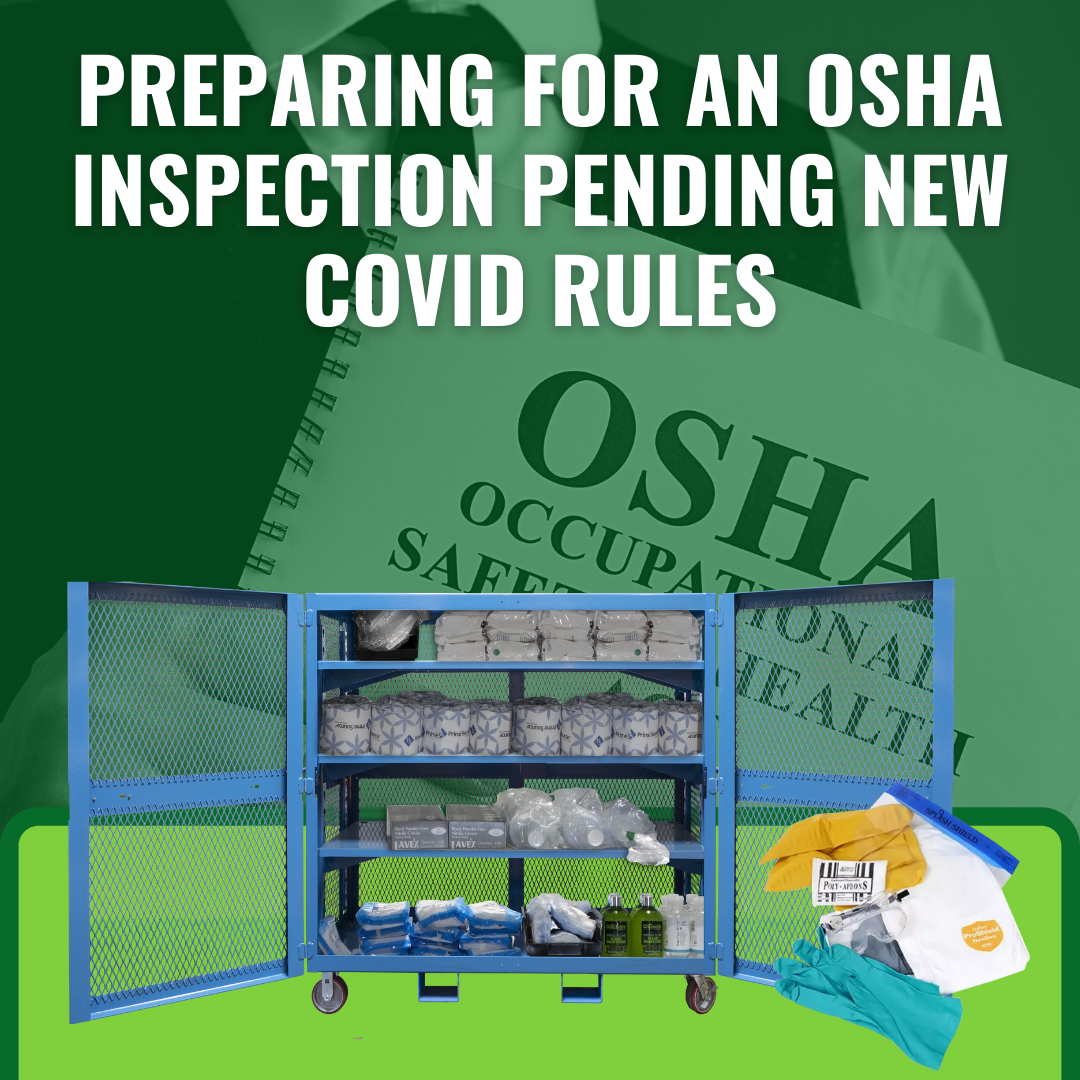 OSHA is rumored to be considering new rules or expanded guidance to address those complaints. While no details have been released, the administration considers COVID-19 protocols part of its purview, and employers may need to demonstrate their efforts to provide a safe workplace. That might mean an increase in inspections, particularly in high-hazard industries.
"Most workplaces within the scope of OSHA's authority have been affected by the COVID-19 pandemic," the Department of Labor wrote in a March memorandum. " Some workplaces have maintained operations throughout the pandemic, while others have not. OSHA's mission is to assure safe and healthful working conditions for working men and women."
To provide a safe workplace — and to stay compliant with the current guidelines to prepare for an OSHA inspection — here are a few key considerations.
Employers should understand how OSHA grades COVID-19 risk.
If (and when) OSHA increases enforcement, inspectors will likely focus on high-exposure industries. Medical and laboratory workers are considered highest risk, while healthcare support workers and food industry workers typically have a moderate-to-high risk. However, any workers that must have person-to-person contact as part of their job could fall into an elevated risk category.
In other words, all employers should continue to take the pandemic seriously. Few businesses require mandatory vaccinations for all workers; while the U.S. Equal Employment Opportunity Commission's current position is that employers have the legal right to set this requirement, employees can claim exemptions — and many employers are wary of taking this step.
For businesses, the most effective approach is to take reasonable actions to limit exposure, regardless of how OSHA assesses their risk. As discussed earlier, COVID-related OSHA complaints are common, and even smaller businesses need to take a proactive approach.
Employers have a responsibility to provide personal protective equipment (PPE).
All employers must take reasonable actions to keep workers safe. OSHA lists two enforcement standards relevant to COVID-19 risk management:
OSHA's Personal Protective Equipment (PPE) standards require a PPE hazard assessment "to be conducted to assess workplace hazards." PPE must be used when necessary. For general industry, the relevant standard is 29 CFR 1910 Subpart I. In construction, the standard is 29 CFR 1926 Subpart E.
When respirators are necessary to protect workers, employers must implement a comprehensive respiratory protection program in accordance with the Respiratory Protection standard (29 CFR 1910.134).
The General Duty Clause, Section 5(a)(1) of the Occupational Safety and Health (OSH) Act of 1970, 29 USC 654(a)(1) requires employers to provide workers with "employment and a place of employment, which are free from recognized hazards that are causing or are likely to cause death or serious physical harm."
In many industries, employers can ask workers to wear facemasks — but employers should provide those masks, and the policy needs to be clearly established. Writing and posting the policy is recommended, both for practical purposes and for compliance with the above guidelines. Face shields can provide additional protection for high-risk workers.
Products to Consider
Disposable Face Shield - When wearing facemasks is impractical, face shields can add an important layer of protection. OSHA recommends using face shields in combination with safety goggles and spectacles to protect against impact hazards.
Basic Personal Protection Kit - With a pair of safety goggles, a pair of nitrile gloves, a disposable apron, and a pair of Tyvek shoe covers, the Basic Personal Protection Kit adds important protection for handling certain chemicals.
PPE Storage Cart - Proper storage can extend the life of some PPE, and by providing a single point of access for all of a worker's PPE needs, employers can ensure a more efficient workflow. Solus Group offers PPE storage carts with adjustable shelves for secure, mobile access to personal protective equipment.
With heavy-duty casters, steel padlock hasps with integrated strike protectors, and standard fork pockets, the PPE Cart can improve organization and compliance. Custom configurations available on request.
Wherever possible, employers should limit unnecessary person-to-person contact.
Employers should show a good-faith effort to prevent COVID-19 hazards. This can be accomplished by establishing a policy to limit the risks of person-to-person interaction, and in most workplaces, this is a fairly straightforward process.
Consider using bright, clear signage to inform visitors and employees of COVID-19 protocols. Signs that reinforce social distancing and encourage hand washing help to create a safer workplace.
Other recommendations:
Arrange for contact-free deliveries wherever possible (see the Contactless Delivery Locker below).
Provide employees with regular training (including "refresher" courses) for following social distancing protocols.
Ensure that rooms are properly ventilated. Where possible, hold meetings outdoors.
Inform employees of opportunities to get vaccinated. OSHA's current guidance applies to unvaccinated employees; while few employers can achieve 100% vaccination rates, vaccination campaigns can help to limit risks.
Businesses with fewer than 500 employees may be eligible for tax credits by providing paid time off for employees who decide to get vaccinated and recover from any side effects of vaccination under the American Rescue Plan.
Products to Consider:
Contactless Delivery Locker - The BHS Contactless Delivery Locker is a practical solution for receiving and distributing supplies. Lockers are labeled by day for easy 72-hour quarantining, and single-use passcodes are available for secure delivery. With a total capacity of 3,000 pounds and available IIoT smart locks, the Contactless Delivery Locker is an effective and secure solution — especially for employers who receive after-hours deliveries.
Social Distancing Sticker Kits - Available with wall posters, floor stickers, or a combination, these kits enforce social distancing, in-facility hygiene, and contactless deliveries. They're developed in accordance with CDC and OSHA recommendations.
Keychain Touch Tool - This tool features a 1.25-inch blunted hook for easy manipulation of standard industrial door handles. The copper construction is naturally antimicrobial, and regular use of the tool limits pathogen spread by preventing contact with shared surfaces.
To learn more about social distancing solutions that may help with pandemic-related OSHA inspections, contact Solus Group at 314-696-0200.