By 2021, electric vehicles were poised to take off in the United States. That year, the President came into the year's legislative sessions with ambitious goals: The administration planned to build a network of half a million public EV chargers and make electric cars half of all new-vehicle sales by 2030.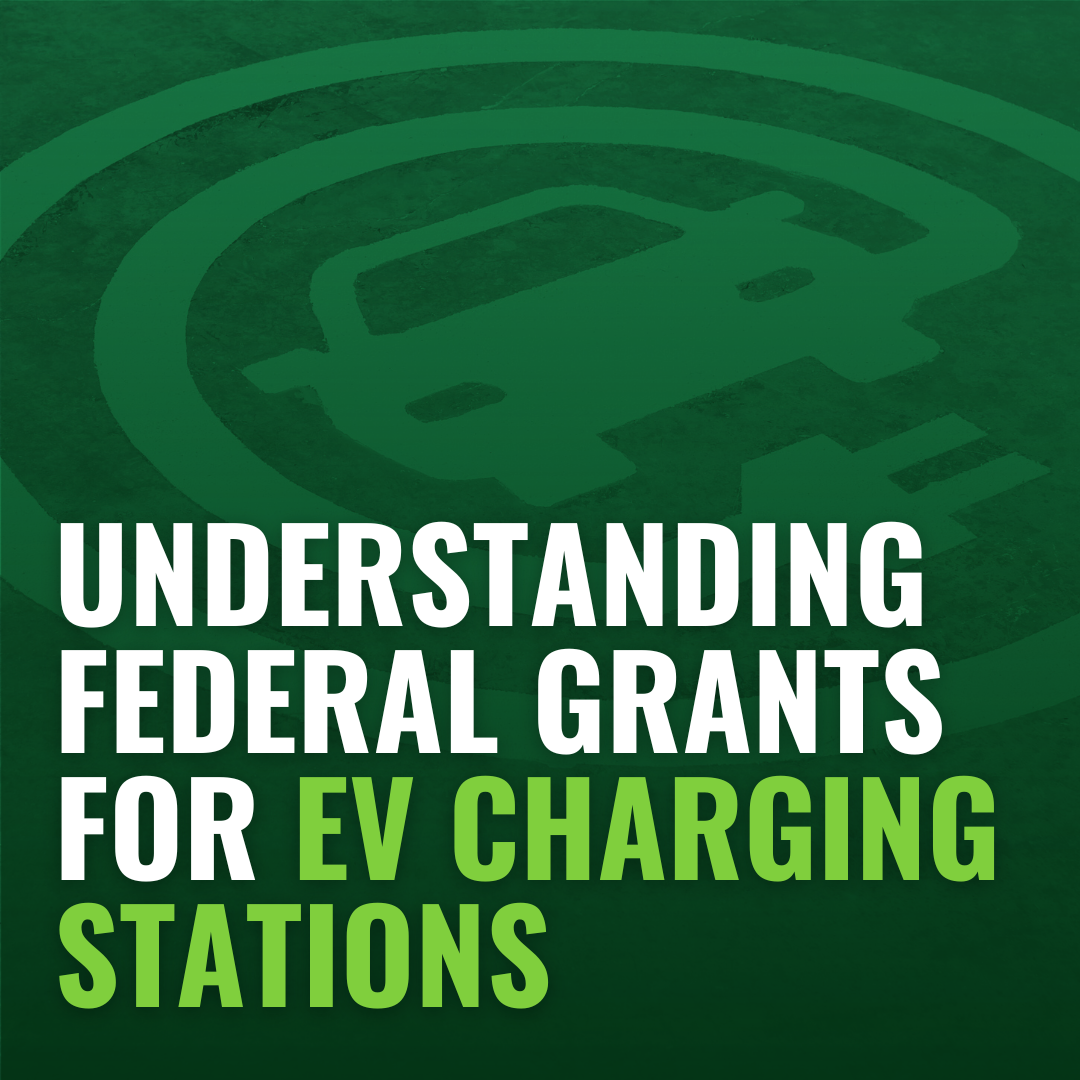 The 2021 Infrastructure Investment and Jobs Act — commonly called the Bipartisan Infrastructure Law, or BIL — is bringing this electric future to life. The bill sets aside $7.5 billion to help states and communities build EV charging stations.
But how will these federal funds trickle down to the business-owners planning to build EV charging stations? Most of the federal money devoted to EV charging infrastructure will take the form of grants. Unfortunately, these funding mechanisms aren't as simple as you might hope.
Interested in contributing to our growing national EV infrastructure? Here's what you need to know about federal grants for EV charging stations, plus a few related funding programs, as of 2023.
Types of Federal Grants for EV Charging Stations
If you plan to build EV charging stations, you probably have one key question: How do you apply for these grants?
The first thing you need to know is that not many federal EV grant programs are available directly to business owners. Instead, most of these grants direct funds to states and local governments. Then these agencies may then direct funds toward ultimate recipients like real-estate owners and companies.
In other words, private businesses may indeed get financial assistance for EV chargers through federal programs — but securing these funds will usually involve working with state, not federal, governments.
There are a few types of federal funding programs for EV infrastructure. Here are the two major categories of grant funding associated with the BIL:
Discretionary (or Competitive) Grant Programs. The BIL apportioned $2.5 billion to fund discretionary grants for EV infrastructure. These grants are competitive, which means applicants (usually state agencies) must prove eligibility and compliance with certain criteria. Then the grant administrators (usually federal agencies) will award funds to the applicant that's most in line with program goals.
Formula Grant Programs. You don't apply for formula grants. They're not competitive. Instead, the legislation that creates these grant programs — largely, but not entirely, the BIL in the case of these EV infrastructure grants — include formulas that determine who gets the funds, and how much they get. The BIL's formula grants are worth $5 billion, and intended mostly for state agencies.
Grants aren't the only source of financial assistance for EV infrastructure. Federal funding is also available through loan assistance programs and tax incentives. While this article will focus mostly on federal grant funding for EV chargers, we'll also mention these other forms of federal funding where relevant. After all, these alternate funding sources are more likely to be available directly to private builders and hosts of EV charging stations. 
The Top 5 Federal Funding Programs for EV Infrastructure in 2023
1. The National Electric Vehicle Infrastructure Formula Program (NEVI)
This formula grant program is the main EV funding mechanism created by the BIL. Through NEVI, the Federal Highway Administration will send states, Washington D.C., and Puerto Rico a total of $5 billion over five years (2022 through 2026).
This money can be spent on buying EV charging equipment, including EV Charger Pedestal and Cable Management Kits. It can also be spent on installing, operating, and maintaining EV charging stations. The first use of NEVI funding must go toward building Alternative Fuel Corridors (AFCs), or highways and similar travel corridors with DC fast chargers at least every 50 miles (and within one mile of the road). 
2. The Charging and Fueling Infrastructure Discretionary Grant Program (CFI)
As we mentioned, the BIL also set aside $2.5 billion in discretionary grant funding for EV infrastructure. The CFI program oversees the disbursement of these funds, which will be available over the same timeframe as NEVI grants (i.e., 2022 through 2026).
These competitive grants are designed to ensure equitable access to EV charging stations, so at least half of the funding must go toward projects in rural or low-income areas. Valid uses of these funds include building charging stations, planning EV infrastructure, and supporting EV fleet charging. 
3. Alternative Fuel Infrastructure Tax Credit
While real estate owners and other private company operators can't apply for most EV grants created by the BIL, they are eligible for existing tax credits. The most important tax program for EV infrastructure is the Alternative Fuel Infrastructure Tax Credit, which anyone — whether you represent a business or simply buy a personal EV — can claim. 
4. The Congestion Mitigation and Air Quality Improvement Program (CMAQ)
The CMAQ program was designed to help states, local governments, and other authorities meet the air-quality requirements of the Clean Air Act. Because EVs help to reduce vehicle emissions that can impact air quality, EV infrastructure projects are eligible for CMAQ funds — but only in areas that don't meet National Ambient Air Quality Standards maintained by the Environmental Protection Agency (EPA).  
5. The Title 17 Innovative Energy Loan Guarantee Program
The grant programs on our list aren't available directly to private companies. In addition to tax credits, however, commercial operators can get help with EV infrastructure funding through government-backed loans.
The Innovative Energy Loan Guarantee Program secures loan funding for a variety of renewable energy projects — including EV charging stations. This government backing can help the builders of EV charging stations secure funding from other sources.
In addition to these federal grants for EV charging stations — as well as tax credits and loan assistance — states and other stakeholders may get funding through a constantly updating series of other programs. These include the DOE's State Energy Program, funding opportunities from the Vehicle Technologies Office, and the U.S. Department of Agriculture (USDA) Community Facilities Direct Loan & Grant Program for rural areas. 
Regardless of where you get your funding, however, it's essential to build EV charger stations that provide long, dependable service life. Protect charging infrastructure from damage — while maintaining convenient access for users — with EV Charger Pedestal and Cable Management Kits from Solus Group.
These compact EV charger stands support one or two Level 2 chargers, and come with integrated EV Charger Cable Retractors