A spill kit includes everything that personnel need to neutralize battery acid while minimizing hazards. Typically, the response kit includes absorbent neutralizers, chemical socks or pads, and personal protective equipment (PPE). Some kits only include neutralizers and other basic clean-up supplies."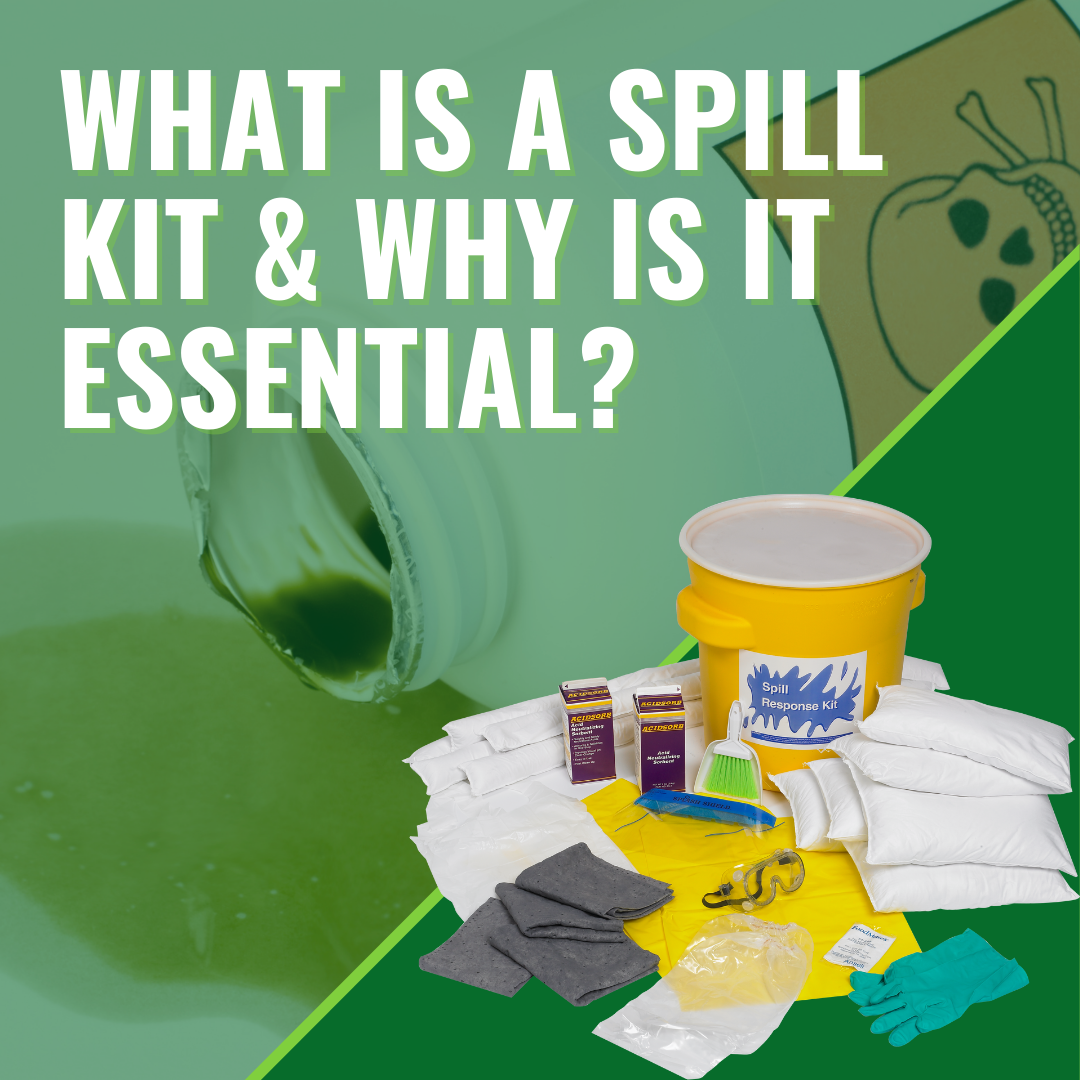 Every battery charging area needs spill kits — and response kits serve an important function outside the battery room, too. They're vital for maintaining a safe work environment following a leak, spill, or boil-over. Maintaining an adequate supply of spill response kits helps employers comply with OSHA, and more importantly, the kits can prevent chemical injuries and property damage.
Solus Group carries a variety of spill response solutions for facilities of all sizes. Here's an overview of the most important components in a standard spill kit:
Personal Protective Equipment - Per OSHA 1910.132, employers must provide PPE for workers who might encounter chemical hazards. Forklift battery acid certainly qualifies as a "chemical hazard," so if a kit doesn't include PPE, employers will need to make an additional purchase.

Many of Solus Group's spill kits include aprons, disposable overboots, nitrile gloves, and safety goggles, all of which are necessary for cleaning battery acid. Employees should receive training to ensure that they know how to safely wear (and dispose of) PPE.

Acid Neutralizing Sorbents - Battery acid can be neutralized with baking soda or soda ash, but mixing a neutralizing agent takes time — keeping a supply of neutralizing sorbents can greatly improve efficiency.

Neutralizing sorbents absorb the acid, then solidify, allowing for instant cleanup. Some products also change color to indicate neutralization. Spill kits may also include neutralizing liquids, which are appropriate for smaller spills.

Battery Spill Socks and Pads - These supplies absorb the spilled acid and sometimes provide additional neutralization. Socks can be used to contain larger spills and to isolate the area where the accident occurred.
Other Clean-Up Supplies - Some spill kits also include brooms, dustpans, disposable bags, and other equipment for cleaning the spill.
For proper battery room outfitting, employers should keep an adequate supply of spill kits available to workers at all times. The kits should be immediately accessible, with clear signage or instructions demonstrating how to use them.
Of course, employers shouldn't depend on signage alone — all battery room personnel should undergo training to ensure an efficient and safe spill response. Regular "refresher" training sessions are also important, even for longtime employees.
Finding Spill Kits for Your Battery Room
To form an appropriate spill response, remember that you'll need enough supplies to address any lead-acid battery hazard, regardless of where it occurs. Consider the size of your fleet and the physical layout of your battery room.
Employees should be able to quickly access response supplies (and here, we'll note that OSHA also requires accessible wash stations for "quick drenching and flushing of the eyes and bodies" in battery charging areas).
Battery Acid Neutralizing Spill Kits
Solus Group carries spill kits which include chemical socks, PPE (an apron, face shield, disposable overboots, nitrile gloves, and safety goggles), absorbent pads, acid neutralizers, disposable ties, and a broom with a dustpan. The kits offer everything needed to safely address a spill.
Solus Group kits also include clear, easy-to-follow instructions, and their sorbents begin working immediately upon application. They wipe away easily, leaving surfaces completely dry. By placing spill kits in appropriate locations, employers can address one of the most significant hazards associated with lift truck maintenance.
Mobile Battery Spill Kits
Acid spills can occur outside the battery room, and to respond quickly, workers can't always trek back to the supply cabinet. These products are designed for mobile spill containment.
Important note: The following general purpose spill kits do not include personal protective equipment. PPE can be purchased separately; the PPE Standard Kit helps employers meet this requirement.
General Purpose Spill Kit in a Tote Bag - Capable of absorbing up to 6 gallons of liquids, this kit includes a 2-quart Super Sorbent shaker, solidifying sorbent socks, heavyweight sorbent pads, self-seal disposal bags, and a yellow drawstring tote. The bright yellow tote is easily visible in an emergency and can be affixed to a lift truck or other vehicle.
General Purpose Tilt Wheel Spill Cart - This bright yellow tilt cart exceeds most industrial application requirements. With a small footprint, it can fit through most doorways and tight spaces; includes Super Sorbent cartons, sorbent socks, solidifying pillows, universal sorbent pads, self-sealing disposable bags, and a deck brush with a telescopic handle.
Need additional assistance? Solus Group's team can help you find an appropriate spill response kit for your operation. Call 314-696-0200 or click here to submit a request online.