If you operate multi-family residential properties, your residents are more likely to drive an electric vehicle (EV) than ever. The U.S. federal government's goal is to get EVs to 50 percent of all new car sales by 2030. Meanwhile, the 2021 Bipartisan Infrastructure Law set aside $7.5 billion to build the nation's EV charging networks.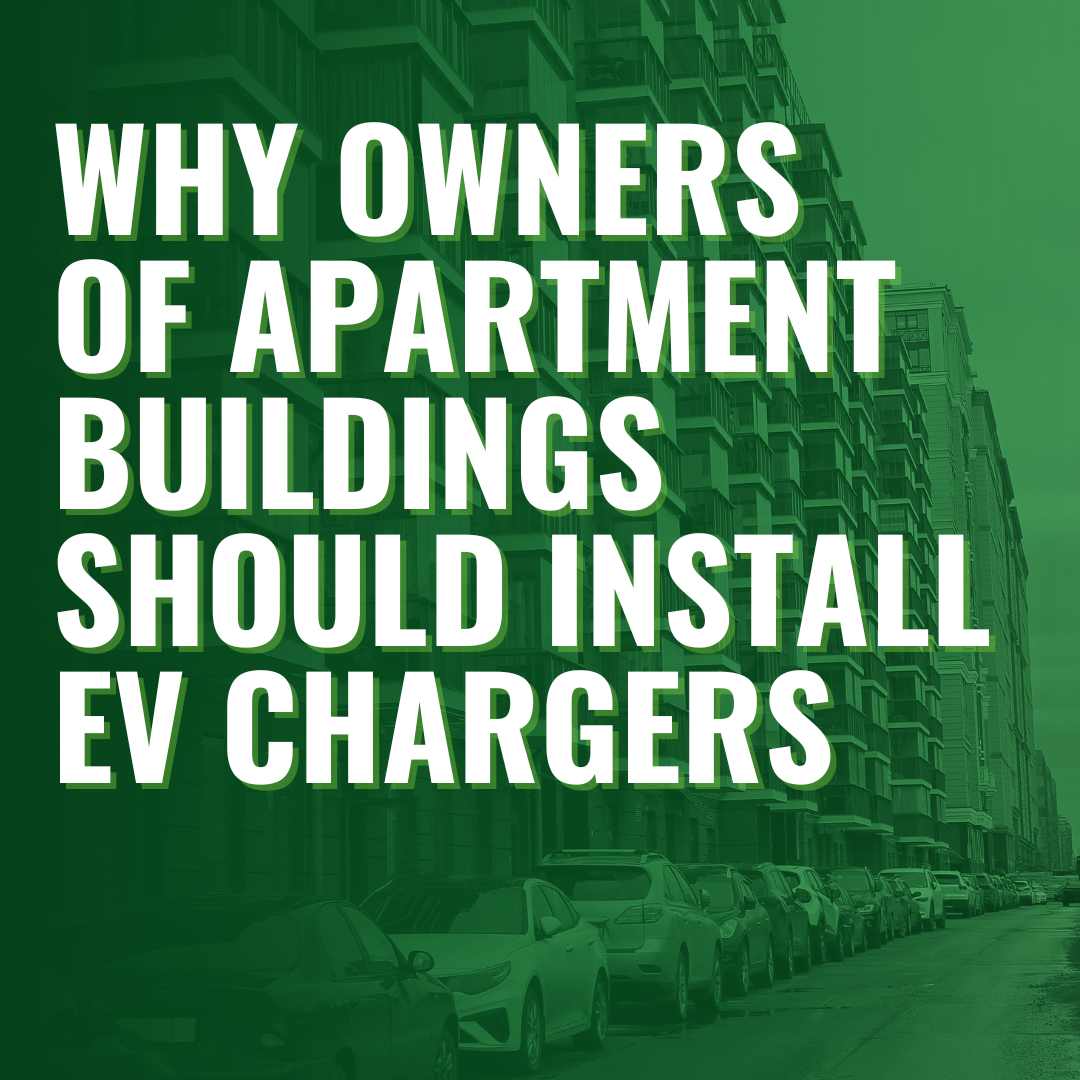 But the shift from gas to electricity doesn't just come from the top. There's real grassroots enthusiasm for EVs. One poll found that 47 percent of Millennial consumers said their next car would be electric. Among Gen Z buyers, 41 percent said the same. And half of consumers across generations said they expected to drive an EV within 10 years.
All these new EV drivers need somewhere to live. If you don't install EV chargers now, they're less likely to choose your multi-dwelling unit. Building apartment buildings with EV chargers offers more than a competitive edge, however. Here are three of the top benefits property owners get from installing EV chargers, along with a few tips on how to get started.
Ready to start building EV chargers at your multi-family properties? Start by exploring EV Charger Handling Equipment from Solus Group. 
The Benefits of EV Chargers in Multi-Unit Dwellings
Installing EV chargers in apartment parking areas requires a lot of time and planning. There's usually considerable capital investment, too. These investments are likely to pay off over time. More importantly, installing EV chargers now will attract new generations of residents as EV ownership continues to grow.
Here are three of the top benefits of offering EV chargers at apartment buildings and other multi-family properties.  
1. Properties with EV chargers attract and retain more residents.
As more people own EVs, demand for EV chargers will rise. By offering this amenity, you'll attract more residents. These EV owners are likely to stay longer after moving in, too. 
A J.D Power study found that nearly 90 percent of EV owners said they "always" or "often" charge their EVs at home. These residents probably won't move into a building that doesn't offer on-site EV charging. Your current residents may buy EVs, too. They're more likely to look elsewhere if you don't offer convenient EV charging.   
If you serve a higher-income market, EV chargers may soon become essential for keeping units occupied. A 2021 study of EV ownership found that around 60 percent of EV owners make more than $100,000 per year, with an average annual income of $125,000 to $150,000.    
2. The presence of EV chargers bolsters a real-estate brand's reputation.
Studies have shown that a visible demonstration of sustainable practice improves brand reputation. As a 2022 paper in the journal Marketing Intelligence & Planning puts it, "Sustainability has a positive effect on reputation, which in turn, while enhancing trust, decreases consumers' perceived risk."
That's just as true for a real estate operator as for a consumer product brand. EV chargers are a highly public, popular amenity that the public associates with sustainability. Existing residents may feel better about living in a building with EV chargers, while future residents may become more likely to sign a lease.
3. EV chargers can provide a new revenue stream.
Of course, the strongest driver for making a business decision is the return on investment. That's hard to calculate for "softer" metrics like resident satisfaction and company reputation. How do you plan to make back investments in EV chargers — and eventually generate revenue from this amenity?
Many EV owners are willing to pay to charge EV batteries, either directly (through a use-based payment system) or indirectly (through monthly fees or upcharges). One study found that most EV owners said they'd pay up to $3 per hour to charge EVs. Meanwhile, a startup company promises to shoulder the costs of installing EV chargers at commercial properties. This company says property owners can expect a revenue of $1,000 per month, per charger — without paying upfront costs themselves.  
Already, real estate owners are developing models for use — and monetization — of their on-site EV chargers. Here are three of the most common.
3 Models for EV Charger Operation at Apartment Buildings
Every property handles parking a little bit differently. Residents may park in a garage, lot, or on the street. Parking spaces may be assigned, or they may be first-come-first-served. And you might even offer parking to the public in addition to your residents.
This variety suggests a few ways to handle EV charging in multi-family units, one for each common parking scenario. Here are three ways to handle your EV charging system:
Install public EV chargers in parking lots or garages. If your lots aren't restricted to resident use, why restrict use of your EV chargers? You could install EV chargers that operate like commercial charging stations. Users may be residents or members of the public, and they pay either by the hour or by energy consumption, not unlike a standard gas station (but without the emissions).
Assign EV charging stations to residents on request. Many apartment buildings assign parking spaces to residents. Another option is to offer spaces outfitted with EV chargers. In this scenario, there's probably no need to charge by use; you could offer these upgraded parking spaces for an additional fee, or bundle the cost into monthly rent.
Create a hybrid EV charging system. Does your property offer both public parking and assigned spaces? This scenario is common in downtown parking garages, and the hybrid business model calls for a hybrid EV charging solution: Install a mix of public-use chargers and upgraded residential parking spaces, complete with a private EV charger.
These EV charging models can help you start planning for an electric future. Eventually, however, you'll have to get into the technical details. You can partner with a third-party EV charging supplier. Or you could build and manage your own EV chargers.
The latter route allows you to keep all the revenue and avoid the complexity of another business partner. However, it also requires you to invest in maintenance and management. First, though, there's the initial cost of equipment and installation. Understanding what you'll need can help you start making a plan.
5 Physical Elements of Apartment EV Charging Stations
Every EV charging station requires a few pieces of physical equipment. Here's an overview of what apartment EV chargers require:
1. Appropriate Electrical Infrastructure
It's important to work with your local utility provider early in the EV charging design process. Grid limitations may restrict the number or type of chargers you install. You'll probably also need to partner with electrical contractors to install electrical infrastructure at the site itself.
Of course, you'll also need the right permits, and your installation will have to comply with all applicable regulations. See the U.S. Department of Transportation's EV Infrastructure Project Planning Checklist for more information.
2. Charging Equipment
There are three general types of EV chargers: Level 1, Level 2, and DC fast charge. Level 2 EV chargers are usually most appropriate for apartment residents.
These chargers are faster than Level 1 equipment (which uses a standard 120 volt circuit), while running on the fairly standard 240-volt circuit. Still, you may need considerable electrical work to bring 240-volt power to every charger in your lot or garage. And you'll also need support equipment to store and protect EV chargers, while simplifying access when residents need a charge. 
3. Charger Stands
Level 2 EV chargers are typically designed to mount onto walls or stands. Apartment parking lots usually don't have enough wall space for wall-based installations alone. Even parking garages may require free-standing EV chargers to fulfill growing demand.
Be sure to consider available floor space when choosing EV charger stands. Pedestal-design stands offer the greatest combination of protection for equipment and compact design. EV Charger Pedestals from Solus Group allow you to install one or two Level 2 EV chargers virtually anywhere. Heavy-duty steel construction and a weather-resistant powder-coat finish keep charging equipment safe, even in high-traffic areas. 
Buy EV Charger Pedestal and Cable Management Kits from Solus Group
4. Cable Management Kits
The National Electrical Code (NEC) requires cable management solutions for all EV charger cables over 25 feet (7.5 meters). However, even if you use shorter cables, cable management is essential. Cable-handling tools protect cables between uses, while making them convenient to access during charges.
EV Charger Cable Retractors from Solus Group offer a reliable solution for EV cable management. These fully enclosed reels auto-retract, pulling charging cables up and away for protection. They're available in wall- or pedestal-mounted models — and are pre-integrated into each EV Charger Pedestal and Cable Management Kit, as well. 
Buy EV Charger Cable Retractors from Solus Group
5. Protective Barriers
While EV charger stands offer some protection for ch
arging equipment, the best practice is to install Structural Bollards or Structural Barrier Rails, as well.
According to the U.S. Department of Energy's Alternative Fuels Data Center, "Curbs, wheel stops, and setbacks should be used to prevent EVs from colliding with charging equipment." Structural barriers provide an even stronger layer of protection.
Buy Safety Barriers & Guardrails from Solus Group
The future of transportation is leaning electric. More and more people want to live in apartments with EV chargers. To make sure these residents choose your properties rather than someone else's, install EV chargers in your parking areas today.
Questions about EV Charger Handling Equipment from Solus Group? Contact the material handling experts at 314-696-0200 today.