When you factor in repairs, lost revenue, and the value of stolen product itself, metal theft costs U.S. businesses and municipalities around $1 billion per year, estimates the Department of Energy. Surging prices for copper and other conductive metals tends to drive spikes in construction theft, too. In short, a loaded wire cart makes an attractive target for thieves.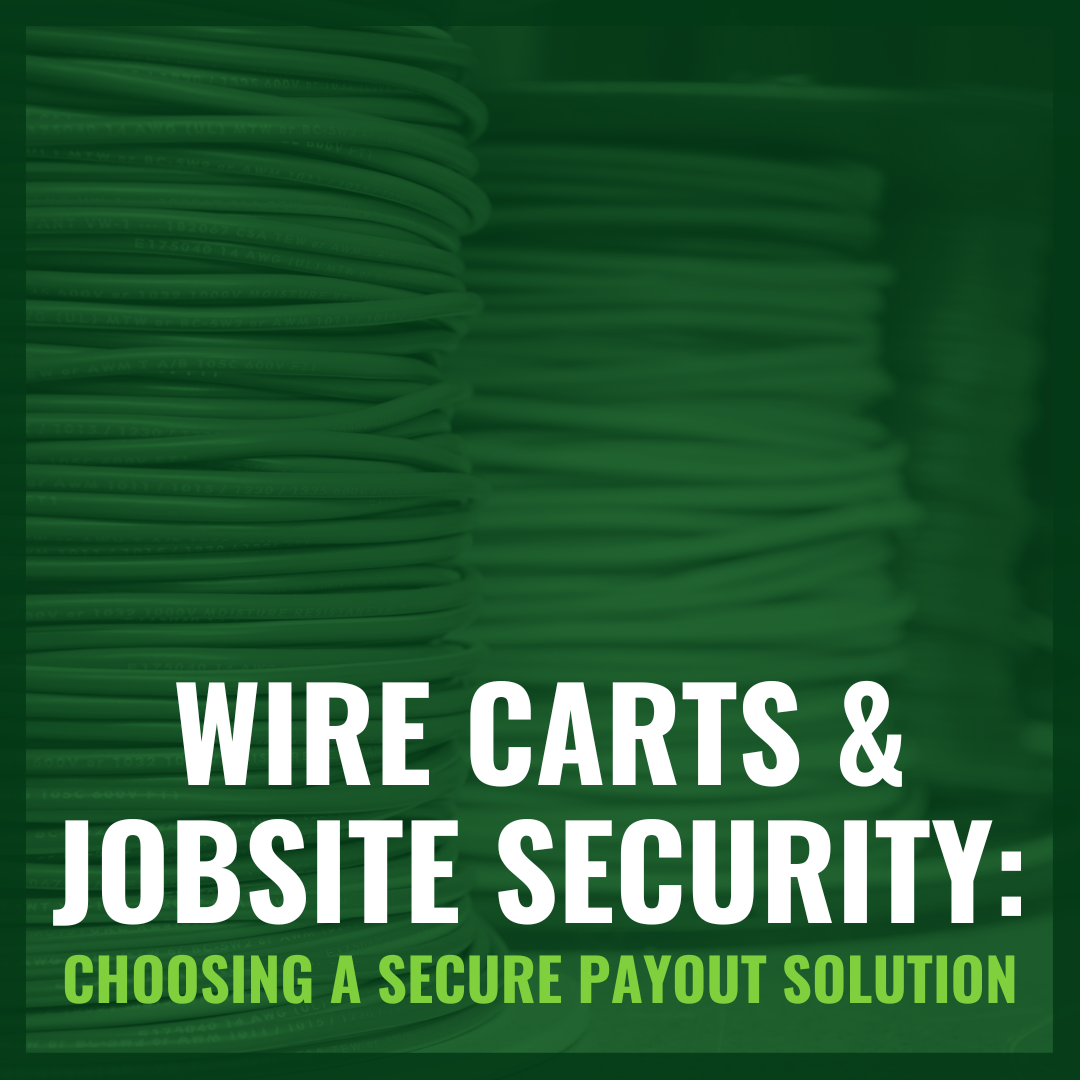 Knowing the hazards, construction electricians take steps to protect cable and wire at open job sites. They may use fences, security cameras, high-value storage solutions, and more to protect their investments between shifts. But there's one protection for wire inventory that electricians overlook: the wire cart itself.
In this article, we'll look at common wire cart designs from a security perspective. Then we'll provide suggestions for secure wire carts, including a list of features to look for. Knowing what makes a wire cart secure will help you choose material handling equipment that can contribute to greater jobsite security — and protect your inventory from the all-too-common problem of construction site theft.
Security Challenges and Wire Cart Design
Unlike most material handling solutions, which simply provide transportation, wire carts in the electrical industry have two jobs to do. A wire cart on wheels allows you to easily carry wire runs to installation points — but they also double as payout solutions. To accomplish these dual goals, most wire spool carts follow one of three general designs:
Spindle wire carts consist of a central frame, from which extend horizontal bars — spindles that store wire reels, and allow users to pull wire without removing those reels. They may roll on anywhere between two and four casters, plus push bars.
Wire reel hand trucks add rows of removable axles to the upright frame of a standard, two-wheeled hand truck. That allows users to carry and dispense wire from multiple sets of reels, while toe plates handle boxes or other large items.
Wire spool carts place open-sided, box-like frames on four casters. Within the frame, axles store relatively large volumes of wire reels. The open sides allow users to pay out wire as needed, while push bars improve ergonomics during travel.
Any of these three designs provide storage, transport, and payout. But they all share the same security flaw: Wire stocks remain exposed. Turn your back on the cart, and you may find entire reels missing. Luckily, the solution is simple: Choose a wire cart with built-in security features.
Security Features for Wire Carts
To protect wire stock on construction sites, your best option is the wire spool cart design, item 3 on our above list. But not just any wire spool cart will do: You need one with built-in security features that go beyond standard models. Look for the following security features:
Fully enclosed, lockable wire reel compartments. Your wire cart can double as a cage. Choose carts with closable, lockable doors that prevent access to wire reels, except to authorized users.
Strike protectors for padlock hasps. Deter lock breaking with an integrated strike protector — and always use cutter-proof padlocks to secure the unit.
Heavy duty steel materials. Wire caging or flimsy metals are easy to bend, break, or cut for a motivated thief. Look for wire reel carts that use tough, welded steel, finished with a weather-resistant powder coating for even greater durability.
Integrated chain rings. While it's a bit tougher than boosting a single wire reel, bad actors could roll entire wire carts away. Prevent this tactic by choosing wire carts with steel rings or hoops for chains. Then you can secure the entire unit in place between uses.
To find all these features — and more — in a single product, choose Wire Pull Carts from Solus Group. These high-capacity wire carts support up to a dozen standard-sized wire reels, with wire guides to protect product during pulls. Steel doors lock securely; simply load the reels, lock the unit, and rest assured your wire is protected.
Wire Pull Carts are also built for large-scale wire installations, with integrated fork pockets and lifting rings for movement via heavy material handling equipment. Each unit carries up to 3,000 pounds of wire reels, so they're ready for a whole job's worth of product. Shaft collars on internal axles keep reels securely positioned, while allowing simple pulling once the unit's in place.
For all the advantages of a wire cart, plus built-in security, use Wire Pull Carts for every installation. Ready to invest in jobsite security? Buy Wire Pull Carts from Solus Group here.