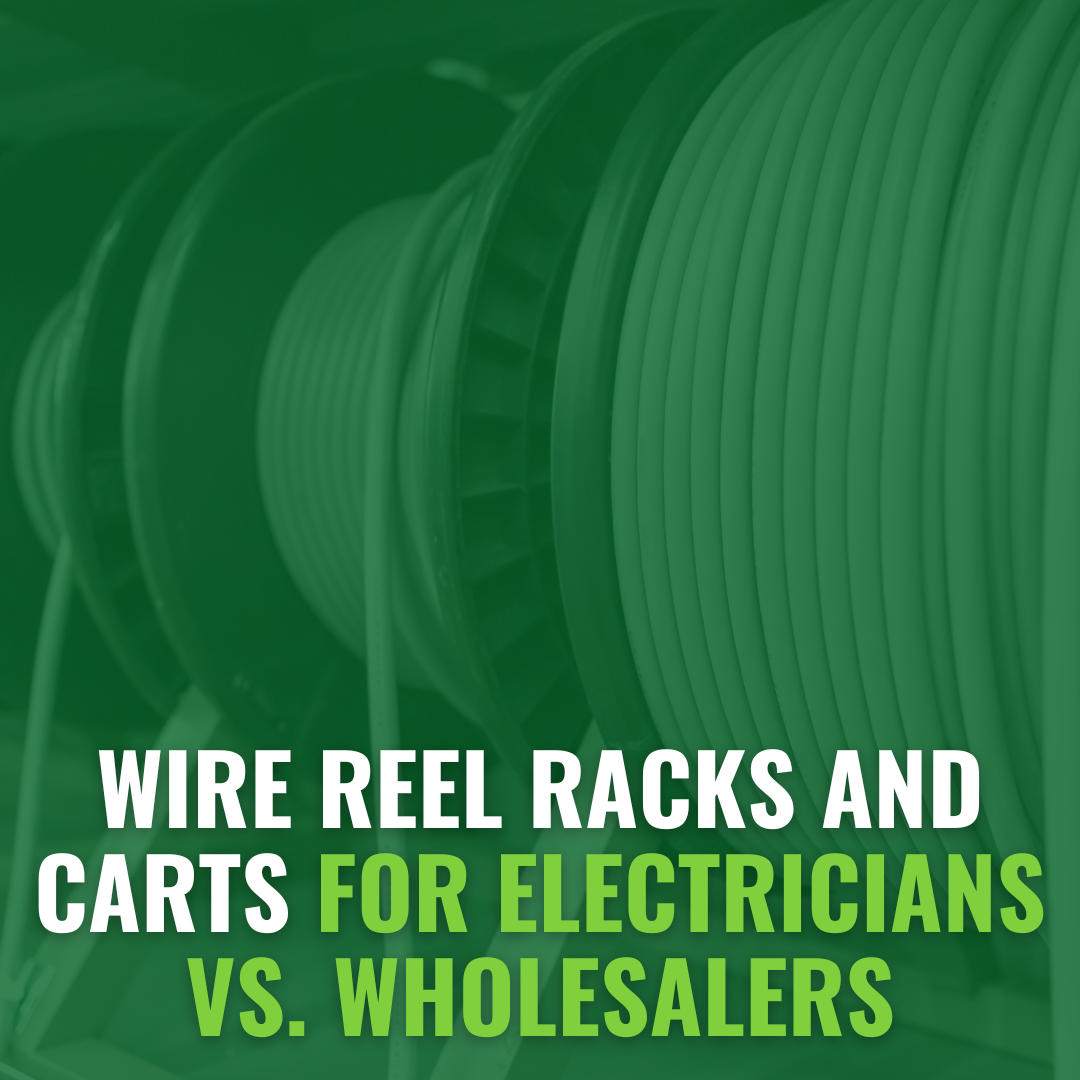 Electricians are the frontline troops of the electrical industry. They're the ones who install power and communications systems, both for electrical power and telecommunications, from major feeder lines down to individual data set-ups. But without electrical wholesalers, electricians couldn't do their jobs.
Wholesalers, or electrical distributors, supply electrical firms with the components they need for installations, maintenance, and repair. The industry needs both. And both electricians and wholesalers share many of the same material handling challenges—including storage, payout, and handling of cable and wire.
When you handle bulk amounts of cable and wire, you need wire reel racks. Pull carts, too. Some of these are designed primarily for wholesalers, while others are better suited to installation sites, built to increase productivity for electricians. Regardless of your role, if you're shopping for a new wire-reel storage system, it's important to know the difference. Here's a quick guide to wire reel racks and related equipment, with a specific focus on distinguishing products for electricians, wholesalers, or both.
Type of Wire Reel Racks
Wire reel racks serve at least three purposes: They store bulk wire collections. They organize them for more efficient order-filling. And they provide a means for paying out this wire. These are all essential for the operation of electrical wholesalers, but larger electrical firms may operate their own warehouses, which means they're also crucial for electricians. Whether you're a wholesaler or an electrician, however, the place for wire reel racks is typically in the warehouse or prefabrication facility, not at the jobsite.
Many designs of reel racks are available on today's market, but most of them fall into one of three categories:
A-Frame Wire Reel Racks - These units use modified A-frame uprights to support multiple horizontal, front-facing reel axle tubes. The rear upright extends vertically, at 90 degrees to the floor, while the front support angles forward to create a stable base. To add or remove wire reels, users must axle tubes and thread them through reel eyes. These units must typically be secured to floors, walls, or both — but the A-frame design allows them to be placed back-to-back, creating dual-sided reel racks.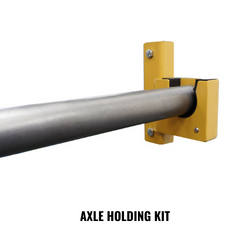 Wall-Mounted Wire Reel Racks - Some racking systems are individually bolted to walls. Others are more robust systems, in which straight vertical uprights create a frame for axle brackets, which support horizontal axle tubes that position reels for forward-pull payout.
Converted Warehouse Racking - With adequate pallet racking and after-market axle mounts, you can convert an existing system into a heavy-duty wire storage solution. However, many axle mounts create as many problems as they solve; metal connection points grind against metal axles, creating material stress and noise during payout. Axle Holding Kits from Solus Group provide the solution. These bolt-on axle supports are lined with low-friction UHMW pads to protect axle-ends and eliminate noise as the axle spins.
Wire Vs. Cable: A Word on Terminology
In this article, we're focusing primarily on wire reel racks and carts—but that doesn't mean our recommendations don't apply to cable. In the electrical industry, many people use the terms "wire" and "cable" interchangeably, even though they're technically distinct materials: Wires consist of a single conductor, while cables contain multiple conductors (such as a hot, neutral, and ground wire in a grounded cable).
In terms of material handling, wire and smaller-diameter cables are quite similar. It's common to store and handle cable on what we call "wire reel racks and carts." Keep that in mind as we discuss these products.
So which design is best for your facility? That depends on layout, workflow, and cost factors. If you operate a facility with high-capacity racking, a conversion reel rack will often provide the best return on investment. If you have limited space, you might benefit most from a double-sided A-frame installation. And if you're building a dedicated wire warehouse from scratch, you can design it to incorporate wall-mounted systems.
However, electricians don't just need to store bulk wire reels. They need a storage solution that doubles as a mobile payout system, ideal for installations of data or power cable. That's where wire reel carts enter the conversation.
Wire Reel Racks Vs. Wire Pull Carts
Many wire reel racks are fitted with casters, essentially transforming them into wire reel carts. But even with wheels, a tall, heavy A-frame reel rack isn't ideal for moving around an installation site; casters on these reel racks are there to simplify repositioning, not to serve as a work cart.
Electricians at the job site don't need wire reel racks, they need wire reel carts — which, when fitted with features that simplify payout, are often called wire pull carts. Solus Group offers a unique Wire Pull Cart (which we'll capitalize when discussing the branded product) from BHS that offers a range of features designed to improve efficiency and productivity during wire installation jobs. These features include:
1. A fully enclosed wire reel compartment.
Most wire reel racks follow one of two designs: They hang reels from holding bars, which extend outward from a core support like the limbs of a tree; or else they arrange removable axles along a dolly-like frame. Both of these designs leave wire open to thieves or vandals, a concern if they're left at jobsites.
Wire Pull Carts from Solus Group place all wire reels within a vented steel compartment that secures contents with steel double doors that open to 180 degrees and can be locked shut with a padlock. That keeps wire assets safe wherever the unit sits.
2. Multiple ways to move.
The Wire Pull Carts we offer at Solus Group include between four and eight swivel casters, depending on the model, allowing a single operator to move the unit around the installation site. They also feature integrated fork pockets for transport via lift truck or pallet jack, and lifting eye bolts at the four corners of the top panel. That allows users to lift fully loaded units with a crane, simplifying access to higher stories at construction sites.
3. Protective wire guides at the point of payout.
It's easy to damage wire during payout, as it rubs against reel flanges or parts of the cart. Wire Pull Carts from Solus Group eliminate this risk by guiding all wires through PVC wire guides at every access point.
With one exit for each wire reel, these PVC wire guides also help you organize your wire collection, saving time during installations. You can even label each wire guide for instant identification of multiple types of wire.
4. Capacity to carry a full job's worth of wire.
Depending on the model, the Wire Pull Cart carries up to 12 or 18 wire reels. Shafts are adjustable to fit differently sized reels, and feature collars that lock reels into position. With carrying capacities of 2,000 or 3,000 pounds (907 or 1,360 kilograms), these models offer more than enough strength to haul wire for the whole installation.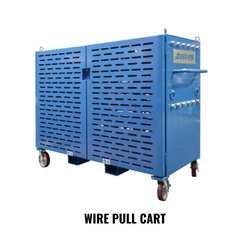 5. Heavy duty construction for dependable service.
Wire Pull Carts from Solus Group are made of welded steel, and powder coated for water and chemical resistance. These models are suitable for indoor or outdoor use, and their high-grade materials ensure a lifetime of service, even in harsh industrial environments.
Buy Wire Pull Carts from Solus Group.
Wire Pull Carts are a mainstay of installers in the telecommunications industry, where data cable is the core material. They're also helpful for construction electricians wiring up a new building. In either application, Wire Pull Carts improve efficiency, leading to faster jobs and overall cost savings. But wholesalers can also benefit from a fleet of Wire Pull Carts. Here's how.
Wire Pull Carts for Electrical Wholesalers
As we've discussed, every distributor of wire and cable needs a facility full of wire reel racks. They can also benefit greatly from a fleet of Wire Pull Carts. That may seem counter-intuitive; after all, wholesalers aren't the ones installing the wire at the jobsite. Their customers are. But those customers will stay loyal to the wholesaler that offers the greatest combination of cost- and labor-saving value-added services — and Wire Pull Carts open up a particularly beneficial value-added service for wholesalers.
Elsewhere in this blog, we've discussed the concept of a delivered solution. Rather than shipping orders on loose wire reels, which customers have to load onto their own carts prior to installation, wholesalers can ship wire orders pre-loaded onto Wire Pull Carts. That gives electricians a ready-to-use package, so they can start installing the instant the cart rolls off the delivery truck. It saves time and effort for electricians, which saves them money, leading to happier customers and more return business for the wholesaler.
Upon completion of the job, customers can return these reusable steel carts. Then they're ready for the next order. Of course, electrical distributors can also sell Wire Pull Carts as part of your material handling collection. Either way, Wire Pull Carts provide an excellent combination of storage, handling, and payout for anyone who works with wire and cable — at the warehouse or the jobsite.
To learn more about wire reel racks and carts for your electrical business, contact the Solus Group sales team at 314-696-0200. For more material handling solutions for every stakeholder in the electrical industry, browse our growing selection of specialized Electrical Handling Equipment.