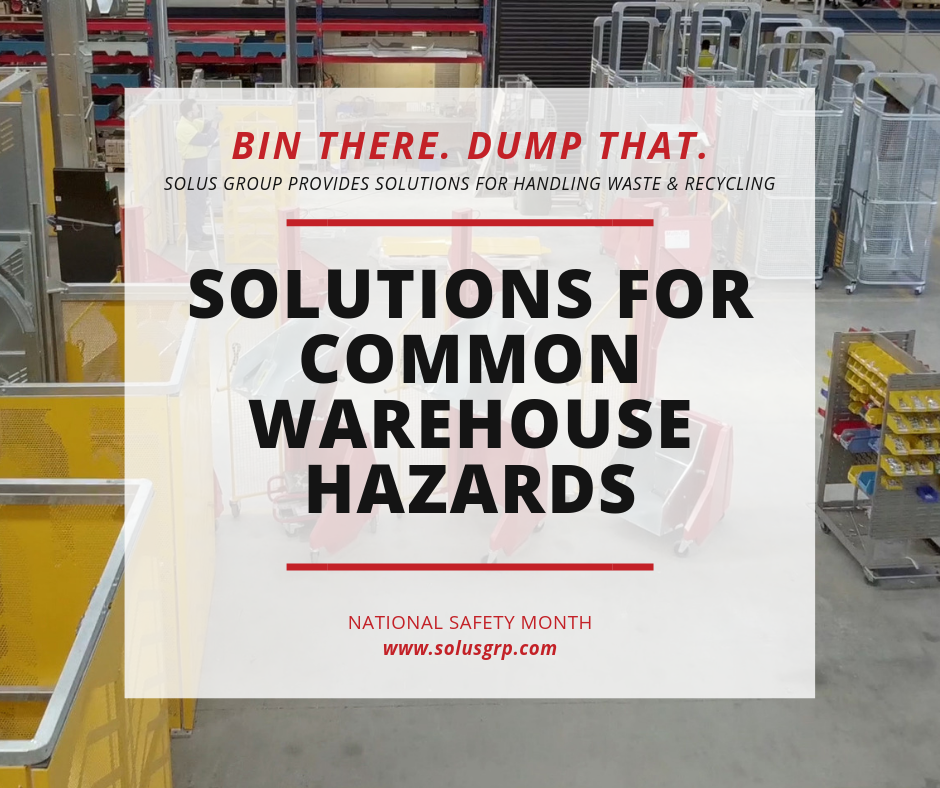 Warehouse work is a growing employment sector, which means that many new hires are busy learning how to maintain safety in this unique industry. As of 2017, the injury rate at U.S. warehouses hovered at 3.1 per 100 workers, similar to the rate for all industries. When it comes to preventing injuries, though, no one wants to be stuck in the middle of the pack.
The good news is that managers can remove many of these hazards through relatively hassle-free engineering controls — that is, introducing equipment or changes to layout that will prevent workers from entering risky situations in the first place.
The National Safety Council has had its eye on this problem for a while now, and they recently discussed some of the most common workplace safety hazards that you're likely to find in any warehouse. Here are a few of their insights, along with Solus Group's suggestions for mitigating the risk:
Forklift Accidents - One NSC consultant told Safety and Health Magazine that forklift operators may resort to unsafe practices in order to meet tough productivity goals. "[Forklift operators are] all under pressure, and when you're under pressure, they start taking shortcuts," the consultant told the magazine. The clearest fix for this hazard, of course, is to add more operators per shift. Forklift accidents are a sign that your staffing levels might not be right-sized to the warehouse's demands. But employers must maintain a delicate balance between a relaxed work pace and efficient throughput. You can't always meet ideal staffing needs. In addition to adding more forklifts into the aisles, then, employers can enhance safety by separating forklift traffic areas from pedestrian spaces with physical barriers wherever possible. These may include Structural Barrier Rails, unobtrusive Protective Rails, or Structural Bollards at intervals.
Obstructed Aisles and Exits - The Occupational Safety and Health Administration forbids obstructions in walking paths. Standard 1910.176(a) states that "aisles and passageways shall be kept clear and in good repair, with no obstruction across or in aisles that could create a hazard." Managers may need to adjust housekeeping procedures as stock levels rise and fall throughout the year. If a little retraining doesn't get rid of clutter in the aisles, it could be time to invest in new industrial storage solutions: Industrial Shelves, Flow Through Racks, and lockable High Value Carts can all contribute toward clean, clear pathways, and the attendant safety benefits.
Working While Elevated - Warehouse staff may not work at height as often as, say, construction workers, but there are plenty of tasks that require elevation: Picking orders from top shelves, replacing lights, counting inventory, and various maintenance jobs come to mind. The OSHA standards for general industry are very clear on safety requirements involving elevating platforms and fall-protection systems. All vehicle-mounted elevating work platforms must conform to specific standards from the American Welding Society and American National Standards Institute, for instance. Forklift Work Platforms and Picking Work Platforms offer safe elevation for workers when attached to a sufficient lift truck. Employers must provide fall-protection systems in accordance with OSHA standard 1910.140, as well. To learn more about safety standards for working at height, see OSHA's guide, here.
Like any workplace, warehouses have their share of hazards. The good news is that guidance on confronting these hazards is readily available. A mixture of research into OSHA standards, regular training for staff, and appropriate equipment can reduce the risk of working in a warehouse to the absolute minimum.
References:
"29 CFR 1910.140 - Personal fall protection systems." OSHA. Occupational Safety and Health Administration, U.S. Department of Labor, n.d. Web. 25 Jun. 2019.
"29 CFR 1910.176 - Handling materials - general." OSHA. Occupational Safety and Health Administration, U.S. Department of Labor, n.d. Web. 13 Jun. 2019.
Morrison, Kyle. "7 common workplace safety hazards." SafetyandHealthMagazine. National Safety Council, 22 May 2016. Web. 13 Jun. 2019.
"Occupational Injuries/Illnesses and Fatal Injuries Profiles." BLS. U.S. Bureau of Labor Statistics, n.d. Web. 25 Jun. 2019.
Smith, Jennifer. "Warehouse Hiring Soars in a Growing rush for Logistics Workers." WSJ. Dow Jones and Company Inc., 5 Oct. 2018. Web. 13 Jun. 2019.