Falling fatalities are among the most common and preventable workplace deaths. In response to the high number of fatal falls, the Occupational Safety and Health Administration (OSHA) created a Fall Prevention Campaign that remains ongoing. OSHA sought to reduce construction industry falls in particular, but managers can use similar strategies to reduce falling risks in warehouse environments, as well.
Managers have three basic responsibilities when addressing falling hazards in a warehouse. They should provide appropriate fall protection, train employees on how to use it, and supervise employees to ensure ongoing proper use.
Short falls can be just as deadly as high ones.
One of the most startling statistics from OSHA is that more than 40 percent of fatal falls occurred from a height of lower than 15 feet. Skyscrapers and other high altitudes may trigger our sense of fear, but workers should develop a healthy respect of shorter heights, too.
In fact, OSHA requires that general industry workplaces provide fall protection for any height greater than four feet. Standard 1910.29(b)(1) mandates that employers use guardrails that are 42 inches high to protect any working surfaces more than four-feet tall. The guardrails must be able to withstand a force of at least 200 pounds.
Structural barriers with removable guardrails may be the best option in some areas to maintain a blend of safety and access. Staff can remove the simple drop-in rails when access beyond the barriers is required. At all other times, the steel rails keep workers and forklifts away from dangerous ledges.
Protective Rails can prevent the accidental dropping of tools off of a higher level to a lower one. This safety item protects expensive tools and, more importantly, staff working at lower levels. Installation is simple and the investment in minimal, but the impact could be huge.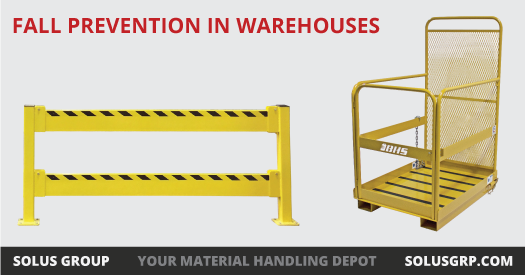 Protect workers performing elevated or overhead tasks.
OSHA-compliant Forklift Work Platforms ensure worker safety during a variety of overhead tasks. Sure, workers can use ladders for changing lightbulbs or order picking from higher shelves. But a cursory glance at OSHA's records of ladder accidents suggests that there's a better way.
A good forklift platform will have 42-inch guardrails, a toe-kick to keep tools on the platform, and safety harness attach points. An expanded metal mast guard is desirable for improved visibility.
The proper use of a forklift platform (which means no driving while the platform is elevated) makes overhead tasks safe and simple. These platforms have a multitude of safety features that allow workers to concentrate on the task they're doing rather than balancing on a ladder.
Use ramps with gradual transitions and maximum traction.
For loading and unloading tasks, dock ramps and yard ramps with open-steel grating provide maximum traction. Longer ramps with gradual transitions also aid in reducing stumbles.
Fall prevention is an ongoing task. Managers must continually identify and address potential trouble spots while ensuring that employee training is current.
Providing ergonomic, OSHA-compliant equipment is the first step toward eliminating falls. Continual training and focus on safety is the second. Together, these strategies can reduce the likelihood of death or injury while working from elevated heights.
References:
"Commonly Used Statistics." OSHA. Occupational Safety and Health Administration, United States Department of Labor, n.d. Web. 7 Aug. 2017.
"CFR 29 1910.29: Fall protection systems and falling object protection-criteria and practices." OSHA. Occupational Safety and Health Administration, United States Department of Labor, n.d. Web. 7 Aug. 2017.
"Welcome to OSHA's Fall Prevention Campaign." OSHA. Occupational Safety and Health Administration, United States Department of Labor, n.d. Web. 7 Aug. 2017.