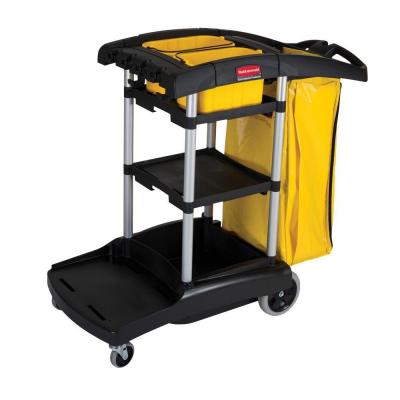 A dirty, cluttered facility isn't just bad for productivity. Grimy warehouses also expose staff to an unacceptable fall risk. That's why federal regulations require employers to keep facilities in a reasonable state of cleanliness.
Even if your staff stays on top of daily cleaning tasks, a yearly deep cleaning is a great way to bring your warehouse into a state of sanitary perfection that sets the tone for the whole year. And what better time to schedule a good deep cleaning than the spring?
As you prepare for spring cleaning at your operation, make sure your janitorial closet includes these five pieces of equipment. They'll help you get the job done faster and with better results.
Walk-Behind Floor Scrubbers - Nothing cleans a concrete floor like a walk-behind floor scrubber. There's nothing wrong with brooms and mops, but to get your floors spotless without sacrificing lots of valuable staff-hours, invest in a machine like the Minuteman Automatic Scrubber from Solus Group
Air Guns - Dusting warehouse shelves is a serious challenge. A combination of height and depth makes it nearly impossible to reach every nook and cranny in a racking system, even if you go through the labor-intensive process of clearing the shelves first.
The solution is an air gun with a long extension. Attach these dusting marvels to an air compressor and blast away dirt and debris, even in those hard to reach corners. Solus Group offers air guns with lengths up to 19 inches to easily clean even the deepest racks.
Magnetic Sweepers - No industrial facility is complete without a magnetic sweeper. Metallic shards litter the floors and docks of many warehouses, endangering staff. But because they're heavier than most debris, brooms can sweep over them without any effect. Magnetic sweepers from Solus Group easily lift metal shards from the floor, and they won't leave anything behind.
High Capacity Cleaning Carts - Spring cleaning at a warehouse generates a lot of refuse. Larger facilities need cleaning carts built to handle these heavy loads. The Rubbermaid High Capacity Cleaning Cart from Solus Group offers 40 percent more storage and 20 percent more trash capacity than standard models. They're perfect for hauling cleaning supplies and refuse throughout large facilities.
Tilt Trucks - When you're hauling lots of trash and debris to the dumpster, you need a container that you can empty easily. Tilt trucks from Solus Group can carry up to 1,000 pounds of refuse in a heavy duty polyethylene receptacle. Grease proof tires are located to act as a fulcrum for a simple tipping action.
Spring cleaning isn't just about making your workplace pretty. It's also a great time to conduct valuable analysis, like monitoring shelf life, uncovering obsolete product lines, and checking infrastructure for damage or corrosion.
However you schedule your yearly deep cleaning, make sure your staff has the equipment to do the job right. You'll have a happier, safer workforce and a more efficient operation in no time.
References:
"Getting a Handle on Inventory with Good Warehousing." Pathguide. Pathguide Technologies, Inc., 2016. Web. 6 Apr 2016.
"Sanitation - 1910.141." OSHA. Occupational Safety and Health Administration, United States Department of Labor, n.d. Web. 6 Apr. 2016.