Handling forklift batteries can be dirty business. Electrolyte can accumulate on or drip from batteries due to leaks, boil-overs, and vapors that escape during charging.
Because acidic residue can end up in places it shouldn't be, battery room managers must take precautions to protect workers and equipment from this corrosive material. As you would expect, the Occupational Safety & Health Administration (OSHA) lays out guidelines for employers. Here are the major requirements from OSHA, along with a few ways to ensure compliance:
"Racks and trays shall be substantial and shall be treated to make them resistant to the electrolyte."
29 CFR 1926.441(a)(2)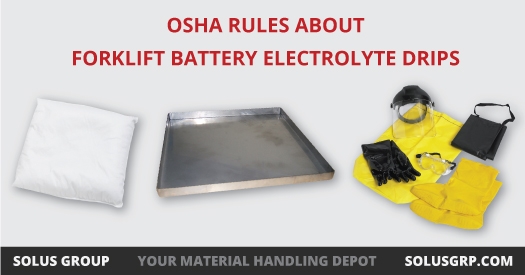 Spilled electrolyte contains sulphuric acid. Over time, this corrosive substance can damage battery charger stands and cause pitting in floors. Following this OSHA regulation saves money in the long run by protecting expensive investments from corrosion.
Charger Stands from Solus Group are powder-coated for extra durability and resistance to acid. Whether you use traditional chargers or run a park & charge operation, you'll know that all parts of your stand were designed to stand up to harsh battery room conditions.
Meanwhile, Drip Pans catch spilled electrolyte when a battery is charging or stored. Their stainless steel construction resists corrosion, and they slide easily into compartments beneath stands.
While many electrolyte trays are welded and susceptible to corrosion in the seams, Drip Pans are corner-formed for extra durability. Lining Drip Pans with AcidSorb Pillows or a Universal Polypropylene Roll is a great way to simplify maintenance and increase the lifespan of your tray.
"Face shields, aprons, and rubber gloves shall be provided for workers handling acids or batteries."
29 CFR 1926.441(a)(5)
Protecting staff is OSHA's business, so the administration treats manual battery handling quite seriously. That's why Solus Group provides Personal Protective Kits for workers who clean spills or wash batteries.
By using comprehensive safety gear, you can ensure that staff are protected as they do the dirty work. While OSHA doesn't mandate it, investing in a kit with HAZ-MAT Boots (such as the ones available from Solus Group) is a good idea to prevent corrosive substances from being tracked away from a spill site.
"Facilities for quick drenching of the eyes and body shall be provided within 25 feet (7.62 [meters]) of battery handling areas."
29 CFR 1926.441(a)(6)
Every manager hopes that eye-flushing stations will never need to be used. Getting corrosive electrolyte on any part of your body can cause serious injuries, and sensitive areas like the eyes are even more cause for concern. So maintaining emergency stations is a crucial part of battery room planning.
Solus Group provides a variety of eye wash stations that can be connected to plumbing or simply used as a portable station. Depending on your needs and battery room configuration, you may choose to have your eye wash wall-mounted or pedestal-mounted. Whichever eye wash station you choose, make sure it complies with federal regulations, as all stations sold by Solus Group do.
"Facilities shall be provided for flushing and neutralizing spilled electrolyte and for fire protection…"
29 CFR 1910.178(g)(2) and 29 CFR 1926.441(a)(7)
The last relevant regulation we'll look at addresses the neutralization of electrolyte. After you've ensured that staff and property are protected, it's time to actually clean up the mess.
Solus Group offers a comprehensive line of Spill Kits that addresses the needs of fleets of all sizes. From Wall-Mounted Spill Kits for small fleets to 55-gallon drums of AcidSorb, Solus Group covers all the options for neutralizing and absorbing acidic spills.
As for the second part of this OSHA standard, fire extinguishers are a common accessory in all buildings. However, battery rooms may need a more dynamic tool. Type ABC Fire Extinguishers can handle a variety of fire types, including liquid, gas, and electrical. That can be a literal lifesaver when accidents happen in the battery room.
Complying with OSHA Rules Doesn't Have to Be a Challenge
Look for manufacturers who design their equipment with these safety standards in mind, and compliance becomes much easier. At Solus Group, durability, safety, and compliance with federal regulations always guide the products we choose to stock. When you want to keep your battery room safe, efficient, and compliant with OSHA and other regulations, browse the options from Solus Group at solusgrp.com.
References:>
"29 CFR 1910.178. - Powered industrial trucks." OSHA. Occupational Safety and Health Administration, United States Department of Labor, n.d. Web. 12 Oct. 2017.
"29 CFR 1926.441 - Batteries and battery charging." OSHA. Occupational Safety and Health Administration, United States Department of Labor, n.d. Web. 12 Oct. 2017.