What size dumpsters do you need to handle all your workplace waste without overspending or taking up too much valuable space? While large steel dumpsters are typically designed for heavy-duty waste applications, many small businesses can get by with a smaller, more manageable unit — and 2-yard dumpsters are often the best choice.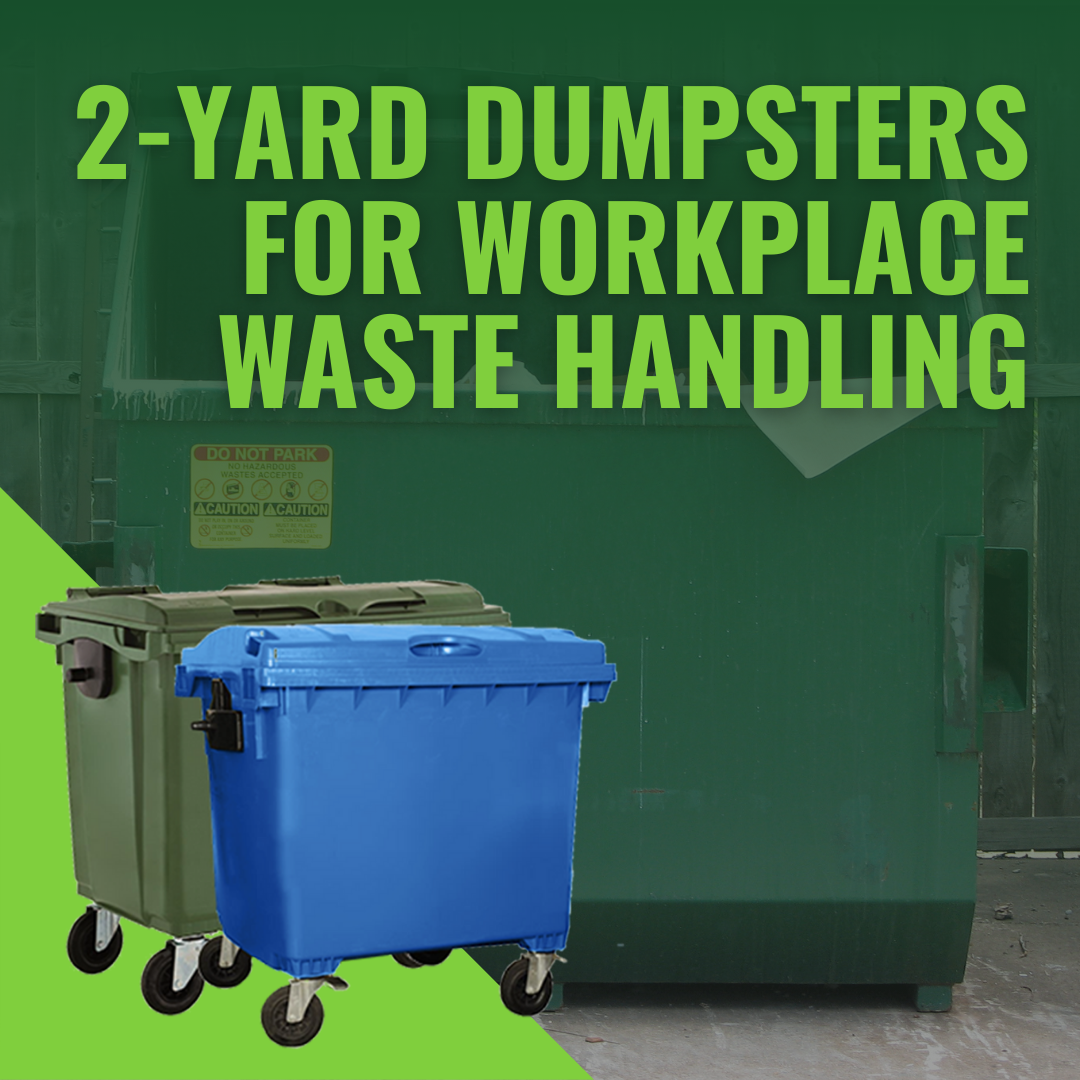 As long as they match your waste-generation capacity, 2-yard dumpsters have a lot of advantages over their larger counterparts (and that's especially true when you choose plastic dumpsters https://solusgrp.com/blog/post/plastic-dumpsters-for-facility-waste-management.html over heavy, unwieldy, and rust-prone steel). Benefits of smaller dumpsters include:
Safer handling, both for manually repositioning mobile plastic dumpsters and when being emptied by collection trucks or on-site Bin Dumpers.
Smaller footprints, freeing space for revenue-generating tasks or simply more parking.
Greater compatibility with mobile material handling equipment; ideal for high-throughput outdoor waste handling, as at parks and events.
Can be used indoors much more easily than 10-, 20-, or 30-yard dumpsters (or larger!)
More flexibility of placement; 2-yard dumpsters fit into tight alleys or between dumpsters, and they're unobtrusive in a small corner of the loading dock.
Are 2-yard dumpsters right for your business?
Typically, 2-yard dumpsters are perfect as single-point waste collection sites for small businesses as well as waste consolidation points for larger facilities. Businesses that typically obtain the benefits of 2-yard dumpsters include:
Food Service: Small restaurants, diners, and cafes
Retail: Corner stores, bodegas, and boutiques
Commercial Property: Offices supporting up to 20 or so employees
Industrial Facilities: Use for multiple waste consolidation points on large campuses
Parks and Outdoor Venues: Choose Mobile Garbage Bins to create a waste-handling train
This last example requires a bit of explanation. First off, we need to differentiate between a stationary dumpster and a mobile dumpster fitted with heavy-duty casters. Solus Group offers 1.5-yard — or 290-gallon — mobile plastic dumpsters designed to travel. (It's not a 2-yard dumpster, but it's close — and with a total weight capacity of 970 pounds, often exceeds the carrying limits of comparable 2-yard models.) This combination of high capacity and mobility allows users to create a waste-handling train, consisting of an electric tugger, one or more mobile dumpsters, and a rolling Bin Dumper. A single operator can then travel to garbage bins scattered all across the property, safely emptying them into the rolling dumpsters with the Bin Dumper. In other words, it's a Turnkey Waste Handling Solution — and it only takes one employee to operate. Such advantages simply aren't available with larger dumpsters.
How much waste does a 2-yard dumpster hold?
By definition, a 2-yard dumpster can hold up to 2 cubic yards of waste at a time. What does that look like in more familiar terms? Here are some other ways to picture the capacity of a 2-yard dumpster:
Two cubic yards equals 54 cubic feet of waste
A full 33-gallon trash bag occupies about 4.4 cubic feet
A 2-yard dumpster can hold about 12 full 33-gallon trash bags
Weight limits vary by model; as mentioned above, 1.5-yard plastic dumpsters from Solus Group offer a larger capacity of 970 pounds
If you need to manage up to a dozen fully loaded 33-gallon trash bags per collection cycle, the 2-yard dumpster is ideal. To learn more about choosing waste bins and other waste-handling equipment for workplace use, read our guide to industrial trash cans here.