When workers are tasked with moving industrial boxes and cartons via their own manpower, injuries are practically unavoidable. Box lifters, carton handlers, and general duty material handling equipment create a better atmosphere for work by ensuring proper ergonomics. The right tools prevent musculoskeletal disorders while dramatically improving productivity.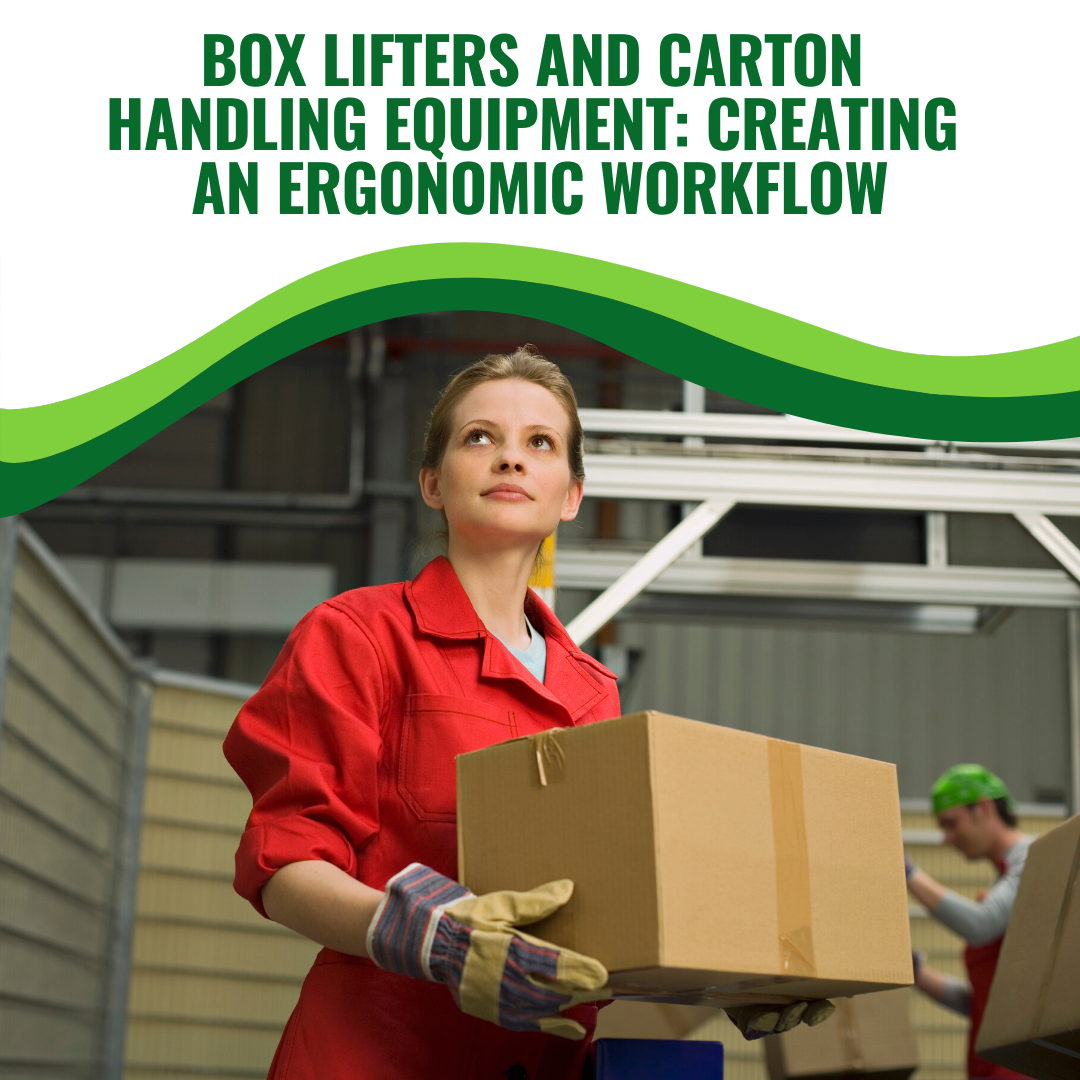 Ideally, ergonomic equipment should address the risk factors identified in the National Institute for Occupational Safety and Health's basic ergonomic guidelines. Tasks that put strain on pressure points or require bending, twisting, lifting, carrying, and awkward postures should be eliminated at every stage of the workflow. That's true regardless of the size of the load. Ergonomics are important even when workers are handling empty boxes, and investments in material handling equipment offer the most reliable path towards a truly ergonomic facility.
Of course, making the decision to improve ergonomics is easy — finding the right solution for handling loads is much more difficult. In this guide, we'll discuss several options for lifting loaded boxes, pallets, and cartons, paying close attention to the key features of each type of equipment. By combining these devices with vacuum box lifters and other specialized equipment, your operation can create a consistent handling process that optimizes throughput.
First, an important note for buyers: Material handling equipment should be suited to your industry, and expert insight can make the purchasing process much easier. To discuss options in detail, contact the team at Solus Group by calling 314-696-0200 or by clicking here.
Using Scissor Lift Tables and Tilt Tables for Box & Carton Handling
For order picking and other manual loading/unloading tasks, scissor lift tables have a few obvious advantages. They can be easily moved throughout a facility to set up workstations at appropriate points, they're relatively inexpensive, and they're versatile — the same lift table can be used for a variety of tasks without major modifications.
Of course, lift tables are limited by their maximum lift height, and they cannot be used to transport loads across the floor (with the possible exception of mobile lift tables in very specific applications). Lift tables are designed for work positioning. Numerous options can make them more effective options for loading boxes and cartons:
Turntables - A rotating turntable surface allows workers to pack products easily, either by loading several boxes onto the Lift Table or by positioning products at the proper height for loading/unloading tasks. Turntables prevent unnecessary twisting and odd positioning, reducing ergonomic risks.
Ball Transfers and Roller Conveyors - These options allow loaded boxes to move easily to the next stage of the workflow and can be integrated easily with other handling equipment.
Loading Ramps - Stationary Lift Tables offer access to floor level, but they can also be equipped with loading ramps, which make work easier when working with heavy boxes or cartons. Mobile lifters can also be equipped with ramps to make loading from the ground easier.
Lift Tables can be used to create permanent and temporary workstations. Their simple functionality ensures quick implementation — and instant improvements in your operation's approach to ergonomics — and their stainless steel construction provides dependable durability when working with heavier loads.
Improving Throughput with the Pallet Carousel & Skid Positioner
When workers need to regularly unload products from pallets for loading into boxes, cartons, or other containers, pallets should be kept at a standard height and on a dedicated platform. The BHS Pallet Carousel & Skid Positioner is designed for that task with a straightforward set of ergonomic features.
Available with both spring-actuated and pneumatic airbag-actuated self-leveling mechanisms, the Pallet Carousel keeps pallets steady, adjusting automatically as weight is added or removed. When integrated with other box- or carton-handling equipment, it reduces bending, reaching, and walking, allowing workers to remain at a set workstation while loading and unloading products. A dampener allows the self-leveling mechanism to work gradually, preventing sudden bounces, and a 360-degree rotating tabletop provides additional versatility.
As we've written previously, industrial rotating tables make sense in virtually every warehouse and manufacturing facility. The Pallet Carousel & Skid Positioner improves throughput and worker retention and can be adjusted to fit within any workflow.
Using Bin Dumpers for Ergonomic Box Lifting and Carton Handling
While bin dumpers aren't traditional lifting devices for boxes, they have several key features that make them ideal for certain unloading tasks. Also called bin tippers, trash can lifters, or bin lifters, these devices can be incorporated towards the end of the workflow for ergonomic recycling and waste disposal.
They're available with a variety of tip heights and capacities, and smaller mobile options like the EZI-MT can be particularly useful for smaller facilities; workers can move unloaded boxes into bins, and the EZI-MT allows for efficient and ergonomic transfer to a larger receptacle.
For handling larger loads, devices like the Megadumper and Dumpmaster can be customized to empty bins, cartons, and drums of virtually any size. Hydraulic lift mechanisms ensure consistent operation in both indoor and outdoor environments. All bin dumpers available from Solus Group have numerous safety features, and their unique lift tracks position loads over the frame at all times for dependable stability, indoors or out.
By using a variety of material handling devices, your operation can design a workflow that improves throughput significantly. For instance, a vacuum lifter might lift empty boxes or cartons onto Lift Tables for packing; the worker might then use roller conveyors to move the load over to a Pallet Carousel & Skid Positioner. Carefully consider your operation's ideal workflow to establish a process that minimizes lifting, twisting, and turning. After all, better ergonomics creates better efficiency and a more productive workforce.