Employers have a responsibility to provide workers with suitable protection from chemicals and toxic substances. Fortunately, with proper planning, fulfilling that responsibility can be a fairly straightforward process.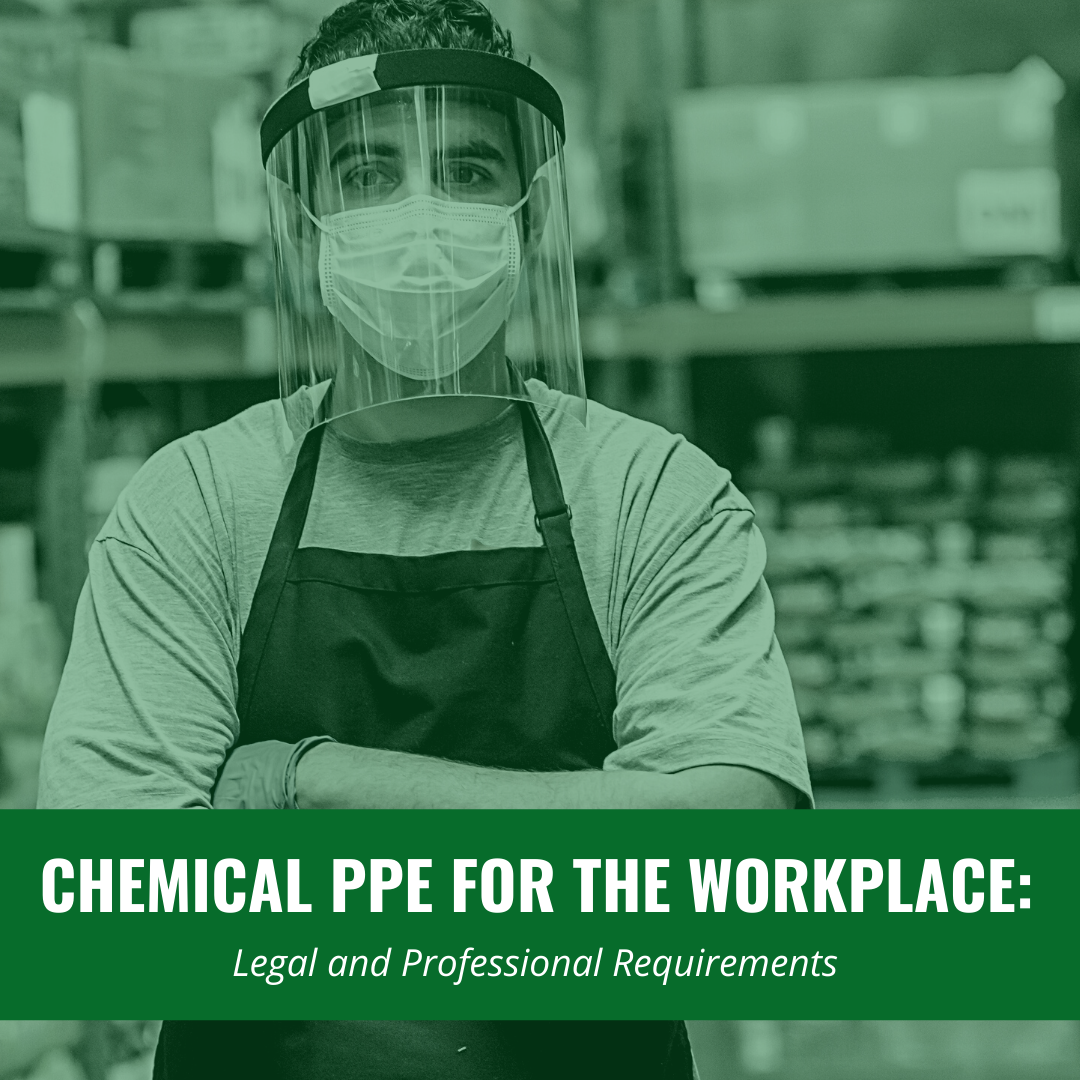 By understanding legal requirements, selecting proper equipment, and training workers, your operation can limit hazards while remaining productive and efficient. This guide provides an effective starting point. We've provided links to additional resources with detailed explanations of key concepts to help you build an effective strategy.
Can Employers Require Their Employees to Provide PPE?
Generally, employers bear the responsibility for providing personal protective equipment and replacing PPE that is no longer usable, except when an employee loses or intentionally damages PPE, per 1910.132(h)(5), or when the equipment could be considered "ordinary or everyday" clothing (for example, long-sleeved shirts, normal work boots, or footwear required for certain industries).
The type of equipment that provides protection from chemicals (for example, safety goggles and chemical aprons) do not fall under these exceptions. Employers should keep an ample supply of PPE on site at all times, regardless of whether they expect their employees to require access to that equipment — you might not anticipate a chemical spill, but when an emergency occurs, you'll need proper PPE to address the hazards.
OSHA Requirements for Chemical Personal Protective Equipment
Direct or indirect exposure to chemicals can present a range of potential hazards, endangering employees. Employers who fail to provide appropriate PPE may be in violation of safe workplace regulations. Of course, there are far more important reasons to take relevant precautions — safe workplaces are efficient workplaces, and no employer wants to expose personnel to unnecessary risks.
Still, OSHA standards can provide a starting point for your risk mitigation strategy. That starts with PPE. OSHA 1910.132 states (emphasis added):
Protective equipment, including personal protective equipment for eyes, face, head, and extremities, protective clothing, respiratory devices, and protective shields and barriers, shall be provided, used, and maintained in a sanitary and reliable condition wherever it is necessary by reason of hazards of processes or environment, chemical hazards, radiological hazards, or mechanical irritants encountered in a manner capable of causing injury or impairment in the function of any part of the body through absorption, inhalation or physical contact.
Note the language "shall be provided." The employer's responsibility starts with ensuring that employees have access to task-appropriate equipment. Key factors to keep in mind:
PPE must be suited to the hazard.
PPE must be inspected regularly and replaced when necessary.
PPE should fit comfortably and not restrict necessary movement.
To find products that fulfill these principles — and to outfit your facility properly — you will need to perform a hazard assessment.
For more information on legal requirements, see our article:
OSHA PPE Requirements for Employers
Locating Chemical Hazards in the Battery Room (And Providing Appropriate PPE)
Hazard assessment is required by OSHA, though the administration gives employers some leeway for performing the assessment. Some employers perform a walkthrough of their facility, then organize and analyze data about potential threats. Periodic reassessments should be performed, and all assessments should be thoroughly documented.
While inspecting each work area, ask questions such as: Will work performed in this area expose workers to chemical splashes? Will workers handle potential irritants? Is the area well ventilated, and will work require exposure to potentially harmful gases? Does work involve mixing, cooking, cleaning, or pouring?
These questions can help employers locate potential hazards and plan accordingly. Common sources of chemical hazards in industrial settings include:
Solvents and oils
Battery acid and other acids
Cleaning products
Pesticides
Heavy metals
If your operation regularly requires workers to handle acids, caustic products, and/or chemicals, the most effective tactic is to hire a qualified third-party consultant to perform this assessment. Experienced assessors can provide an extra layer of legal protection for the employer while identifying hazards accurately.
The goal of a hazard assessment is to eliminate unnecessary risks and mitigate unavoidable hazards by establishing appropriate protocols. The assessment may use control banding, which divides chemicals into different groups based on their properties and the specific hazards they create — in other words, battery acid would be in a different band than low-toxicity chemicals. Control banding can be useful when selecting PPE, though the practice is most commonly used in laboratories.
Employers should always err on the side of "too much" protection by selecting products intended to address a range of hazards; remember, the ultimate goal is to allow workers to do their jobs safely.
Controlling Exposure to Chemical Hazards
OSHA notes that "engineering and work practice controls must be the primary means used to reduce employee exposure to toxic chemicals, as far as feasible." In other words, employers should try to eliminate hazards wherever possible — that might mean using different chemicals, or implementing physical changes to the workplace.
Of course, some tasks require working with certain chemicals. For instance, workers in a forklift battery room must regularly add water to lead-acid batteries; eliminating the hazard isn't feasible. When planning for your operation, consider whether you could eliminate hazards through engineering controls (for instance, purchasing new equipment like the WG-X Water Gun, which limits overflows during battery watering processes)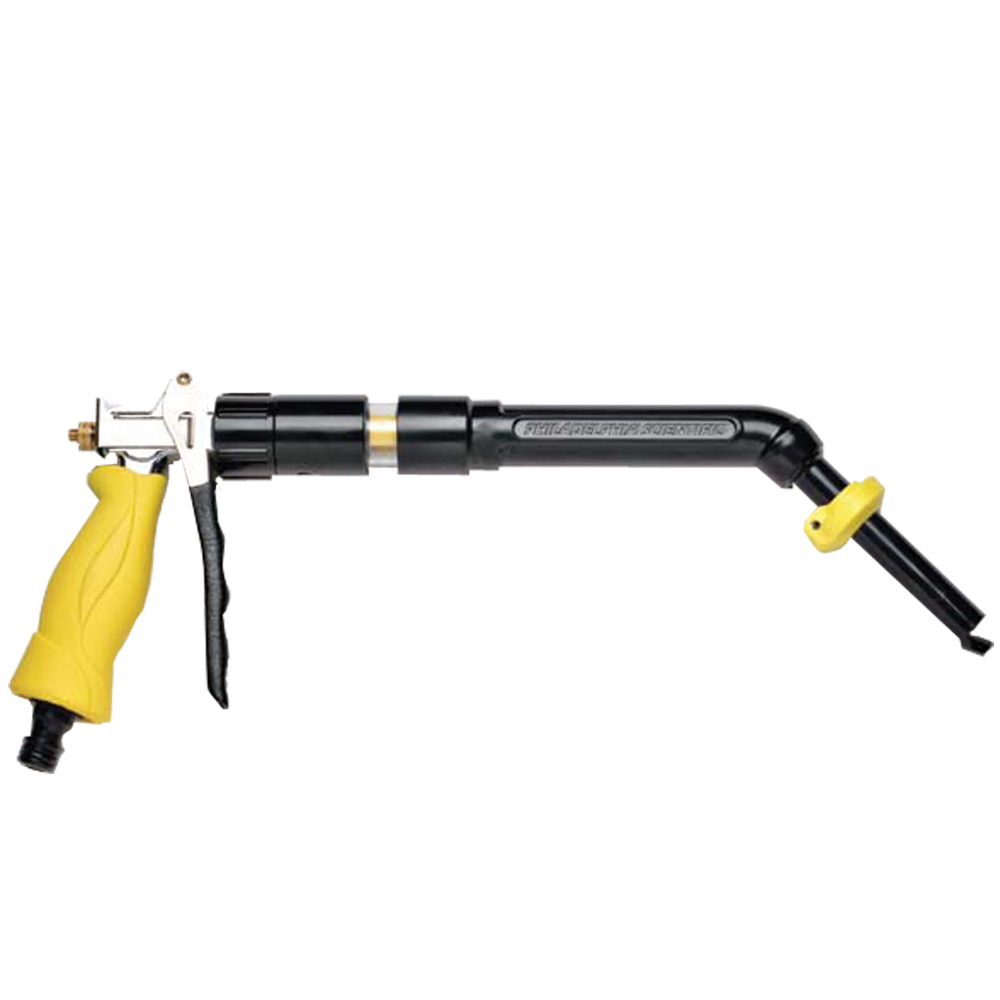 If potentially hazardous tasks cannot be eliminated, OSHA recommends other controls to limit exposure:
Ensure adequate ventilation.
Rotate job assignments and change work schedules.
Minimize contact with hazardous materials wherever possible.
Enclose or isolate the processes that create chemical hazards.
Personal protective equipment cannot replace engineering and work practice controls. However, PPE provides a last line of defense against chemical hazards, and proper outfitting is crucial. All PPE needs to be suited to the hazard, and workers should understand the importance of wearing — and properly caring for — their protective equipment.
For more information, see our articles:
Preventing Chemical Burns from Forklift Batteries
The Hazards of Forklift Battery Wash Water and What to Do About Them
4 Essential Hazard Monitoring Tools for the Battery Room
Outfitting Your Facility with Chemical PPE
Not all PPE provides protection from chemical hazards, and employers will need to consider materials, functionality, and other factors in order to make appropriate purchases. Keep these considerations in mind when choosing equipment for your operation.
Chemical PPE Boot and Shoe Covers
Shoe covers help to prevent workers from tracking liquids across a site, protecting the floor and limiting contamination. They may also improve efficiency by simplifying cleanup — workers won't have to spend time switching out footwear between tasks.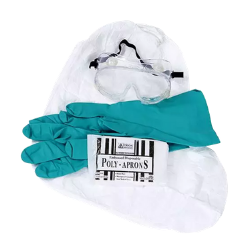 Ideally, shoe covers should use a durable material that protects against chemical exposure without limiting traction. Shoe covers should not be loose-fitting or susceptible to tearing.
Best Option: The Basic Personal Protection Kit contains a pair of Tyvek shoe covers, along with other essential gear for ensuring safety while working with chemicals.
Chemical PPE Gloves
Latex gloves, commonly used in the food industry, offer little protection from chemical hazards. Nitrile chemical gloves provide protection from oils, bases, and many solvents, and they're generally considered the "workhorse" glove of industrial applications. Neoprene gloves offer additional protection from acids and bases, while plastic & vinyl (or PVC) gloves are the standard for petrochemical applications. Rubber gloves are required for handling acids and batteries.
Again, assess each task carefully when choosing hand protection; no glove can provide complete protection from every type of chemical. For the vast majority of industrial applications, nitrile gloves provide appropriate protection.
Gloves should be flexible, comfortable, and fitted to the worker, and the materials used shouldn't make the task less manageable or more dangerous — for instance, if a worker cannot grip tools with a certain type of glove, that glove may create additional hazards, regardless of whether it protects from certain chemicals.
Best Option: Nitrile Gloves are 11 millimeters thick, ensuring protection with a comfortable wear. For applications where disposable gloves are preferable, consider purchasing href="https://solusgrp.com/glove-nitrile-5-mil-50-pair.html" target="_blank" rel="noopener">a 100-pack of 5-millimeter Nitrile Gloves.
Solus Group also offers neoprene gloves as part of the Personal Protective Kit (kits are discussed in detail below).
Chemical PPE Safety Eyewear
Improper choice of eyewear results in a large percentage of on-the-job eye injuries. Goggles are generally preferable to safety glasses, as they provide a protective seal around the eyes, limiting dangers from sprays, splashes, and mists.
Look for eyewear with indirect ventilation, which allows some passage of air to prevent fogging (and frequent cleaning). Ensure that goggles can be fitted to the user.
Best Option: Solus Group offers vented goggles designed to protect against chemical splashes. Solus Group also offers a variety of PPE kits with disposable glasses and goggles.
Face Shields
Per OSHA, face shields are not a replacement for dedicated eyewear, but shields can offer additional protection when handling certain tasks. Note that face shields alone cannot protect against impact hazards.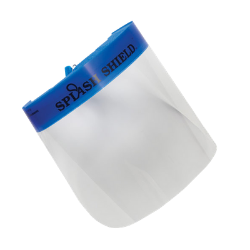 Shields are made with a variety of materials and tints for different applications. In industrial settings, simple disposable shields can provide sufficient protection from most chemical hazards.
Best Option: The Solus Group Splash Shield is disposable, lightweight, and comfortable, ideal for most uses. The Splash Shield is also included in several Solus Group PPE kits.
Chemical Coveralls and Aprons
Workers should wear long-sleeve shirts and long pants when working with chemicals. However, even with appropriate clothing, chemical exposure is a serious hazard.
Rather than rely on employees to wear appropriate clothing, many employers require coveralls, which provide another layer of protection. Coveralls can also simplify emergency response protocols — minor spills can be addressed safely without requiring the employee to remove and clean clothing.
When coveralls are impractical, chemical aprons serve a similar purpose by providing an additional layer of dermal protection. Made with acid-resistant materials, aprons and coveralls can ensure compliance when working with battery acid or other potentially hazardous substances.
Best Option: Solus Group's Chemical/Acid Apron and Coveralls address most industrial chemical protection needs. The Coveralls include a hood and boot covers, and tear-resistant fabrics offer superior protection at a low cost.
All-in-One PPE Safety Kits
Solus Group also offers dedicated kits to help your operation maintain an adequate supply of PPE. Kits make outfitting easier by ensuring appropriate protection for common tasks, including forklift battery maintenance. Options include:
PPE Kits make budgeting much easier, but remember to perform a hazard analysis to ensure that each kit will meet your operation's needs. Employers should keep an ample amount of PPE onsite and provide workers with regular training (addressed later in this article).
For more information, see our articles:
Which PPE Kit is Right for Your Application?
Essential Forklift Battery PPE, According to OSHA
Eyewash Stations and Showers:
Even with proper outfitting, accidents can happen. OSHA requires employers to provide an eye wash and body flushing station in "near proximity" to work areas where dangerous chemicals are present. One-fifth of eye injuries are caused by chemical exposure, and in emergency situations, every second counts.
Factors to consider when outfitting:
Access - Employees should be able to reach an eye washing station immediately after exposure. While OSHA simply requires "quick" access, ANSI Z358.1 requires eye wash stations within 10 seconds; in the battery room, this means about 50 feet from batteries, but far enough away from electrical equipment to avoid an electrocution hazard.
Water Flow - Eyewash stations should produce a flow rate of at least 0.4 gallons per minute for at least 15 minutes, per ANSI Z358.1. Self-contained eyewash stations and showers can meet this threshold, even when the water supply is disrupted.
Upkeep - Personnel must test eyewash stations regularly. All inspections should be documented to ensure compliance.
Signs - Proper signage is required by law and allows employees to take appropriate steps in an emergency. Solus Group offers a Signage and Posting Kit to make OSHA compliance easier.
Remember, eyewash stations are crucial safety gear. Even if your staff has an ample supply of proper chemical PPE, you'll need to make sure that they're able to treat chemical exposure onsite within seconds of an accident.
Best Options: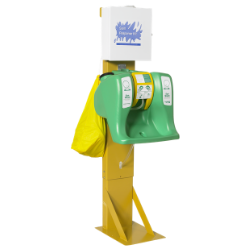 The Battery Emergency Station assists in OSHA and ANSI compliance. It includes battery spill response materials and the PEW-700 Portable Eye Wash, which provides 15 minutes of flushing at the ANSI-required flow rate of 0.4 gallons per minute. A bacteriostative additive preserves the solution for up to 6 months (refills are available).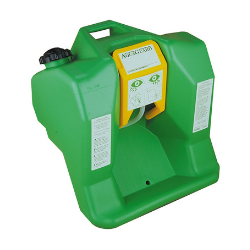 The PEW-700 Portable Eye Wash is also available as a standalone purchase and can be installed anywhere battery spills or leaks might occur.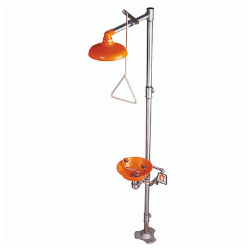 The SEW-500 Shower Eye Wash Station offers a plumbed-in alternative with a self-regulating eye wash flow control. The Eye Wash includes a float off dust cover and filter, while the shower features simple pull-rod operation.
For more information on the importance of eyewash stations, see our articles:
How an Eyewash Station Could Save Your Vision
Battery Room Safety Equipment: Eyewash Stations
Training Workers to Use PPE Safely
Purchasing PPE is an excellent first step, but if employees aren't sure how to wear PPE — or if they avoid wearing PPE to handle tasks more efficiently — your operation is risking a disaster. OSHA requires PPE training, and all employers should keep detailed logs of their training efforts.
Per OSHA, a PPE program should "address the hazards present; the selection, maintenance, and use of PPE; the training of employees; and monitoring of the program to ensure its ongoing effectiveness." The training requirement is detailed in 1910.132(f).
Employer training programs should ensure that employees know:
When PPE is necessary, and what PPE to use
How to properly wear, adjust, and remove PPE
The limitations of PPE
The proper care, disposal, and useful lifespan of PPE
You should test employees to make sure that they can demonstrate an understanding of the principles listed above. Employers have a responsibility to train any employee who they believe lacks knowledge or skill in proper PPE usage. Generally, that means that all new employees should receive the training — and employees should be retrained when switching positions or when the workplace changes significantly. Many employers opt for annual "refresher" training, which can help to identify gaps in employee knowledge. Keep detailed logs of all training sessions.
Pay attention to how employees wear their PPE. If an employee needs to make constant adjustments, or if they're unable to work efficiently when wearing their equipment, you may need to refresh their training (or purchase different equipment).
In addition to PPE, workers should understand how to use available spill response materials to address hazards safely and efficiently. In the battery room, that means notifying other personnel about the spill, using OSHA-compliant spill kits, and filing a detailed report with supervisors or managers about the spill response.
For detailed information, see our articles:
Safely Clean Forklift Battery Spills with These 9 Steps.
OSHA PPE Requirements for Employers
Storing Chemical Personal Protective Equipment Safely
Make sure that all personnel know where to find PPE in an emergency. Some PPE may degrade faster under sub-par storage conditions, and if you don't store PPE in a dedicated area, you may have trouble maintaining your inventory; more importantly, employees may not be able to find the necessary equipment in an emergency.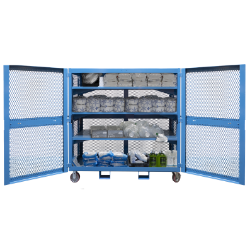 Ideally, you should store PPE in a ventilated, secured cabinet. Depending on your operation, you may want to ensure that the cabinet is movable to allow for future layout changes. Make sure that the cabinet offers protection from unauthorized access while still allowing employees to obtain PPE quickly
Best Option: Solus Group offers PPE Storage Carts from BHS, all of which feature steel construction with a chemical-resistant coating. The removable door slabs are ventilated for air flow and open 180 degrees for full shelf use.
With swivel casters, fork pockets, and available custom configurations, PPE Storage Carts allow your operation to store various types of PPE in a safe and secure manner. Each Storage Cart can be padlocked during transit or after work hours.
The Chemical PPE Checklist for Industrial Operations
All employers need to maintain a consistent supply of personal protective equipment. When outfitting, remember to perform a comprehensive hazard assessment; use this assessment to purchase appropriate equipment for your operation.
Here's a quick checklist to use when making your purchase:
I have purchased enough PPE to address my operation's hazards, along with additional equipment to maintain a steady inventory.
My operation provides shoe covers, chemical aprons, coveralls, safety eyewear, face shields, and respiratory equipment appropriate to our hazard assessment.
PPE is properly sized for each employee.
All PPE is made from appropriate materials to address the potential hazard.
Employees understand the potential hazards of the chemicals or gases at my workplace.
I have a training plan in place to ensure that employees understand how to wear, remove, and dispose of PPE.
I have a documentation plan for maintaining PPE inventory and ensuring that each employee is trained.
Our PPE is stored properly in a highly visible cabinet or shelf. Employees are aware of the location and can access PPE when necessary.
Employees have access to chemical showers and eyewashes as required by OSHA.
Employees understand the proper practices for addressing a chemical spill or other emergency.
Wherever possible, I have taken steps to eliminate hazards or limit exposure to harmful liquids or gases.
I have proper labeling in place to ensure that personnel are aware of the location of emergency response equipment.
Solus Group offers a wide array of chemical PPE products along with Storage Carts, Eyewash Stations, and other essentials. Select any of the products shown above to place your order. For more information on proper PPE outfitting, contact our dedicated sales team at (314) 696-0200.