The pandemic brought personal protective equipment (PPE) into national focus, but employers in warehousing, logistics and other industries have long understood the importance of proper PPE outfitting. Where protective equipment is necessary, OSHA generally requires employers to provide it — and most employers understand that PPE is well worth the investment, since safety is always a crucial priority.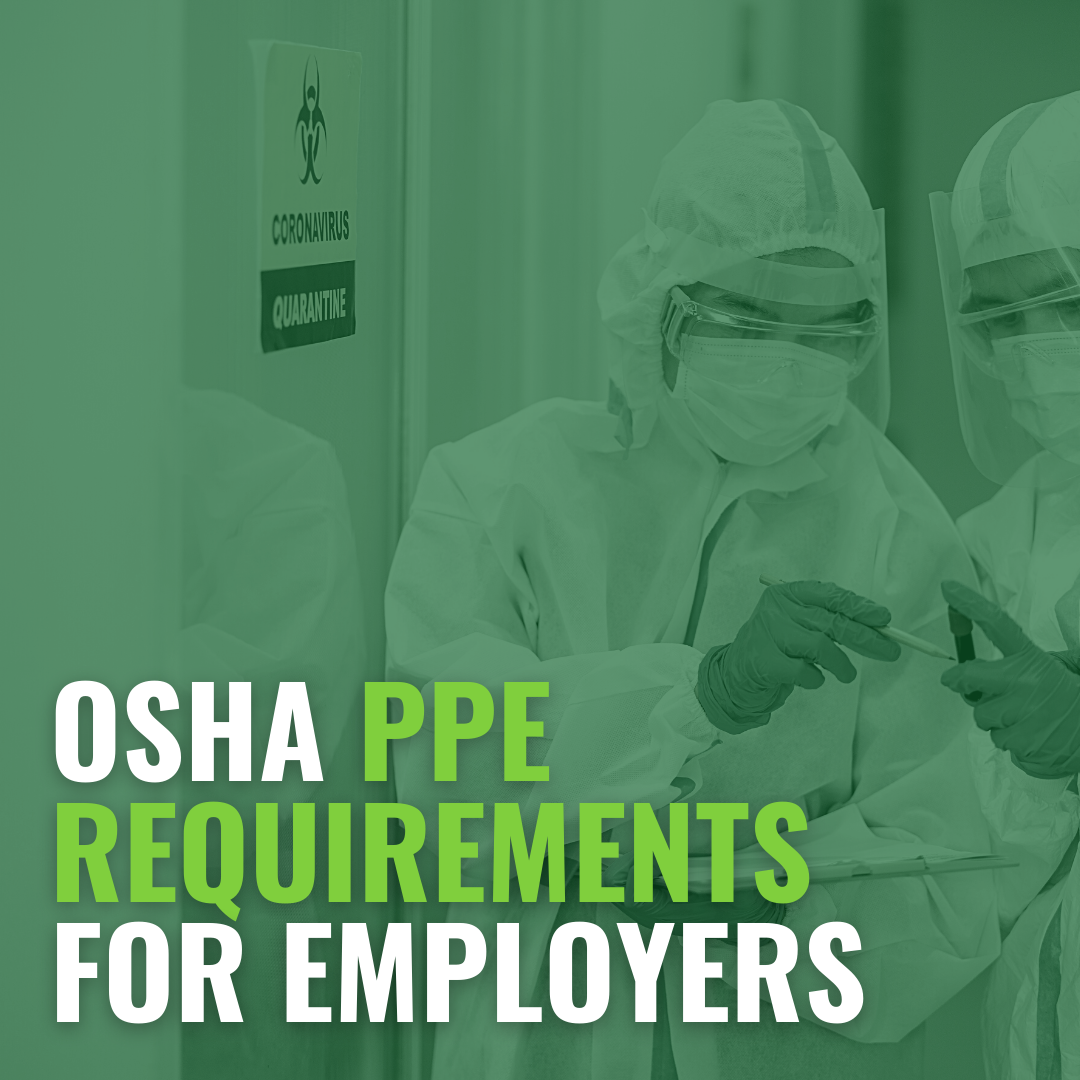 OSHA's guidelines provide an excellent starting point for understanding your obligations and finding the right equipment. PPE is covered under 1910.132 ("General Requirements"), though other standards have more specific information covering actual applications (we'll address those in a moment).
When Employers Need to Provide PPE
If an employee requires protective equipment to do their job, the employer needs to provide that equipment. OSHA's guidelines are fairly straightforward on this point. Here's the relevant section:
Protective equipment, including personal protective equipment for eyes, face, head, and extremities, protective clothing, respiratory devices, and protective shields and barriers, shall be provided, used, and maintained in a sanitary and reliable condition wherever it is necessary by reason of hazards of processes or environment, chemical hazards, radiological hazards, or mechanical irritants encountered in a manner capable of causing injury or impairment in the function of any part of the body through absorption, inhalation or physical contact.
With that said, employees can use their own PPE in certain circumstances, but that comes with a serious drawback: Under 1910.132(b), employers are still responsible for assessing the adequacy of that equipment. Employers must also maintain and sanitize the employee's equipment. In the vast majority of applications, providing proper PPE is safer and less expensive than allowing employees to provide their own.
Employers must also:
Choose personal protective equipment that is "of safe design and construction for the work to be performed," per 1910.132(c).
Select PPE that provides appropriate protection and communicate the selection decision to employees, per 1910.132(d)(1) and (2).
Establish procedures to repair or remove defective and damaged equipment from the workplace, per 1910.132(e).
Train employees how, when, and why to use PPE, per 1910.132(f).
Employers should review the section on training, as it includes additional requirements for that training. Most crucially, employees must understand the limitations of PPE and must demonstrate knowledge of their equipment.
Remember, training is just as important (if not more important) than purchasing the right equipment. When used improperly, PPE can't effectively mitigate hazards, and some equipment might actually create additional hazards.
Choosing PPE to Meet OSHA Requirements
As discussed in 1910.132, employers must require PPE that meets the hazards of the workplace. The equipment provided will vary depending on that workplace, and every operation should conduct a written hazard assessment before purchasing PPE.
With that said, other OSHA guidelines provide some direction. In the battery room, for instance, 1926.441(a)(5) clearly indicates what employers need to provide as a bare minimum:
Face shields, aprons, and rubber gloves shall be provided for workers handling acids or batteries.
The standards also require eyewash stations ("facilities for quick drenching of the eyes and body") and for spill response measures ("facilities … for flushing and neutralizing spilled electrolyte and for fire protection.") While these aren't technically PPE, they're a required part of every operation's hazard response.
To keep your facility compliant and your workers safe, look for products specifically designed for industrial use. Solus Group offers organized kits with appropriate PPE to make this process easier.
The Basic Personal Protective Kit includes common disposable PPE, ideal for handling basic needs. For more comprehensive protection in the battery room and other hazardous areas, the Personal Protective Kit includes face, hand, body, and foot protection. Employers can also purchase coveralls, boots, gloves, and protective aprons individually. Refresh your PPE supply regularly — and have a process in place for restocking equipment over time.
Other Considerations When Purchasing PPE
In light of the coronavirus pandemic, many operations have gone beyond OSHA requirements. While outfitting your facility, consider additional equipment that could help your organization enforce social distancing and limit viral exposure. To meet these goals, Solus Group offers a touchless Keychain Tool for opening doors, pushing buttons, and handling other tasks.
For dispensing equipment and tools, the Contactless Delivery Locker features single-use access codes; employees can access their equipment — and only the equipment they need for the job — without directly coming into contact with other employees. The Contactless Delivery Locker is also useful outside of a pandemic, as it streamlines equipment outfitting while improving security.
Finally, keep PPE organized and accessible. PPE Storage Carts provide mobile or stationary access to equipment thanks to built-in casters and fork pockets, and the carts' all-steel construction keeps valuable inventory secure. Proper storage and access is an important part of OSHA compliance, and a dedicated cart can help employers meet requirements while minimizing the physical footprint of PPE in a facility.
By maintaining a consistent supply of PPE, your operation can keep its employees safer while meeting your obligations under OSHA. This article isn't intended as legal guidance, and we strongly recommend conducting a thorough hazard assessment, particularly when outfitting a new facility. With that said, Solus Group's PPE kits can make compliance — and safety — much easier.