Nearly every phase of the recycling process requires heavy lifting. That means that recycling — while a crucial consideration for manufacturers of all sizes — carries significant ergonomic risks for operations that run their own recycling programs, in-house and onsite. Smaller manufacturers also need to take special care to implement practices that keep workers safe from musculoskeletal injuries, even if they're just moving recyclable materials from the line to a dumpster.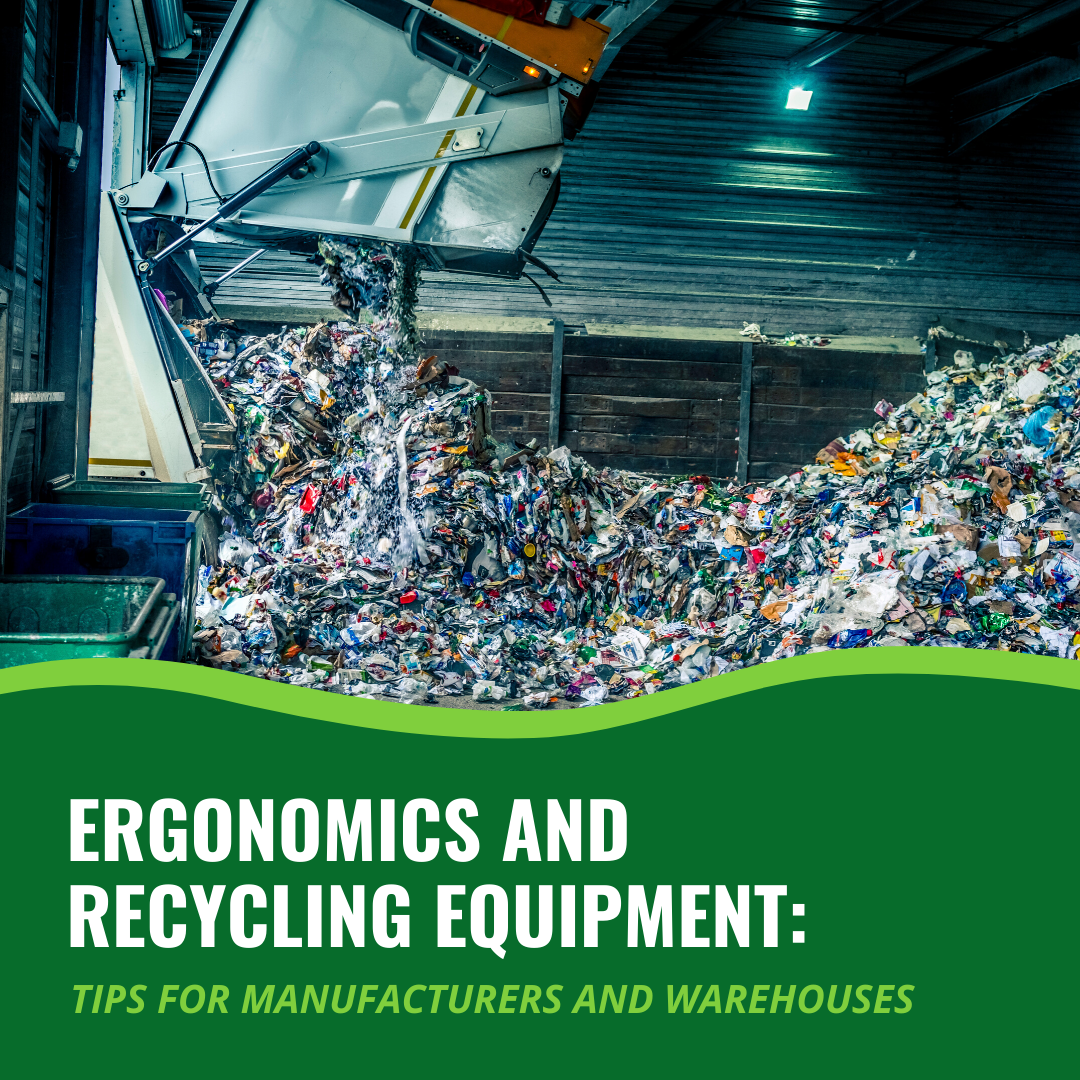 There's another practical reason to think about ergonomics: Proper lifting equipment improves efficiency, allowing employees to focus on throughput. Typically, the same workers that perform recycling tasks have other responsibilities. Limit the time and effort spent on recycling, and overall efficiency will also improve.
To build an ergonomic plan for recycling, you'll need to identify tasks that present risks for workers — and make sure that you're using the right material handling equipment to limit those risks.
Ergonomic Risks for Onsite Recycling Tasks
Manufacturing facilities and warehouses typically use dedicated machinery for recycling tasks. Sorting systems might make sense for larger operations, but shredders, balers, compactors, and vibratory feeders are more common for smaller operations.
From a worker's perspective, these machines are fairly simple to operate. Recyclables are loaded into the device (either vertically or horizontally), the worker presses a few buttons, and the machine goes to work. The equipment compresses the recycled plastics, metals, e-waste, or other materials, creating lightweight output that can move on to the next stage of the recycling process.
Workers can easily load balers with small amounts of waste, and the associated ergonomic hazards are low (at least in the short term). However, even if a worker can handle a task manually, appropriate material handling equipment might make the process more efficient. Another important consideration: Ergonomic hazards aren't always obvious, and a proactive approach can help to prevent musculoskeletal disorders. Put simply, investments in ergonomics pay off.
Look for the following risk factors when evaluating your facility's recycling tasks:
Improper Lifting or Overexertion - Lifting can lead to musculoskeletal injuries, particularly when load sizes vary significantly. Motion increases the force exerted on the body, and when workers must use excessive force to lift, injuries are practically unavoidable.
Awkward Postures and Repetitive Motions - Watch for tasks that require workers to use unnatural twisting and bending movements, particularly if those motions are repeated regularly. Manually emptying recycling bins usually qualifies — and requires some amount of exertion, creating an especially significant hazard.
Static Postures - When a worker holds a position for a long period of time, their blood flow may be restricted, causing muscle damage and other injuries.
Inadequate Recovery Time - Per OSHA's ergonomic guidelines, limited recovery periods don't give tissues sufficient time to heal. Workers should have regular breaks when working on demanding tasks.
Training is another crucial component of a well-rounded approach. Workers should know when to use material handling equipment, how to use that equipment, and how to spot ergonomic hazards. OSHA doesn't issue specific training requirements for ergonomics, but employers should build awareness of risk factors and give workers the opportunity to report hazards and suggest improvements.
What to Know When Choosing Ergonomic Equipment for Recycling
Wherever possible, workers should use material handling equipment to lift and empty loads. That's particularly true when working with recycling equipment; regardless of the type or weight of the recyclable materials, proper lifting equipment will reduce hazards and improve efficiency.
To limit ergonomic risks, consider equipping your recycling station with an appropriate bin dumper. Also called bin tippers, cart tippers, or cart dumpers, these devices allow workers to maintain some physical separation from recyclables. They offer an ergonomic solution for moving trash into recycling equipment, providing an even, consistent, and safe lift via built-in hydraulics or manual power mechanisms. Custom cradles are available for easier integration with various equipment systems.
Some popular material handling options for manufacturers include:
Make sure that workers keep recyclables in appropriate receptacles. Solus Group offers mobile garbage bins, roll-out carts, and various other containers suitable for handling ferrous metals, recycled plastics, construction demolition, and various other recyclables.
Ideally, manufacturers will implement a system designed to ensure good ergonomics throughout the recycling process, and high-quality material handling equipment certainly plays a critical role. For more information or to discuss your facility's unique requirements, contact our sales team at 314-696-0200 or by clicking here.