Chemical spill emergencies can endanger workers and ruin equipment, and when working with hazardous materials, every employer needs an appropriate disaster response strategy. When spills occur, workers need fast access to personal protective equipment (PPE), loose sorbents, and absorbent pads and pillows.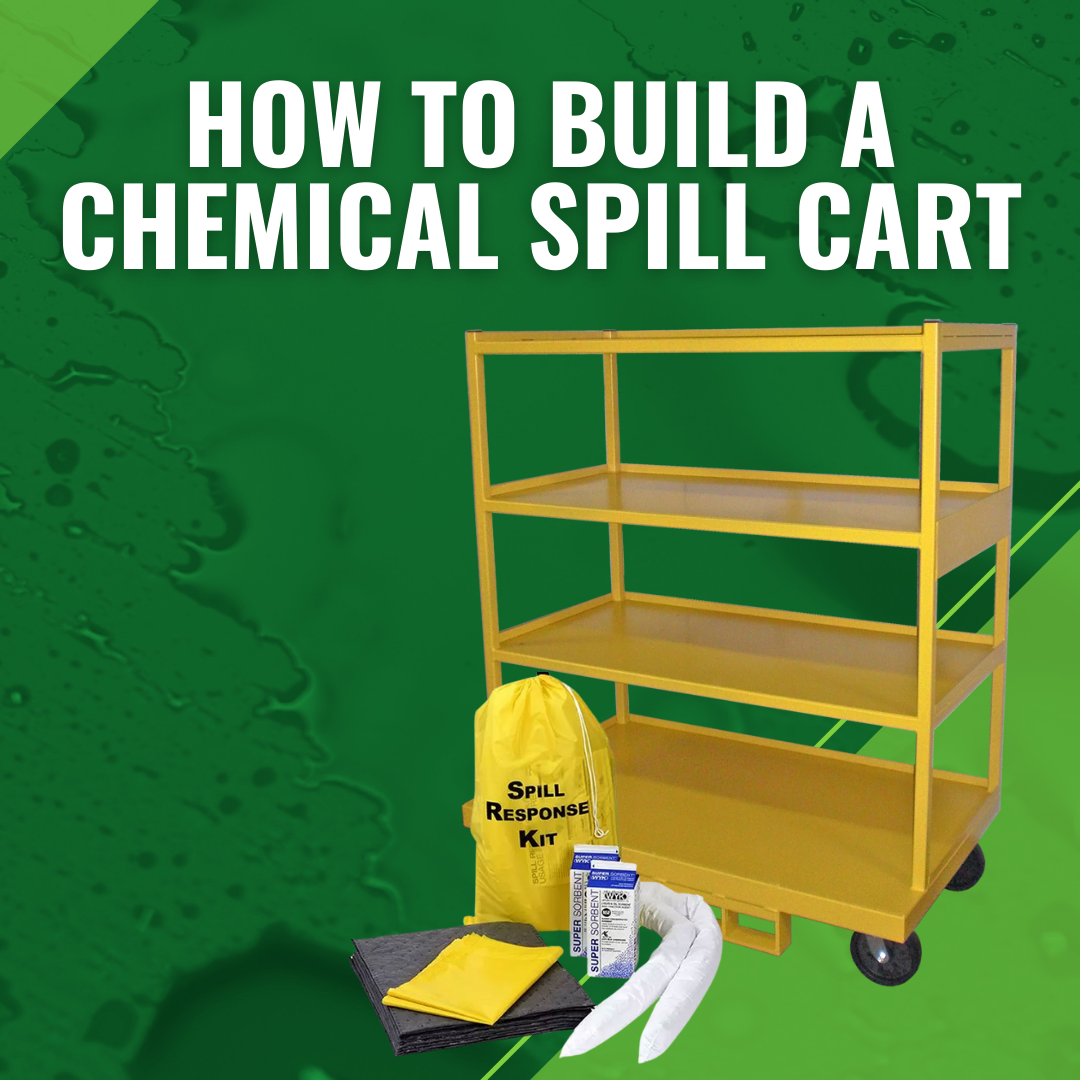 In larger facilities, spill response supplies need to be mobile. Chemical spill carts can help to ensure a timely response. Spill carts can be outfitted with a variety of materials for responding to different types of hazards, and as long as the carts are maneuverable — and fully stocked with appropriate supplies — they're a vital resource.
Building Chemical Spill Carts in 3 Key Steps
Building a cart is a relatively straightforward process, but as with all tasks that could affect your operation's compliance, it's a good idea to over-prepare — and to document every step as part of your broader hazard response strategy. Here's a basic guide to help you get started.
1. Choose a heavy-duty cart that can move freely through your facility.
Needless to say, if your chemical spill cart isn't maneuverable, it's not especially useful. Workers will need to run back and forth to the cart during spill response, costing you time (and potentially increasing the chances of injuries or equipment damage).
Look for a basic cart that offers precise maneuverability. Make sure that the cart will fit through doorways, tight aisles, and other narrow spaces. When in doubt, take measurements — you don't want to learn that your supplies are inaccessible during an emergency.
Solus Group recommends these options for chemical spill carts:
Ergonomic handles and four swivel casters promote maneuverability. All units have brakes for securing the cart in place, and three lipped shelves can support large containers of loose sorbents or other heavy loads.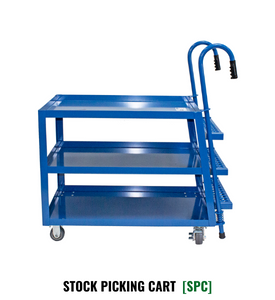 The SPC is available with an overall width of 22" or 28" and a depth of 36", 40", or 48". All models have a height of 52.6" and a load capacity of 1000 pounds.
Stock Picking Carts are ideal for most industrial chemical spill cart applications. However, the Order Picking Cart (OPC) is an excellent option for facilities that handle larger amounts of hazardous materials — and require larger amounts of spill response supplies when emergencies occur.
Available in six standard sizes, the OPC features phenolic casters, an overall width of 48" or 60", and a load capacity of up to 3,000 pounds. Designed for efficiency and durability, OPCs have an open-style frame that permits visibility of contents from all sides.
Both the OPC and SPC are constructed with powder-coated steel, and both are available as custom-built units.
2. Choose appropriate personal protective equipment.
Chemical spill carts should include enough supplies to manage any hazard. That starts with OSHA-compliant PPE. At minimum, include chemical splash goggles, face shields, and nitrile gloves. Some hazards may also require acid-resistant aprons and latex overboots.
Many supplies can only be used once, so it's important to have a process in place for maintaining supplies of PPE. Solus Group offers PPE kits such as the PPE Standard Kit, which provide all the necessary equipment for cleanup in a single package for easier inventory management.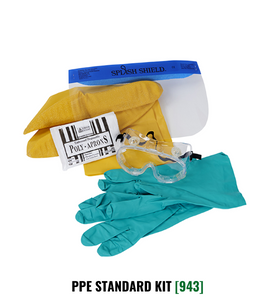 Related: Which PPE Kit Is Right For Your Application?
3. Choose spill response materials that match the hazards.
Not all sorbents work on all materials — even if sorbents are marketed as "universal," it might not be the most effective choice for a certain type of spill response.
Look for chemical spill kits that include loose sorbents along with socks, pads, booms, and pillows, which can be used to safely contain and neutralize the spill. For industrial applications, most chemical spill carts should include at least one of the following:
General Purpose and Universal Spill Kits
These kits are intended for general water- and oil-based fluids. They are not intended for cleaning up strong acids and bases. An example is the Universal Spill Kit, which is available with PPE, self-seal disposable bags, and cleanup supplies.
Oil Selective Spill Kits
As their name implies, these sorbents soak up oil, leaving other fluids behind. Since oil is a common hazard in industrial settings, most chemical spill carts should include some oil-selective supplies, even if oil spills are unlikely. Consider Oil-Selective Spill Kit, which features sorbent socks, pads, booms, and pillows.
Hazmat Spill Kits
Solus Group carries a variety of spill kits intended to address highly specific hazards such as acids (AcidSafe), bodily fluids (FluidLoc), and mercury (Mercury Eater).
For more guidance, read: Choosing a Sorbent for Industrial Spills
Tips for Efficient Chemical Spill Response
Make sure your chemical spill cart has enough sorbents to address the potential hazard without requiring workers to make additional trips. Some quick tips for using spill carts effectively:
Make sure all supplies are clearly labeled.
Train workers for spill response and provide regular "refresher" training.
Document training to ensure OSHA compliance.
Replenish supplies immediately after spill response.
Keep enough materials on-hand to address multiple major spills.
A thorough hazard assessment can help you keep your spill response strategy on track — and a properly outfitted chemical spill cart can provide peace of mind while keeping your operation compliant.
To discuss custom spill response solutions for your operation, contact the Solus Group sales team at (314) 696-0200.