Drum dumpers have quickly become essential equipment for operations that work with large containers. Regardless of the exact nature of the application, a dumper can prevent musculoskeletal disorders and ensure efficiency, and the wide variety of drum dumpers on the market gives employers plenty of options for taking advantage of the latest material handling technology.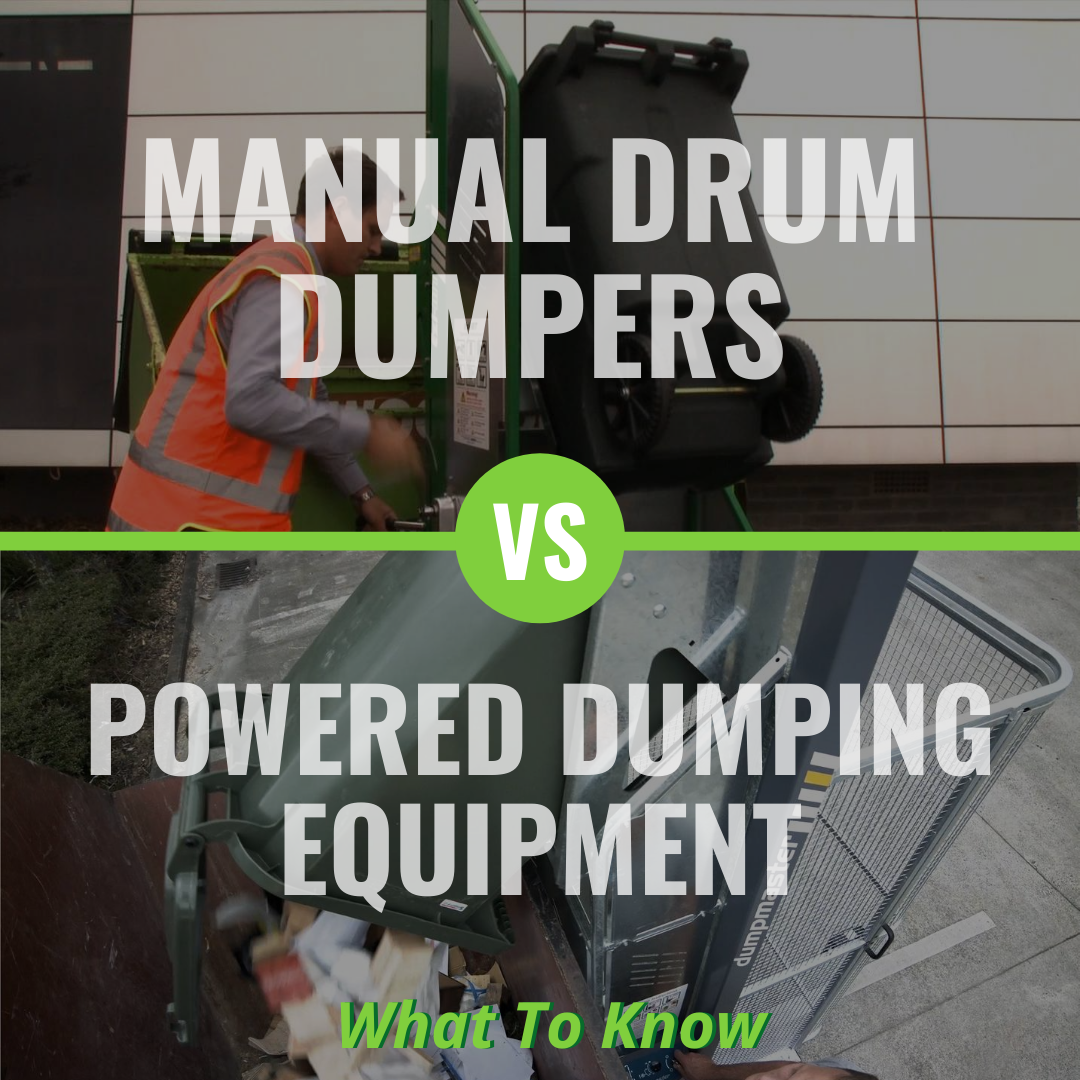 The vast majority of drum handling devices have hydraulic-powered lifting mechanisms, but manual dumpers are also a feasible option for some businesses that work with smaller containers. Both manual and powered dumpers will improve ergonomics and provide significant value. However, buyers should consider a few key factors when choosing this machinery:
Load Weight - The first (and perhaps the most obvious) consideration for a bin dumper is capacity. Manual dumpers often have lower capacities than powered models; some are incapable of handling loads in excess of 140 pounds. When filled with liquid, a 55-gallon steel drum can easily weigh 500 pounds or more.
Containers with dry materials can weigh much less, but if dumping actions must be performed regularly, the added ergonomic benefits of a powered bin dumper become more of a factor. Manual dumpers should only be used when dumping is relatively infrequent and when the load is limited. A powered hydraulic unit will ensure dependable throughput and greatly limit ergonomic hazards.
Cost - As a general rule, powered equipment is more expensive than manual equipment, both in initial investment and in overall operating costs. However, while powered dumpers use electricity and require more maintenance, that doesn't mean that they're necessarily a worse investment — improvements in throughput can easily outstrip the additional expenses.
Typically, managers can quickly calculate a return on investment for powered material handling equipment. Consider the hourly wages of the operators, the speed of the drum lifter, and other tangible metrics. When purchasing any type of material handling equipment, the goal is to simplify and automate tasks wherever possible, and powered equipment is typically the better option.
Ergonomic Benefits - The Bureau of Labor Statistics estimates that employers spend "as much as $20 billion a year on direct costs for MSD-related workers' compensation," and up to five times as much on indirect costs. When a worker can no longer handle a task, a new worker must be hired and trained, and difficult tasks greatly affect worker retention. Needless to say, proper ergonomics pay off in the long term.
As we mentioned earlier, both manual and powered drum dumpers will reduce ergonomic hazards. Every dumping task should be handled by machinery; relying on manpower alone will mean unnecessary twisting, bending, and lifting, which NIOSH and OSHA recognize as high-risk tasks.
While a manual dumper can be an ergonomic solution for tasks that require some mobility — for instance, dumping trash cans and small bins — hydraulic lifters are a superior option for most drums. Operators simply need to load the drum, secure it in place, and press a few buttons to start the process. Even when tipping dozens of drums, a hydraulic drum dumper keeps workers safe and ensures a simple, straightforward process.
Choosing an Industrial Drum Dumper for Your Operation
Most operations will see more benefits from hydraulic drum lifters, but with that said, choosing appropriate material handling equipment will require a careful analysis of the application in question. Consider factors like tipping height, container weight, and equipment mobility when making your decision.
Solus Group offers a number of bin handling devices that can be customized for virtually any task, including lifting and emptying drums. Options include:
Ezi-MT Manual Bin Dumper - The Ezi-MT manual bin dumper handles loads of up to 140 pounds. The operator lifts the load with a simple hand crank.
For cafeterias, schools, hospitals, and other maintenance applications, the Ezi-MT is an affordable and capable option. While designed for 32- and 64-gallon carts, it's capable of handling most other common carts and totes. However, as we've discussed throughout this piece, powered dumping equipment is typically a better solution for handling heavy industrial drums.
Multi-Tip™ Hydraulic Bin Dumper - The Multi-Tip features a 15-second tipping cycle and a 330-pound safe lifting capacity. A sealed battery and industrial "float" charger allow for convenient use with optimal portability, and the unit handles typical bin sizes from 32 to 96 gallons at standard tip heights from 47" to 71".
Dumpmaster™ Hydraulic Bin Dumper - Available with tip heights ranging from 47" to 94.5", the Dumpmaster series can handle drums weighing up to 660 pounds (appropriate for most typical bin sizes up to 96 gallons). Full-cage wire mesh guarding keeps operators safe, and custom cradles are available for non-standard bins and drums.
Dockmaster™ Hydraulic Bin Dumper - The Dockmaster features full-cage wire mesh guarding and a 550-pound lifting capacity. Its standard cradle can accommodate 64-gallon two-wheeled bins, but as with other Simpro drum dumpers, custom cradles are available for other containers. The Dockmaster has a 27.5-inch tipping height, ideal for mixing ingredients, disposing of medical waste, and various other tasks.
Material handling equipment offers an excellent return on investment, and Solus Group offers a variety of customization options to suit any business's needs. All Simpro bin dumpers have numerous safety features and simple controls, ensuring proper ergonomics and full compliance with relevant material handling guidelines. To learn more, contact the Solus Group sales team by calling (314) 696-0200 or by clicking here.