The waste management industry tends to use different terminology for nearly identical products. The terms tip dumpster, dump hopper, and self-dumping hopper generally refer to the same bulk material handling equipment. Some manufacturers use other terms, including forklift dumper and metal hopper.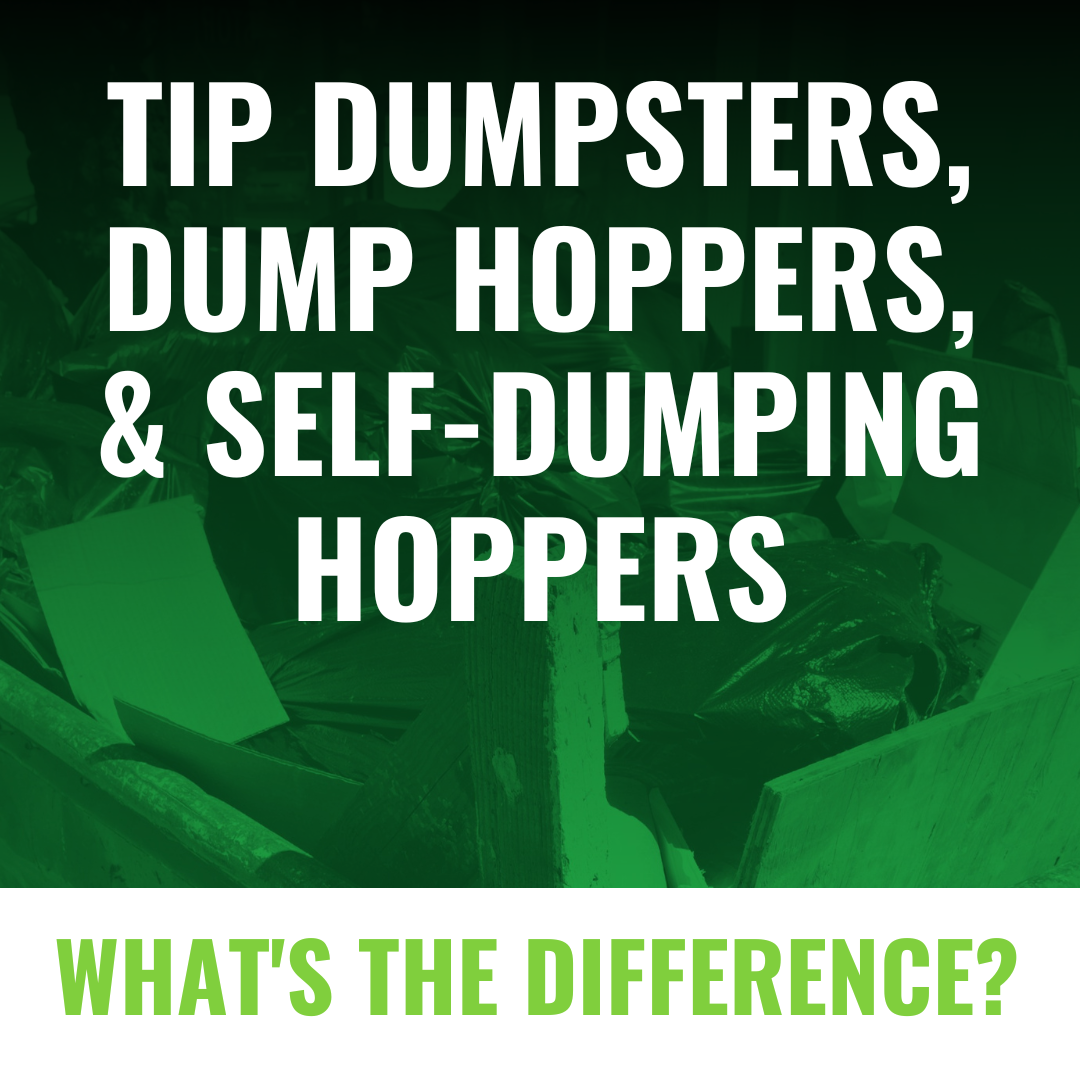 Whatever you call them, dump hoppers are simple containers, typically used to handle construction waste, chemicals, or other bulk materials. Below, we'll explain how they work — and provide tips for using ergonomic material handling equipment (MHE) to save time and keep workers safe.
What Is a Self-Dumping Hopper or Tip Dumpster?
Self-dumping hoppers are designed for use with a lift truck. The hopper is secured to the forks, then lifted so that the base of the hopper is aligned with the top of the dumpster (or other container). The operator lifts a lever to release the hopper.
While dump hoppers are useful for waste management, they're not technically self-dumping — operators must still follow a process to start the dump, which can be time-consuming. Some of the common issues associated with self-dumping hoppers:
The operator must leave the forklift seat in order to throw the lever. This isn't a huge problem on small worksites, but if operators need to dump multiple loads, the time spent outside of the lift truck can add up.
The hopper must be carefully secured to the forks prior to each load. Forks can scratch and dent the dump hopper's base, reducing its operational life.
Fork attachments can be used to reduce wear on dump hoppers. However, some forklift attachments may obscure the operator's view when lifted to a reasonable height for dumping.
All mechanical components wear down over time, and the tip mechanism of a self-dumping hopper is no exception. A "stuck" tipper can be frustrating for workers.
To get the most out of your equipment, look for self-dumping hoppers made with thick carbon steel or other appropriate materials.
Related: Container Dumper Applications for Multiple Industries
The Forward Bin Dumper, Tilt Cart Dumper, and Bin Tippers
Another option: Modernize your approach to bulk material handling by investing in the right MHE. Solus Group carries a variety of products designed for different applications.
The Forward Bin Dumper is a forklift attachment designed for cubic bins, pallet bins, or megabins. It provides a fast-controlled, hydraulic action and can be quickly fitted onto a standard lift truck.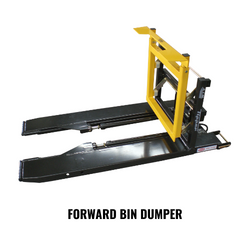 The operator doesn't need to leave the forklift seat to start the dump, and the FBT1000-760 is designed to provide the driver with an unobstructed view of the fork tines.
With a working load capacity of up to 2205 lbs. (1000 kg), the FBT1000-760 enables operations to handle bulk materials quickly and ergonomically. Its robust construction, powder-coat finish, stainless steel pivot pins, and long-life, zero-maintenance pivot bearings provide a trouble-free operation with minimal maintenance for years to come.
The Tilt Cart Dumper safely empties tilt carts from docks or platforms into ground-level dumpsters. Dual floor locks ensure stability during operation, and expanded steel panels fully enclose the tilting mechanism to ensure workers' safety.
The TCD tilts over 90 degrees to ensure complete removal of waste.  Expanded steel, powder-coated barriers enclose the travel path on two sides, while double rear-loading doors swing shut for full enclosure. It has a maximum capacity of 750 pounds and is completely powered by a self-contained 12v lead-acid battery.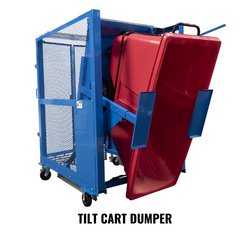 Solus Group carries an extensive line of Bin Dumpers, with options appropriate for light and heavy-duty applications.
From the EZI-MT Manual Bin Dumper to the Megadumper Hydraulic Bin Dumper, the lineup is engineered to protect ergonomics and improve efficiency — while limiting your operation's reliance on larger waste containers.
If you're ready to optimize your facility's bulk material MHE, we're here to help. Call our sales team at 314.696.0200 to discuss options or submit a request online.