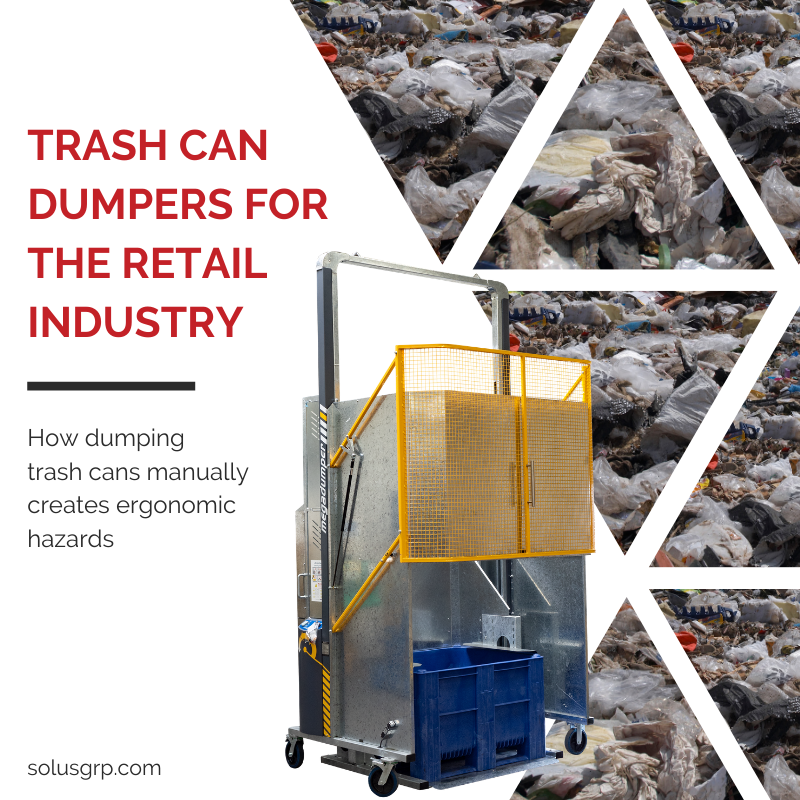 The U.S. retail industry has a solid waste problem, and trash can dumpers may be part of the solution. These material-handling devices are already a mainstay of the retail industry in Australia, New Zealand, and the countries of the European Union. American retailers looking for a way to make waste-handling safer and more efficient need look no further than the trash can dumper, or Bin Dumper, as they're more commonly known.
Why invest in a machine that lifts and empties trash cans for workers? There are a few answers to this question. First of all, the retail industry simply generates so much waste that janitorial staff can easily fall behind without a little mechanized help.
In 2015, the latest year for which the EPA provides data, the United States generated nearly 78 million tons of container and packaging waste, much of it driven by the ever-swelling e-commerce retail sector. While a little over half of that waste was recycled in 2015, retail employees still had to handle large volumes of the waste generated at their facilities — regardless of the waste stream, the labor at the disposal point remains the same.
This is a clear drain on overall retail productivity, as workers busy emptying trash cans can't restock shelves or fill orders. But there's an even more important reason to provide workers with mechanical aids to empty bins into dumpsters.
Dumping Trash Cans Manually Creates Ergonomic Hazards
A 2005 publication from the Cal/OSHA Consultation Service's Research and Education Unit, lists the following actions that, with repetition, can lead to ergonomic injury:
Applying force, as in lifting or pushing.
Awkward postures, like bending and reaching.
Static positioning, or staying in the same position for a long time.
Allowing hard surfaces to press against body parts for an extended period.
Temperatures that are too hot or too cold for comfort.
Using vibrating equipment.
The first two of these, and sometimes the third and fourth, as well, apply to the task of manually emptying trash cans into dumpsters. This is true whether that dumpster is destined for there recycling facility, a landfill, or a biogas operation.
In fact, because waste bins in retail operations are often allowed to fill to the brim before emptying, the weight at the dumpster increases the risk of injury to an unacceptable degree — and this is why trash can dumpers are a key safety tool for retail staff.
Choosing a Trash Can Dumper for Retail Outlets of Any Size
Simpro Bin Tippers from Solus Group are a line of tested-and-proven trash can dumpers with a model for every application. The Multi-Tip™ Hydraulic Bin Dumper can handle up to 330 pounds of waste in a single operation; it rolls on brake-enabled casters for easy storage and maneuverability.
The Dumpmaster™ Bin Dumper offers a lift capacity of up to 660 pounds, along with safety features like wire mesh guarding over the lift track and an optional PET-G operator screen. To learn about the full line of Simpro Bin Dumpers, browse our site, here. Or call Solus Group at 314-696-0200 to discuss custom orders.
References:
"Facts and Figures about Materials, Waste and Recycling: Containers and Packaging: Product-Specific Data." EPA. U.S. Environmental Protection Agency, n.d. Web. 28 Oct. 2019.
"Working Safer and Easier for Janitors, Custodians, and Housekeepers." CA. California Department of Industrial Relations, 2005. PDF. 28 Oct. 2019.