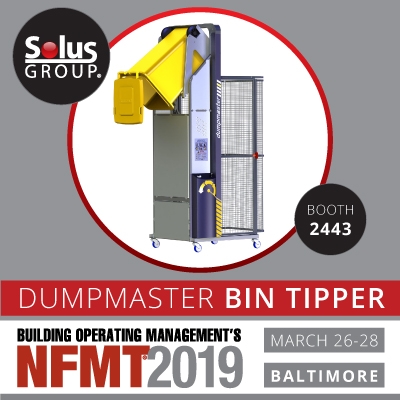 Mar. 26-28, 2019 — Baltimore, MD — Solus Group, a leading online dealer of material handling equipment, will occupy a booth at the 2019 National Facilities Management and Technology Conference and Exposition (NFMT). The top-rated facilities conference takes place March 26-28 at the Baltimore Convention Center in Baltimore, MD.
The centerpiece of the Solus Group exhibit will be a DumpMaster 1200-B Bin Dumper, a hydraulic dumper with extraordinary range and capacity. Visitors can see the DumpMaster in action at booth #2443 during the duration of the event.
"Our goal at NFMT is to spread the word that you don't have to subject your staff to the ergonomic risks associated with emptying trash bins," said Drew Gipson, Sales & Business Development Account Manager at Solus Group, who will be attending the trade show. "Even better, we'll be able to demonstrate how Bin Dumpers can help."
Representatives of Simpro Handling Equipment, the manufacturer of the DumpMaster, will join Gipson at booth #2443. Together, the presenters can discuss the full range of Bin Dumper products, including custom options for unique applications.
"Solus Group is North America's only dealer of Simpro Bin Dumpers," Gipson said. "So we're thrilled to partner with the manufacturer to explain the benefits to industry professionals."
Bin Dumpers feature a unique lift-and-tip motion that maintains a constant load center as they work, Gipson said. That makes them sturdier and more reliable than many competing dumpers, he said.
"The steady load management is what really sets Simpro Bin Dumpers apart," Gipson said. "It's an advantage you can see working. Come visit us at NFMT to have a look yourself."
About Solus Group:
Solus Group offers a variety of warehouse storage solutions, ranging from dock accessories and signage to a full set of forklift battery handling products. The company offers a convenient online ordering process and dedicated customer service through an office in St. Louis, Missouri. To learn more, visit Solus Group online at solusgrp.com.