Correctional facilities in the United States are changing the way they approach waste disposal, and these changes will require new waste-handling solutions. Growing trends include facility-wide recycling programs and the composting of food waste.
These practices create less waste, and therefore fewer costs associated with handling the waste, but they may also involve a broader coalition of staff members and inmates. That means investment in ergonomic tools that will keep prison staff and inmates safe and free from costly musculoskeletal injuries.
Bin Tippers from Solus Group lift and empty industrial waste containers so that staff and inmates don't have to do so manually. By eliminating this single task, prisons can significantly reduce incidents of muscle strain and back pain associated with risky movements, such as lifting heavy loads, bending or twisting, and awkward postures.
In particular, Bin Tippers can save time and reduce injuries in two of the most significant trends in prison waste handling today: recycling paper waste and composting food scraps.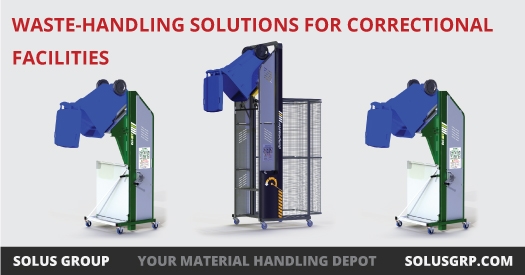 Using Bin Tippers in Recycling Programs at Prisons
In 2004, researchers in Florida conducted a study on the waste generated by that state's correctional facilities. They found that the leading type of solid waste was actually paper, which represented nearly 40 percent of the waste coming out of Florida's prisons.
Paper is also one of the easiest materials to recycle. The only challenge is how to get large volumes of paper waste from the source to the recycling center. The first step is to accumulate paper waste into the recycling service's hoppers or roll-off dumpsters.
This is where Bin Tippers can help. A standard 64-gallon wheeled trash bin full of paper weighs somewhere around 120 pounds, which is well within the maximum capacity of every model of Bin Tipper, from the hand-crank-operated Ezi-MT Manual Bin Tipper to the heavy-duty, hydraulic-powered Dumpmaster. Simplify paper recycling while keeping staff and inmates safer with this waste-handling solution.
Bin Tippers in Prison Composting Programs
A 2012 study prepared for the Grocery Manufacturers Association and the Food Marketing Institute Leadership Committee found that U.S. prisons were creating more than 500 million pounds of food waste every year. That's about one pound per meal per inmate. In the years since these startling numbers came to light, more and more states have instituted composting programs in correctional facilities.
Washington state was a very early adopter of this trend. They've been composting food waste from prison meals at the Olympic Corrections Center in Forks, Washington since 2004. The composting tasks provide prisoners with valuable job training, as well as jobs during their incarceration. Inmates use the compost in on-campus gardens, and in turn, kitchen staff collect the fruits and vegetables to make fresh, healthy meals.
Of course, industrial composting programs require equipment. Bin Tippers can easily empty the kitchen's food-scrap trash cans directly into an in-vessel composter's mixer. When inmates are the employees, the state has a duty to keep them safe. Bin Tippers are the ideal waste-handling solution for correctional facilities across the nation.
References:
"Ergonomic Guidelines for Manual Material Handling." CDC. California Department of Industrial Relations, 2007. PDF. 15 Oct. 2017.
"Food Waste: Tier 1 Assessment." FoodWasteAlliance. Grocery Manufacturers Association, Mar. 2012. PDF. 15 Oct. 2017.
"Keep America Beautiful: Recycle Bowl Competition Data Estimation." KAB. Keep America Beautiful, n.d. PDF. 15 Oct. 2017.
Mendrey, Katrina. "Correctional Facility Composting In Washington State." CalRecycle. Biocycle, Aug. 2013. PDF. 15 Oct. 2017.
"State Agency Waste Management: Correctional Facilities." CalRecycle. California Department of Resources, Recycling, and Recovery, n.d. Web. 15 Oct. 2017.
"Waste Reduction and Recycling Guide for Florida Correctional Facilities." Wastexchange. Florida Department of Environmental Protection, Jan. 2004. PDF. 15 Oct. 2017.